As one of America's largest and oldest cities, Philadelphia has no shortage of historic and exciting neighborhoods and attractions. South Philadelphia manages to be arguably the most famous neighborhood in the city!
South Philly is known for the Stadium District, FDR Park, its amazing food scene, and its rich history and diversity. Living in South Philly offers easy access to Center City along its northern boundary, New Jersey just across the river, and the Philadelphia airport just minutes away.
South Philadelphia has been defined by generations of immigrants who have left a lasting cultural impact. The community has seen many waves of immigrants from the early Dutch and Swedish settlers and immigrants from Italy, Poland, and Ireland and Black Americans in the 19th to 20th centuries as well as Jewish and Catholic immigrants to the once mostly Protestant city. Many South Philadelphia neighborhoods today are Italian American, but the area is also home to Little Saigon, a large Vietnamese community.
Whether you're just visiting or thinking about moving to South Philly, here's everything you want to know about this exciting, vibrant community that manages to retain its true neighborhood atmosphere despite its size.
Where Is South Philly?
South Philadelphia is a large section of Philadelphia bounded to the west by the Schuylkill River, to the south and east by the Delaware River, and to the north by South Street. Center City is just to the north and the Southwest Philadelphia area is to the west across the Schuylkill.
I-76 and I-95 run through South Philly. S Broad Street is the main north-south thoroughfare traversing the entire area and extending into Center City. The Walt Whitman Bridge (I-76) connects South Philadelphia with Gloucester City, New Jersey across the Delaware River. The Philadelphia International Airport (PHL) is just six minutes from the South Philadelphia Sports Complex via I-95 or SEPTA rail and bus lines.
The South Philly area is served mostly by the Broad Street SEPTA rail line with the PATCO line offering train service to New Jersey. There is also SEPTA bus/trolley service throughout South Philadelphia. THE NRG Station at the Sports Complex is served by a special Broad Street Line Sports Express route that runs for major events.
South Philadelphia zip codes include 19112, 19145, 19146, 19147, and 19148.
Map of South Philadelphia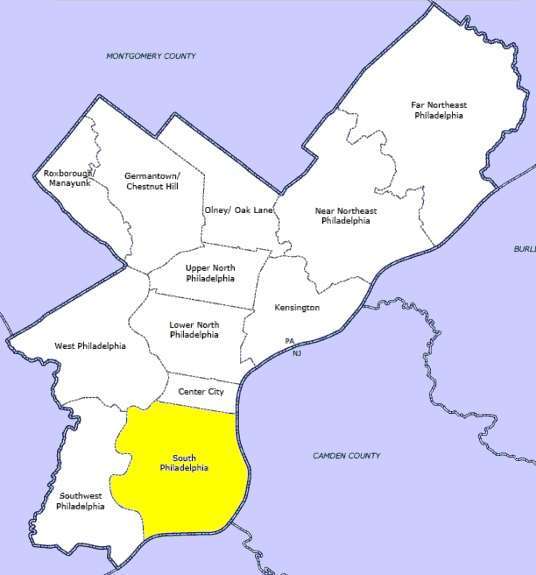 Things to Do in South Philly
South Philadelphia is one of Philadelphia's most famous and exciting neighborhoods with everything from sports venues and cultural attractions to unique shopping, dining, and outdoor recreation. Here's what to do in South Philly as a new local or a visitor.
Major South Philly Attractions
Coming south from Center City, your first introduction to South Philly is the South Street Philadelphia destination. South Street Philly, officially the South Street Headhouse District, is a fun, eclectic spot for unique shops, restaurants, public art, and more. One of the largest tourist attractions in the city, there are 300+ restaurants and shops on South Street. It's also home to Philadelphia's Magic Gardens, an indoor/outdoor labyrinthian art installation spanning three blocks.
Stop into the Theatre of Living Arts, a fun, intimate concert venue with live music from up-and-coming artists. Visit during May for the iconic South Street Fest, the most well-known South Street festival. The district also hosts South Street Oktoberfest in the fall.
East Passyunk Avenue is another famous destination for shopping and dining. In the heart of the East Passyunk neighborhood, East Passyunk Avenue has been named one of the Top 10 Foodie Streets in America and boasts over 150 independent businesses ranging from coffee shops, bars and locally owned restaurants to boutiques for jewelry, art, and home goods.
View this post on Instagram
The South Philadelphia Sports Complex is home to 4 major professional sports teams. There are 9,000 people living in the Sports Complex district surrounding the venues. The three venues have a total capacity of 133,000 seats and host 380 annual events with more than 7.7 million visitors. The sports complex is home to:
Wells Fargo Center, an indoor venue for concerts and sporting events. It's home to the Philadelphia Flyers (NHL), Philadelphia 76ers (NBA), and Philadelphia Wings (NLL)
Citizens Bank Park which hosts concerts and is the home of the Philadelphia Phillies (MLB)
Lincoln Financial Field which hosts concerts, monster truck events, NCAA games, international soccer tournaments, and is home to the Philadelphia Eagles (NFL)
Xfinity Live! Philadelphia, a mixed-use entertainment complex with indoor and outdoor bars, a theater, artificial turf field, beer hall, and a dozen dining and entertainment options
Live! Casino & Hotel Philadelphia is another South Philly attraction with over 2,100 slots and table games, a sportsbook, and on-site dining.
Parks in South Philly
One of the best things to do in South Philadelphia is enjoying the area's many fabulous parks! South Philadelphia is home to the iconic Franklin Delano Roosevelt Park. This 348-acre urban park was designed by the renowned Olmsted Brothers and features six single-span bridges, a boat house and gazebo overlooking Meadow Lake, the historic mid-18th century Bellaire Manor, and the American Swedish Historical Museum. FDR Park is a popular destination for recreation with tennis courts, game fields, playgrounds, fishing, and a skateboard park. The Meadow Lake Boat House even hosts model boat regatta races!
Marconi Plaza is a Roman-style plaza in the heart of Philly's historical Italian-American community and the site of the annual Columbus Day Parade. Dickinson Square Park is another iconic South Philly park which hosts a regular farmer's market and occupies an entire block.
You'll find other smaller neighborhood parks and greenways throughout South Philadelphia like the Grays Ferry Crescent Trail Park and the Schuylkill Banks Boardwalk in Devil's Pocket, both on the river.
View this post on Instagram
The Navy Yard at the southern edge of South Philadelphia has been transformed with a combination of landscaped parkland and corporate headquarters. It hosts many pop-up events during the summer like drive-in movies.
South Philadelphia Entertainment & Arts
Still looking for more things to do in South Philadelphia? Start with one of the many museums in South Philadelphia! The American Swedish Museum in FDR Park sits on land once part of the 17th century land grant to settlers of New Sweden. It's America's oldest Swedish-American museum. The Simeone Foundation Automotive Museum features an impressive collection of racing sports cars including 75 historically significant vehicles. The Mummers Museum is one of the most unique South Philly things to do. The museum chronicles the history of the Philadelphia Mummers Parade, an annual folk parade, with a collection of costumes from past years.
View this post on Instagram
Spend a Saturday night with the whole gang at South Bowl, a hip two-level bowling alley and entertainment venue with bars, pizza, batting cages, and bocce courts. Rizzo Rink is a tucked away spot popular with locals with year-round ice hockey, skating, roller derby, and skateboarding.
Community Amenities
Check out some of the best amenities for locals living in South Philly.
Shopping in South Philadelphia
South Philly has several major shopping centers so you never need to go far from home. Columbus Commons in east of I-95 is anchored by IKEA, Lowes, and Best Buy. In the Whitman neighborhood, Whitman Plaza is home to the popular Oregon Market Asian grocery store and KPOT Korean BBQ & Hot Pot. The Quartermaster Plaza is another major shopping center with Home Depot, clothing stores, a wholesale club, and more.
Best South Philly Restaurants
South Philadelphia is known for many things, including its amazing restaurant scene. As one of the best places for foodies, you'll find everything from authentic Italian and Vietnamese cuisine to barbacoa and Philadelphia's most famous cheesesteak shops. Here are just some of the best restaurants South Philly has to offer.
View this post on Instagram
South Philly Neighborhoods
South Philadelphia is fairly small with less than 10 square miles, but it's home to more than one dozen neighborhoods. There are 17 South Philadelphia neighborhoods, many home to over 10,000 people.
There are also some areas that aren't officially neighborhoods but refer to broader historic areas. Moyamensing is the large collection of neighborhoods along South Philly's Moyamensing Avenue corridor and was once its own township. Southwark is one of Philadelphia's oldest English settlements but was renamed in the 1970s: the northern half is now Queen Village and the southern half is Pennsport.
Neighborhoods in South Philadelphia
Neighborhood
Population
Median household income
Median home price
Point Breeze
17,000
$35,400
$330,000
Lower Moyamensing
16,500
$41,700
$237,500
Grays Ferry
14,900
$25,500
$215,000
Graduate Hospital
11,200
$83,100
$610,000
Girard Estates
11,200
$55,100
$263,500
West Passyunk
10,300
$31,100
$250,000
Passyunk Square
9,800
$54,300
$480,000
Whitman
9,600
$46,100
$262,500
East Passyunk
9,400
$50,800
$406,500
Newbold
8,900
$38,300
$320,000
Queen Village
7,100
$74,000
$481,000
Dickinson Narrows
6,900
$49,500
$379,000
Pennsport
6,300
$58,200
$375,000
Bella Vista
6,100
$71,700
$590,000
Packer Park
4,700
$69,900
$561,500
Greenwich
2,800
$34,000
$350,000
Hawthorne
2,400
$64,900
$545,000
Here are just some of the best South Philly neighborhoods to explore.
Also known as Southwest Center City (SWCC), South of South, So-So, or G-Ho, Graduate Hospital is one of the best neighborhoods in Philadelphia for millennials. It's also one of the wealthiest Philadelphia neighborhoods and the most affluent community in South Philly.
Located next to Center City and the Schuylkill River, Graduate Hill is known for its close-knit community and major festivals. The historic Odunde Festival celebrates African American culture and history while the annual Blocktoberfest is a block party with local vendors and food trucks. The small section known as Devil's Pocket is an affordable residential community of South Philly row homes on the Schuylkill River.
View this post on Instagram
Best known as the Little Italy of Philadelphia, Bella Vista is home to the famous Italian Market and South Street Philadelphia on its northern border. One of the more expensive and affluent South Philadelphia neighborhoods, Bella Vista is the best place to live in Philadelphia for foodies!
Queen Village is a small but affluent neighborhood known for its artsy atmosphere and South Street restaurants and shopping. Queen Village is very walkable and popular with millennials and couples; the population is fairly young and only 18% of households have kids. The neighborhood is home to the famous Fabric Row along 4th Street, a historic Jewish textile district, and waterfront condos on the Delaware River.
You'll love living next to some of South Philadelphia's best restaurants and venues like Royal Sushi & Izakaya and the Famous 4th Street Delicatessen.
Also known as Dickinson Square West, Dickinson Narrows is a small strip known for its walkability and diversity. It's been called "Philadelphia's Newest Old Neighborhood" with restored historic homes (including many from the early 19th century!) alongside new construction. Dickinson Narrows is perfectly situated within walking distance of Passyunk Square, the Italian Market, Little Saigon, Queen Village, and the riverfront.
East Passyunk
The East Passyunk Philadelphia neighborhood is one of the most visited areas of South Philly. East Passyunk Avenue has been named one of the Top 10 Foodie Streets in America and boasts over 150 independent businesses ranging from coffee shops and bars to locally owned restaurants and boutiques.
Every spring, East Passyunk Avenue hosts Flavors of the Avenue with some of the best food in South Philly, sidewalk sales, and live music. Miracle on South 13th Street is one of the best things to do in Philadelphia for Christmas and a major regional draw. The neighborhood's landmark Singing Garden is home to a weekly farmer's market and a great place to meet the neighbors!
View this post on Instagram
Lower Moyamensing
Known affectionately as LoMo, Lower Moyamensing is one of the largest neighborhoods in South Philadelphia and one of the most densely populated with 44,000 people per square mile. It's often overshadowed by more exciting communities, but this quiet residential area has a lot to offer.
Lower Moyamensing is a safe place to live and one of the most affordable South Philly neighborhoods. You'll find mostly two-story brick homes with Marconi Plaza along the southern border. The Lower Moyamensing Civic Association helps foster the close-knit atmosphere with community activities like organized neighborhood clean-ups, gardening contests, and flea markets.
South Philly Neighborhood Map
Is South Philly Safe? | Crime in South Philadelphia
If you're thinking about living in South Philly, crime may be one of your biggest concerns. While crime is a problem in any large city, South Philadelphia is a safe place to live. Several neighborhoods in South Philly are even some of the safest neighborhoods in Philadelphia!
The Philadelphia Inquirer Crime Tracker is updated daily with crime rates by neighborhood based on reported crimes. Most neighborhoods have no reported drug offenses and very low violent crime compared to the rest of the city. If you're concerned about South Philly safety, here are the safest places to live.
Manayunk (violent crime rate: 0.06)
Graduate Hospital (violent crime rate: 0.16)
Bella Vista/Southwark (violent crime rate: 0.28)
Queen Village/Pennsport (violent crime rate: 0.37)
South Philly – East (violent crime rate: 0.44)
South Philly – West (violent crime rate: 0.52)
Grays Ferry has the highest violent crime rate in South Philadelphia.
South Philly also has one of the lowest homicide rates in Philadelphia.
According to data compiled by Action News, Police District 3 (Lower Moyamensing, Whitman, and Stadium District areas) is home to 93,000 people and covers most of South Philly with a homicide rate of 14 per 100,000 people in 2023. By comparison, the city homicide rate is 26.6 per 100,000. Police District 1 (Girard Estates and Navy Yard areas) is home to 37,000 people with a homicide rate of 29.7 per 100,000.
Does living in South Philly sound perfect for you? If you're ready for life in Philadelphia's most vibrant community, Suburban Solutions is here to help. Give our Philadelphia movers a call today for a free, personalized moving quote and guaranteed pricing.