Relocating to & within Washington, DC with Suburban Solutions
Washington, DC is more than the nation's capital; it's one of America's most exciting cities. With a daytime population of more than one million and over 130 neighborhoods, there's so much to explore within the DC area. The National Mall area boasts some of the country's most famous museums and monuments including the Lincoln Memorial and the National Museum of Natural History. With a bustling downtown area, gorgeous scenery along the Potomac River, and all the culture, activities, and nightlife you could want, it's easy to see what draws so many people to the DC area.
Are you moving to or within the DMV, or the Washington metro area of DC, Maryland, and Virginia? Whether you're relocating for work, family, education, retirement, or a change of scenery, the 5-star Washington movers at Suburban Solutions are standing by to help!
Common Reasons for Hiring a Washington, DC Moving Company
What's prompting your upcoming move? Here are just some of the top reasons people move within their city, across the state, or across the country.
Employment. Are you leaving the city for job opportunities, moving closer to work, or relocating to DC to work in government or finance?
Education. Are you going to be attending one of DC's top colleges and universities like the University of Maryland or Georgetown University?
Downsizing or retirement. Are you ready to downsize once the nest is empty or retire somewhere warmer?
Cost of living. You may be ready for a change and to see your money go further on rent, groceries, transportation, and taxes.
Housing. Many people relocate to find more affordable housing or when they're ready to buy a house.
Crime. Are you looking for a safer neighborhood to call home?
Household changes. You may be moving after marriage, divorce, or because your home simply doesn't meet your needs as kids grow or you welcome new additions.
Establishing your own household. You may simply be moving because it's time to establish your own home!
You have important reasons behind your transition. As exciting as it may be to consider the new possibilities and quality of life you will enjoy in your new home, there's one hurdle to get past first: the complex and time-consuming process of actually relocating. That's where dependable movers in Washington come in.
Why Hire Professional Washington, DC Movers?
If you have never moved before, or you're preparing for your first long-distance relocation, you may not realize just how complicated, stressful, and physically challenging it can be. Surveys often find moving is ranked among the most stressful life events – higher even than divorce – and a recent survey found 43% of people who did a DIY move the last time they relocated regretted it. That same survey found 94% of people who did their transition with a relocation company found it was worth the cost.
You don't need to pay an arm and a leg to enjoy all the benefits that working with professionals has to offer. Here are just some of the benefits of hiring movers in Washington, DC to help you.
A dedicated move coordinator ensures everything goes according to plan for an efficient moving day, no surprises, and no logistical hurdles.
No heavy lifting or bending necessary!
Professional packing/unpacking with the right techniques and supplies protects valuables and delicate items while saving you time.
A well-maintained truck is properly and securely loaded and driven by licensed professionals. No driving a commercial vehicle in DC traffic!
Specialized equipment, dedicated trucks, high-quality materials, and trained experts ensure the process is as seamless as possible.
Your home is prepped with door jamb protectors and rug runners to guard against scratches, gouges, and holes.
You enjoy a relocation that's safer, faster, less stressful, and more organized with no manual labor at all.
What Do Washington, DC Moving Companies Do?
Not sure exactly what moving companies can do to help with your transition? Here are the services offered by Suburban Solutions, a full-service relocation company serving the DC area. All our services can be customized to give you exactly the right amount of moving help you're looking for.
Moving within an hour of your current home? Your relocation will be completed same-day with our team of 5-star local movers who do everything from senior moves to household and apartment relocations.
Moving across state lines, across the state, or embarking on a cross-country relocation? Turn to Suburban Solutions for affordable flat-rate prices and a guaranteed delivery date.
Suburban Solutions is the commercial moving company trusted by businesses of all sizes! We handle warehouse and school moves, office relocations, and more!
Pianos weigh hundreds of pounds, have delicate components, and they are oddly shaped with an uneven weight distribution. Piano moving is dangerous when it isn't done with the right equipment and skill!
Skip the weeks of stressful packing and the worry. Our packers and movers can take over with high-quality materials and customized packing services.
Full-service junk removal is the perfect solution to prep your home for sale, get ready for an upcoming move, or clear up space in the home or office. We also offer dumpster rentals in DC!
How to Choose the Best Movers in Washington, DC
Not all movers are equal. Relocating is already stressful without surprise fees, untrained movers, damaged belongings, and unreasonable delays. Here is what you want to see in reliable moving companies.
Licensed and insured (don't be afraid to verify!)
Background checked and trained movers who arrive in uniform
Positive reviews
Long track record and experience with transitions like yours (interstate, apartment, etc)
Low claims rate
No FMCSA and BBB complaints
Suburban Solutions is the top-rated moving company in the Washington, DC area with over 11 years of experience. We have a fully trained staff of more than 80 drivers and movers committed to delivering on our core values of honesty, professionalism, and customer service. We have earned over 1,000 positive Google and Yelp reviews to date!
Washington, DC Movers Cost
Your moving company cost is based on many factors, some of which may be within your control. During a free virtual or in-person assessment, we will ask questions about your relocation and consider the following.
Move type
Move-in/move-out dates
Distance
Number of movers
Volume of belongings
Home type and any accessibility issues
Services you need
For local moves within the DC, or about one hour of your origin, you will have an hourly moving rate plus a truck fee. Long-distance relocations are priced per-job.
Call our affordable Washington, DC movers today to discuss your upcoming relocation and request a free quote!
Questions People Ask Washington, DC Movers
Can Washington, DC moving companies assemble and disassemble furniture?
Yes! Save time, energy, and hard work by having the crew disassemble, wrap, and reassemble your furniture.
Should you tip movers in Washington, DC?
It's generally acceptable to tip movers 5-10% of the total moving cost (to be split among the entire crew) or $5/hour/mover.
Do movers pack for you?
A professional packing and moving company can handle all the packing ahead of your relocation or just pack up fragile items or belongings that need extra care.
Tips for Moving to Washington, DC
Even the best relocation company can't do everything for you. These tips can help you enjoy a seamless moving experience!
This guide to the Washington, DC cost of living can help you prepare for living in the area.
Reduce the cost of your relocation by donating items you don't need. Here's a guide to donating furniture in Washington, DC.
Click here to change your address with the USPS.
Set up or transfer utilities to make sure they are turned on a few days before you move in.
Find out how to register kids for public school ahead of moving day.
Research a new church, gym, physicians, and other important services and community hubs.
Suburban Solutions – Washington, DC's Best Moving Company for 11+ Years
At Suburban Solutions, we take pride in our sterling reputation as the highest rated movers in the Washington, DC area. With more than one thousand positive reviews, more than a decade of experience, and transparent pricing, we have what it takes to deliver the superior services and dependability you need.
Get started today with a free moving quote by calling us at (301) 928-8669 to discuss your move during a no-obligation assessment.
For more information on our services, please see the links below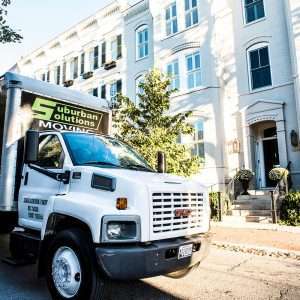 Whether you're moving down the street or across town, we can get you and your belongings the quality local service you deserve.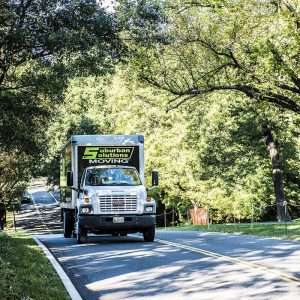 North, South, East & West, our long distance service covers the lower 48 states. Let our personalized customer service and exceptional network of professionals take you there.
Packing your fragile and precious belongings into boxes and making sure they do not break, can be a very laborious and daunting task. We have been providing packing services to our customers for over 7 years to make your move easier. Not sure what materials you need? Ask for our packing supply kits and you will be all set.
Office moves can't be done during normal business hours or your bottom line suffers. Proper care of equipment and items isn't just for cosmetic purposes. You need it done the right way and with special care.
We know that not everyone needs a mover to get their belongings from one home to another.  Sometimes our customers just need to downsize, get rid of clutter in the basement, stage their home for sale or just toss out that old couch or mattress!