Philadelphia Office & Commercial Movers
When planning a business or office move, you count on the relocation going according to schedule. While you balance operations with a move, you depend on a professional office moving company in Philadelphia to ensure data and equipment is not lost and business interruptions are kept to a minimum. Suburban Solutions has earned a reputation for seamless commercial transitions with comprehensive protocols, specialized equipment, and careful planning. You can count on us to ensure your move is coordinated and all the logistics are handled so you can focus on more important tasks.
Commercial & Office Moving with Suburban Solutions
Suburban Solutions is one of the most trusted Philadelphia commercial moving companies with tailored services suited to your industry and specific needs. Whether you're moving a small office or a large warehouse, our relocation specialists will implement the planning, coordination, and protocols necessary to have you up and running again in no time.
Even a small commercial relocation comes with its challenges. At Suburban Solutions, we understand the importance of getting your office up and running again as quickly as possible. We'll work within your schedule with all-inclusive support.
Your large office relocation requires a great deal of coordination with a move executed according to a careful plan that limits downtime. From cubicle disassembly/assembly and careful relocation of IT and office equipment to coordinating with facility managers and other parties, our Philadelphia office movers have the training and expertise you need.
Relocating an office or remodeling? Suburban Solutions has years of experience handling cubicle moves of all sizes. We can disassemble, assemble, move, and reconfigure office cubicles and modular furniture systems from all manufacturers including Steelcase, Haworth, Herman Miller, and HON Basyx.
Suburban Solutions offers cost-effective and streamlined commercial school moves for universities, colleges, and public schools. We handle dorm move-in and move-outs, library moves, lab moves, administrative office moves, and installation of office and dorm fixtures.
When you're moving a storefront, trust Suburban Solutions for the dedicated moving services you need. We'll have you set up and running in your new location with a seamless move on your schedule.
Warehouse relocations are complex and require a great deal of skill, planning, and specialized equipment. Suburban Solutions is a top warehouse moving company in Philadelphia capable of safely transporting heavy machinery, racks, IT equipment, and more without unnecessary disruption.
Top Reasons to Hire a Professional Philadelphia Commercial Moving Company
A commercial relocation, no matter the size, is a big undertaking. It involves more than simply packing up and transporting everything from one point to another; it requires planning, coordination, and special training to have your business running again as quickly as possible.
There are many benefits of hiring professional commercial office movers in Philadelphia:
Minimize costly business interruption
Reduce the risk of equipment or data loss
Specialized equipment and training means the move is completed efficiently and quickly
Assistance with office installation including cubicle and furniture setup and installation of IT and equipment
Reduces the burden on employees
The building is protected from damage during the move
Specialized equipment is used to safely relocate machinery, heavy equipment, workstation systems, and high-value items
Don't underestimate just how much work and planning goes into even a small commercial move. A licensed Philadelphia commercial moving company may use rigging, forklifts, Versa-lifts, air bearing dollies, IT crates, panel crates, machine carts, and more. Specializing packing and crating may be needed to safeguard sensitive equipment and machinery.
Philadelphia commercial movers use a systematic approach to streamline the relocation process. After assessing your business and new location and discussing your scheduling concerns, a thorough plan is made to move everything in a way that allows you to continue business as usual with minimal or even no downtime! You can trust that your office or business will be relocated quickly, efficiently, and safely with setup completed by a skilled team.
With dependable commercial relocation professionals, you can complete your move with less stress, hard work, downtime, and losses while focusing on running your business.
Philadelphia Office Relocation Tips
It's wise to begin planning your commercial move as soon as possible. While we can do a lot of the work for you, you'll need to take many steps to ensure a seamless transition. Here is an office relocation checklist and tips for planning your move.
Designate an in-house moving manager who will be the main point of contact with the moving company and be responsible for making important decisions and helping with the moving plan.
Find out if there are any commercial moving restrictions from your building manager.
Use blueprints or detailed measurements and layouts for your new location to create a new office layout. Our movers will use this to install your office furniture, fixtures, and equipment.
Work with your IT department to analyze infrastructure, plan the transfer of sensitive equipment, and make sure data is backed up.
You can use an office moving announcement to inform employees, customers, and vendors of your upcoming move. Here is an office moving announcement template you can use.
Use this free template to print office moving labels. Quickly and easily designate floors, rooms, and total number of pieces to simplify the moving process.
Can you capitalize office moving expenses? That's a common question! Here's an article that addresses capitalizing moving expenses and accounting rules.
How Much Does a Philadelphia Office Move Cost?
The Philadelphia commercial move cost you can expect is impossible to estimate without specific details about your move. Keep in mind commercial moving rates are not comparable to household moving costs due to in-depth planning, coordination, specialized equipment, off-hours moving, and more.
You may find it helpful to know some of the most important factors used to determine a Philadelphia commercial moving cost:
Type and size of your commercial move
Moving distance
Accessibility of both locations
Amount of prep work and planning necessary
Types of services you will need
Type of items being moved
Number of movers needed
Unique concerns such as special scheduling issues
The best way to determine your cost is by requesting a free commercial movers quote from Suburban Solutions. We will perform a free assessment of your business to give you an accurate, personalized estimate. You can rest easy knowing our rates are competitive and transparent without hidden costs.
How to Choose the Best Philadelphia Office Movers
With so much at stake, it's crucial to do your research when hiring professional Philadelphia office moving companies. Don't choose a mover based on cost alone; you need tailored solutions, experience with moves in your sector, trained movers, and a cohesive approach to minimize downtime, delays, and other costs.
Only trust your business move to an insured, licensed moving company. You can narrow down your options by looking for the following:
Years of experience performing commercial moves like yours
Low claims rate
Trained, background checked movers
Proper equipment for safely moving your specialized equipment, machinery, and office furniture
Honest and transparent rates
Positive reviews and testimonials
Suburban Solutions has handled commercial moves of all sizes in the Philadelphia area and Washington, D.C. since 2010. We have a team of 80 background checked, trained movers committed to our high standards and ready to earn your loyalty. We have received more than one thousand 5-star reviews on Yelp and Google with a dedicated project manager assigned to larger jobs. You'll have a single point of contact who can help with everything from coordinating new product receiving and modular furniture installation to custom crating, packing of sensitive documents, and disposal of existing office furniture and junk.

Getting ready for a major office renovation? Relocating to a larger or better location in the same neighborhood or hours away? No matter your needs, you can count on the top-rated Philadelphia office movers at Suburban Solutions for superior service and dependability. Call us today at 610-314-6868 to get started with a free office moving quote.
For more information on our services, please see the links below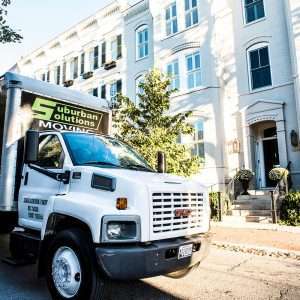 Whether you're moving down the street or across town, we can get you and your belongings the quality local service you deserve.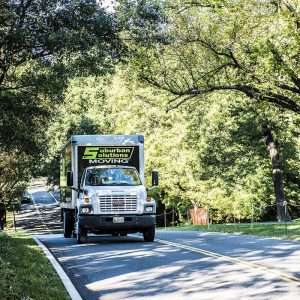 North, South, East & West, our long distance service covers the lower 48 states. Let our personalized customer service and exceptional network of professionals take you there.
Packing your fragile and precious belongings into boxes and making sure they do not break, can be a very laborious and daunting task. We have been providing packing services to our customers for over 7 years to make your move easier. Not sure what materials you need? Ask for our packing supply kits and you will be all set.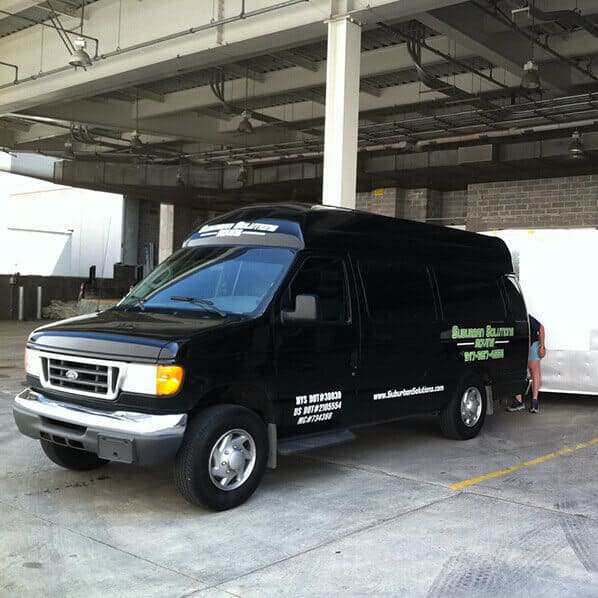 Office moves can't be done during normal business hours or your bottom line suffers. Proper care of equipment and items isn't just for cosmetic purposes. You need it done the right way and with special care.