Thinking about moving to Philadelphia? The City of Brotherly Love – which had an honorary nickname of the City of Sisterly Love until 2020 – was founded by William Penn in 1682 and it has remained one of America's cultural and economic hubs ever since. Philadelphia, usually called Philly, has the same boundaries as Philadelphia County and sits along the Schuylkill and Delaware rivers.
Philadelphia is known for its role in the American Revolution, the Mummers, Philadelphia cheesesteaks and Italian cuisine, and its rich cultural attractions. The Philadelphia culture is similar to New York City. Music, art, and food are big in Philly with frequent events and festivals throughout the city. Philadelphians take pride in the city's art, science, and cultural attractions. You'll see this everywhere you go: Philadelphia has more public art than any other city in America!
Europeans arrived in Delaware Valley in the early 17th century with the first settlements founded by the Dutch. The New Netherland colony was captured by the English in 1664 and it was included in William Penn's Pennsylvania charter in 1682 granted by Charles II of England. Philadelphia was founded by William Penn, a Quaker, who wanted a place where all people could worship free of religious persecution. This led to an influx of Mennonites, Catholics, Jews, and Pietists.
By the mid-18th century, resident Benjamin Franklin helped improve services in the city and philosophical societies became important. Around this time, Philadelphia surpassed Boston as the busiest port in British America (second after London!) and the largest city. Philadelphia was at the center of the American Revolution, hosting the First Continental Congress in 1774 and the signing of the Declaration of Independence. Between 1790 and 1800, it was even the temporary capital of America.
Immigration and a strong economy based on manufacturing, trade, and transportation made Philadelphia the first major industrial city of America. Revitalization in the 1970s helped transform decaying neighborhoods into vibrant communities and reversed significant population decline in the 1950s.
Ready to see if living in Philadelphia is right for you? Here's what awaits you in the Birthplace of America.
Philadelphia Demographics & Population
The population of Philadelphia is 1.58 million and it's the largest city in Pennsylvania. The Philadelphia metro area is home to 6 million people – the 8th largest metro area in America. Philadelphia is the cultural center of the Delaware Valley in the Northeast megalopolis, a combined statistical area with 7.2 million residents. Until 1790, Philadelphia was the largest city in the United States.
Philadelphia is a diverse city with many ethnic and immigrant groups in its 55+ neighborhoods.
Early in its history, Philadelphia grew rapidly thanks to a large influx of European immigrants, mostly from Germany and Ireland initially. These remain the largest ancestry groups in Philly. By the 20th century, additional immigrant groups came to Philadelphia like Italians, who are today the third largest European ancestry group. After the Civil War, Philadelphia became a major destination for African Americans. Before WWII, Puerto Ricans also began immigrating to the region.
After New York City, Philadelphia has the second largest Irish and Italian populations in America. South Philadelphia remains one of America's largest Italian neighborhoods while the Irish neighborhoods are Gray's Ferry and Pennsport. Northeast Philadelphia and Mount Airy have large Jewish populations.
View this post on Instagram
After New York City and Chicago, Philadelphia has America's largest Black population. Between 1880 and 1930, the Black population of Philly increased from 32,000 to 220,000. North Philadelphia and West Philadelphia are home to large Black communities with many Afro-Caribbean and African immigrants in Southwest Philadelphia and West Philadelphia.
Philadelphia has a large LGBT population centered in the city's Gayborhood close to Washington Square.
The racial and ethnic composition of Philadelphia is:
42.6% Black
34.9% White (non-Hispanic)
14.1% Hispanic (9% Puerto Rican and 1% Mexican)
7.1% Asian (2% Chinese, 1.2% Indian, 0.9% Vietnamese, 0.4% Korean, and 0.3% Filipino)
2.8% Two or more races
Immigration has been on the rise in Philly with a foreign-born population of 14% — up 69% between 2000 and 2016. The most common nationalities among recent immigrants are Chinese, Dominican, Jamaican, Indian, and Vietnamese.
Philadelphia is rapidly becoming younger with many millennials moving to Philadelphia and its suburbs. In 2010, 28.5% of the population was 18 to 24 and 23.5% was between 25 and 44. The median age was 33 years. For every 100 adult females in Philadelphia there were 85.7 males.
Famous people from Philadelphia include actors Kevin Bacon, Bob Saget, and Blythe Danner and musicians Patti LaBelle; Will Smith, and Boyz II Men.
View this post on Instagram
Philadelphia Climate – What's the Weather Like in Philadelphia?
The Philadelphia climate is humid continental with hot summers and cold winters. You'll get all four seasons while living in Philadelphia with an average winter temperature of 28 °F in the winter and 70 °F in the summer.
The high in the summer is about 87 °F. About 25 days per year get more than 90 °F! Summers aren't just hot; you'll get plenty of rain. It rains 28% of the time in the summer in Philadelphia. Winters are very cold in Philly. There are 77 days per year in which it drops below freezing at night.
Quick Philadelphia climate facts:
Philadelphia average rainfall: 47" per year
Philadelphia snowfall: 13" per year
Average annual sunny days: 207
Hottest day on record: 105 °F on July 24, 2010
Coldest day on record: -7°F on January 18, 1982
The best time to visit Philadelphia is from March to May. The cherry blossoms will be in bloom and the cold Philadelphia weather will have given way to warm spring and sunshine. You'll also beat the intense heat and humidity of summer.
View this post on Instagram
Philadelphia Crime – Is Philadelphia a Safe Place to Live?
Crime in Philadelphia is notorious. The city consistently ranks above the national average for property and violent crime with one of the top 10 highest violent crime rates in America among large cities.
The Philadelphia crime rate was 4,006 crimes per 100,000 people in 2019. By comparison, the Pennsylvania crime rate is 1,710/100k people. This is 61% above the national average. The violent crime rate in Philadelphia is 909 per 100k people compared to 379/100k people nationally.
You have a 1 in 26 chance of being the victim of crime living in Philadelphia.
In 2020, homicides in the city neared an all-time high and hit the second highest homicide rate among the 10 largest cities. Philadelphia has more homicides than New York City despite having a population one-fifth smaller. How many murders are there in Philadelphia? In 2019, there were 356 murders in Philadelphia which increased to 499 in 2020.
A great deal of the crime in Philadelphia is attributed to the opioid and heroin epidemic as well as warring street gangs like the K&A Gang, a large Irish American gang, Black Mafia based in West Philadelphia, and the Philadelphia Mafia based in South Philadelphia.
The city may be known for its crime, but that doesn't mean you can't be completely safe after moving to Philadelphia. There are many safe areas of Philadelphia as crime is usually focused on specific neighborhoods.
Areas of Philly to avoid include:
Hunting Park with a high poverty rate and crime rate.
Kensington which is known for homeless encampments and a problem with heroin and opioids
The Philadelphia "Badlands" of North Philadelphia and Lower Northeast Philly with high rates of violent crime and drug crimes
There are many safe neighborhoods in Philadelphia such as Bustleton with a crime rate 51% below the national average, Somerton, affluent Chestnut Hill, and the affordable Fox Chase.
You can use the Philadelphia crime map through the Philadelphia Police Department to see serious crimes by neighborhood.
Philadelphia Transportation – How to Get Around Philadelphia
It's easy to get around Philadelphia without a car thanks to a rapid transit system, trolleys, buses, and trains that operate throughout Greater Philadelphia. The Southeastern Pennsylvania Transportation Authority (SEPTA) operates public transportation in Philadelphia.
The 30th Street Station in Philly is the third busiest train station in the U.S. after stations in Washington and New York and it offers access to SEPTA, NJ Transit, and Amtrak lines.
Learn more about Philadelphia public transportation in this complete guide.
After moving to Philadelphia, you'll find it easy to get in and out of the city through the Philadelphia International Airport (PHL), one of the world's busiest airports.
View this post on Instagram
Getting around the area by car? Philadelphia's streets were planned by William Penn with numbered streets running north to south and tree-named streets like Walnut running east to west. I-95 runs along the south and east to connect Philly to New York City and Newark. I-76 runs along the Schuylkill River to Harrisburg.
Philadelphia is also one of America's most walkable large cities. In many urban neighborhoods, you'll find it easy to get around on foot!
What Is the Cost of Living in Philadelphia?
How much do you need to earn to live in Philadelphia? The Philadelphia cost of living index is 110.5 which makes Philly 10.5% more expensive than the national average. You'll find utilities and healthcare are fairly affordable but groceries and housing costs are 15-18% above the national average. However, Philadelphia is very affordable for a large city!
View this post on Instagram
Philadelphia Typical Living Expenses:
Ribeye steak, 1 lb: $12.88
½ gallon whole milk: $2.10
Loaf of bread: $2.60
Chicken breast, 1 lb: $4.26
Monthly gym membership: $36
Movie ticket: $11.93
Monthly SEPTA pass: $204 for TrailPass (can be used on all SEPTA transit in all zones)
The average monthly utility bill is $180.46
A family of four will have estimated monthly expenses of $3,633 excluding rent while living in Philadelphia according to Numbeo.
Learn more about the Philadelphia cost of living in our complete guide!
Taxes in Philadelphia
The Pennsylvania income tax rate is a flat 3.07%.
The combined Philadelphia sales tax rate is 8.0%.
The Philadelphia property tax rate is 1.39998% of the assessed value.
Philadelphia Economy
Philadelphia is home to a strong and diverse economy with a gross metropolitan product of $490 billion. The largest sectors in the economy are health care, biotech, financial services, transportation and trade, manufacturing, food processing, and tourism.
Philly is home to the Philadelphia Stock Exchange, the oldest stock exchange in the U.S. It's the headquarters for Independence Blue Cross, Comcast, GlaxoSmithKline, Cigna, and Colonial Penn. It boasts one of America's largest health education and research centers.
Jobs in Philadelphia & Top Employers
The average salary in Philadelphia is $70,000, according to Payscale, with an hourly rate of $19.02. Philadelphia has the lowest minimum wage among major U.S. cities at $7.25 an hour, the federal minimum.
The median household income in Philadelphia is $46,116. Income varies widely by neighborhood: $101,800 in Graduate Hospital compared to $23,800 in Hunting Park.
According to Glassdoor, the following are the best places to work in Philadelphia as voted by employees:
Lululemon which employees say listens to employee feedback
Johnson & Johnson with many opportunities in several departments with a good work-life balance
Apple with an inclusive and innovative workplace
Trader Joe's which offers excellent benefits
Wegmans Food Markets, a major Northeast and mid-Atlantic supermarket chain
Pfizer, noted for its great work culture and benefits
You can find jobs with the City of Philadelphia here. The city has a minimum wage increasing to $15/hour in 2021. You can also check Indeed for jobs in Philadelphia, PA.
Philadelphia Schools & Higher Education
After moving to Philadelphia, you'll be served by the School District of Philadelphia, America's eighth largest school district with 142,000 students in 86 charter and 218 traditional schools.
Public schools in Philly can be hit or miss. Many parents choose to send their children to one of the many private schools in Greater Philadelphia like Girard College, Germantown Academy, and Friends Central School, an historic private Quaker school in Wynnewood.
Considering going for a degree while living in Philadelphia? The city has the East Coast's third-largest concentration of students: more than 120,000 college students in the city limits alone. There are 80+ colleges and universities in Greater Philadelphia.
View this post on Instagram
The city has several top-rated research universities like the University of Pennsylvania, an Ivy League university and America's oldest university, and Drexel University. There are several medical schools plus Community College of Philadelphia.
Philadelphia Real Estate – Home & Rent in Philly
Ahead of moving to Philadelphia, you'll probably want to know where you can afford to live and average housing costs in Philadelphia.
The Philadelphia real estate market is booming. In the summer of 2020, inventory and days on market plummeted to historic lows. Part of this trend has been a huge number of New Yorkers moving to Philadelphia for a similar lifestyle but a lower cost of living.
The average home price in Philadelphia is $240,000. That's up more than 15% year-over-year from 2020 with a median 37 days on market. 23% of homes sold above list price.
View this post on Instagram
Philadelphia is known for its affordable housing that's actually lower than the U.S. median of $260,000 with a huge array of home styles and prices. For example, Center City condos range from $150,000 in older buildings to $350,000 to $1 million in luxury buildings.
You can see Philadelphia, PA homes for sale here to get an idea of what your budget buys you.
Living in Philadelphia as a renter? The average rent in Philadelphia is $1,814 or $1,625 for a one-bedroom apartment according to RentJungle. Rent varies wildly by neighborhood. You'll pay $2,000 to $2,300 on average in high-cost areas like Fishtown and Chestnut Hill. In Roxborough, average rent is just $1,400. More affordable areas like Mount Airy have average rent around $1,000.
Best Philadelphia Neighborhoods to Consider
What type of lifestyle are you looking for while living in Philly? Do you want a quiet, family-friendly neighborhood in Philadelphia that's safe with nearby parks or do you want to be close to Philly's nightlife? Here are some of our top picks for the best neighborhoods in Philadelphia.
Center City – Exciting Living in Downtown Philadelphia
Median home price: $525,000 or $357/square foot
Center City is one of the best places to live in Philadelphia for millennials with an exciting nightlife, historic cultural attractions, and amazing restaurants at your fingertips. Center City includes Philadelphia's central business district and several central neighborhoods. After Midtown Manhattan, it's America's most densely populated downtown!
Roxborough – Top Philadelphia Neighborhood for Young Families
Median home price: $286,000
Roxborough is one of the best-kept secrets in Philly. This neighborhood has a millennial population of more than 30% and it's one of the safest and most affordable places to live in Philadelphia. You'll love Roxborough's charming row homes!
Chestnut Hill – Popular Neighborhood in Philadelphia for Seniors
Median home price: $557,000
The garden district of Philadelphia is one of the city's most affluent communities and it's a popular choice for retirees. Chestnut Hill has a median age 30% higher than the Philly average and it's home to stunning Victorian mansions and townhomes plus the Morris Arboretum, art galleries, and antique shops.
Washington Square West – Philadelphia's Most LGBT Friendly Neighborhood
Median home price: $330,000
Washington Square West is also known as Gayborhood and it's Philadelphia's famous LGBTQ community. Around 60% of households in Gayborhood are single-person with a young population. There's plenty to see and do with nightlife, restaurants, and shopping within walking distance!
View this post on Instagram
Things to Do in Philadelphia
Looking for things to do in Philly? From the cultural attractions in Philadelphia to its famous cuisine, you'll never be bored. Philadelphia is known for its music scene with excellent venues for classical, jazz, Broadway, blues, pop, hip-hop, and more. Philadelphia is also known for its museums with some of the largest and oldest in America. Philly is even home to 67 National Historic Landmarks, more than almost any other American city, plus world-class parks and frequent events in the summer and winter. Here's a look at some of the best things to do in Philadelphia for families, couples, and singles.
Philadelphia Attractions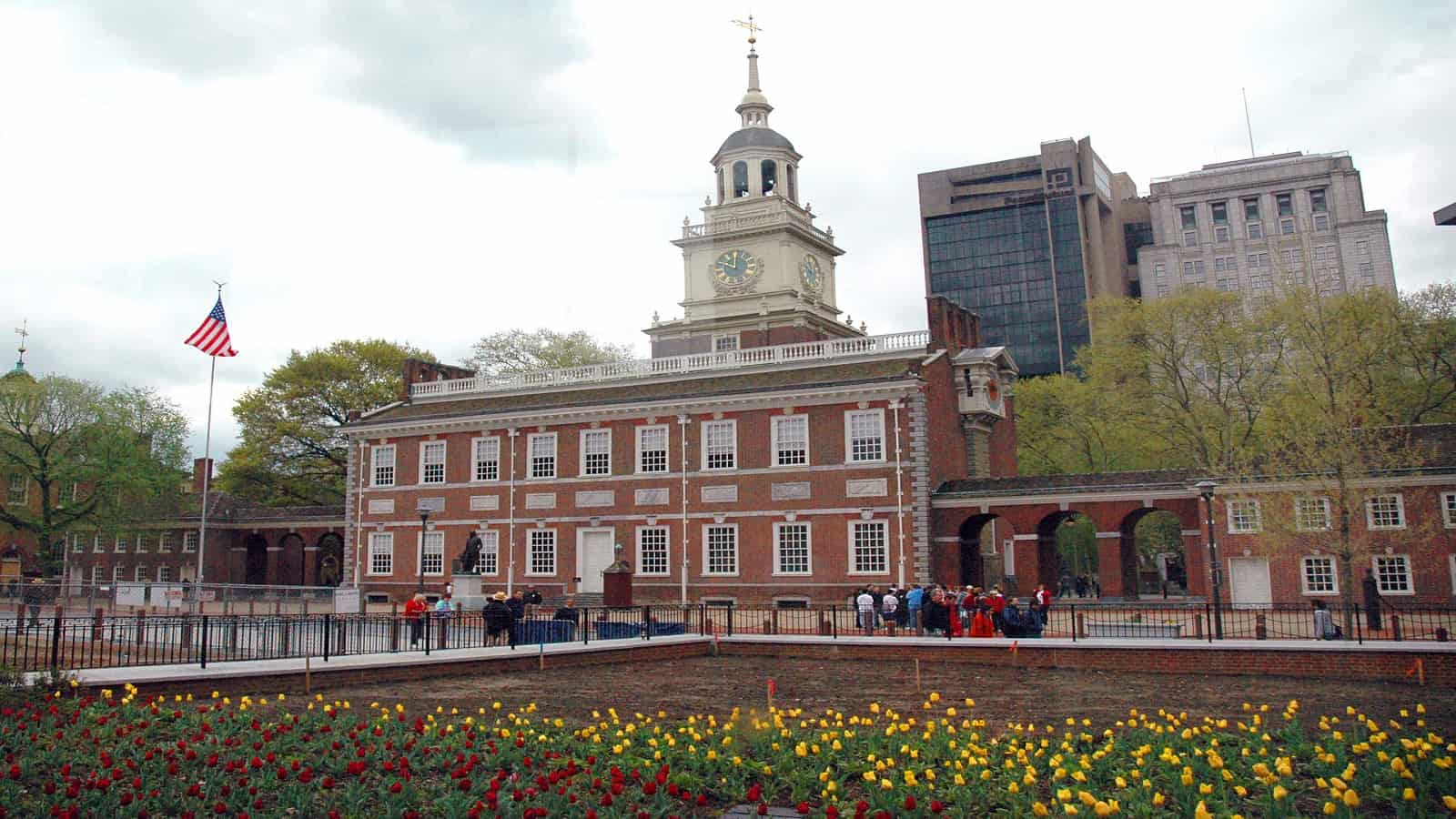 Philadelphia Entertainment & Arts
Philadelphia Museums
Philadelphia Shopping
The Shops at Liberty Place is located in Center City's shopping district with 55 restaurants and stores in a chic area.
Philadelphia Mills is a large indoor shopping mall with popular retailers and restaurants.
Rittenhouse Row is a busy and upscale corridor with over 200 businesses. This commercial district is one of the best high-end shopping destinations in Philadelphia and blocks from City Hall.
Philadelphia Parks
View this post on Instagram
Map of Things to Do in Philadelphia
Top Places to Eat in Philadelphia
What food is Philadelphia famous for? Along with its world-famous hoagies and the Philly cheesesteak, Philly is known for Stromboli, tastykakes, soft pretzels, roast pork sandwiches, and scrapple – a Pennsylvania Dutch recipe made with pork scraps, buckwheat, cornmeal, and seasonings. Here are three iconic places to eat in Philadelphia you'll absolutely love.
McGillin's opened in 1860 and is today one of the most beloved taverns in Philadelphia. Enjoy a huge beer selection and pub fare with regular events.
McGillin's Olde Ale House, 1310 Drury St, Philadelphia, PA 19107 (215) 735-5562
Pat's King of Steaks
View this post on Instagram

Opened in 1930, Pat's is a Philadelphia hallmark! The creator of the original Philadelphia cheesesteak is a favorite among locals and tourists. Right across the street is rival Geno's Steaks.
Pat's King of Steaks, 1237 E Passyunk Ave, Philadelphia, PA 19147 (215) 468-1546
What would Philadelphia be without its amazing Italian food? A 7-time winner of the Best of Philly award, Ralph's is the oldest Italian restaurant in Philadelphia.
Ralph's Italian Restaurant, 760 S 9th St, Philadelphia, PA 19147 (215) 627-6011
Sports in Philadelphia – Major Teams & Sports
Is Philadelphia a good city for sports? Absolutely! In fact, Forbes ranked it as the second-best city for sports after Boston in 2020. Philadelphia teams may not win as often as some, but blame the Curse of Billy Penn. Philadelphians still love uniting around their teams and showing their love for the Eagles every chance they get.
Philadelphia is one of just 13 U.S. cities with a team in all four major league sports:
Philadelphia Phillies (MLB) play at Citizens Bank Park
Philadelphia Eagles (NFL) play at Lincoln Financial Field
Philadelphia Flyers (NHL) play at Wells Fargo Center
Philadelphia 76ers (NBA) play at Wells Fargo Center
View this post on Instagram
Philadelphia has won titles in all four sports and a title in soccer. The metro area has a Major League Soccer team – the Philadelphia Union – who play at Subaru Park. The city also has pro, semi-pro, and elite amateur teams in rugby union, rugby league, and cricket.
Basketball is also big in Philadelphia, home to the Philadelphia Big 5 of NCAA Division I college basketball: Villanova, Temple, Saint Joseph's, La Salle, and Penn universities.
Philadelphia Utilities & Getting a Pennsylvania Driver's License
Ready to get a jumpstart on moving to Philly? A good place to start is knowing how to set up utilities in Philadelphia once you find a place to live then knowing how to get your new driver's license.
You must get a Pennsylvania driver's license within 60 days of moving to Philadelphia. You can do this by visiting a Driver License Center, completing a vision test, and submitting Form DL-180R. You will need your Social Security card and proof of residency and identification.
Looking forward to living in Philadelphia and enjoying everything The City of Brotherly Love has to offer? Suburban Solutions is here to help you settle into your new home without stress and frustration. Give us a call at 610-314-6868 for a free Philadelphia moving estimate today!