RESIDENTIAL AND COMMERCIAL JUNK REMOVAL
SUBURBAN SOLUTIONS JUNK REMOVAL
At Suburban Solutions we know that not everyone needs a mover to get their belongings from one home to another. Sometimes our customers just need to downsize, get rid of clutter in the basement, stage their home for sale or just toss out that old couch or mattress!
That is why in Philadelphia we started Main Line Junk. We wanted to be able to offer full service junk removal and dumpster rental options for our customers. Instead of sending a moving crew with a big box truck to take away your unwanted items, we now have a dump truck that can handle your junk removal much more quickly. Our dedicated and trained junk removal specialists are ready to tackle any size removal job. By investing in the right equipment and employees, we can now offer more competitive pricing for your removal or rental needs.
Why Us?
Now that we have opened our sister company, Main Line Junk, we can offer full removal services with our same uniformed and trained crews. We can take away anything from old files, your aunt's bedroom set, clutter that is filling up the basement or that old rotting shed or swing set in the backyard. Still have an old Tube TV? We have you covered there too! Why call two companies to handle your moving and junk needs when we can handle both for you! You are busy enough with the rest of your relocation, work life and home life so let us make things one step easier!
Why do you need to call a junk company?
Since we have been in business, we have helped clients with projects of all shapes and sizes. A lot of our calls are from people who tried to start the project on their own and realized how much of a pain getting rid of stuff is! Have you ever asked to borrow a truck from the guy down the street? Or get your teenage son to help you clear out the garage? Oftentimes it sounds easier than it is, so let us do the dirty work for you! Nowadays local townships are performing bulk trash pick ups less and less, fortunately for everyone, we can handle it all!
Can we remove just a single item?
With junk, no job is too small for us. We are out in the field Monday thru Friday filling our dumpster either one piece at a time or making multiple trips back and forth to the junkyard. We have seen it all, from a single chair or microwave to a basement full of decades of accumulated rubbish.
The main ways we have been able to help people with junk removal along the Main Line is:
Appliance Removal
Attic Cleanout
Basement Cleanout
Crawlspace Cleanout
DIY Projects
Estate Cleanout
Garage Cleanout
Home Renovations
Mattress Disposal
Self-storage Cleanout
Shed Cleanout
Storage Units & Lockers
How much does it cost? We start with single items as low as $95 and a full truck is $650. We charge by volume so you only pay for what we take! Our truck is 14 cubic yards, about 14'L x 7'W x 4'H, so it can carry a lot of junk!
Dumpster Rental:
Do you have a lot of stuff to get rid of but need some time to go through it? Or maybe you and some neighbors want to share a dumpster? We can also drop one of our dumpsters on your street or driveway. These run $425 for up to 5 days and 2,500 pounds. If you need it longer, no problem just give us a call and we can discuss your specific needs. Dumpster Rentals are a great way to work at your own pace while cleaning out the garage or attic. In our experience, once you get started on the junk removal process, our customers quickly uncover more and more items. By doing things at your own pace with a dumpster rental, these surprise items are easy to deal with. It gives you a chance to be a bit more thorough and really plan out your cleanout.
Are you working on a home renovation project, a DIY bathroom remodel? Sometimes delays happen and none of us want piles of trash sitting in the driveway. Spend a week or two with our dumpster in the driveway and keep a clean and tidy worksite. We know that your neighbors will appreciate it (and they probably will ask you if they can fill up some of that dumpster too!)
How to Contact us:
Simply fill out the form above (or below) and we will be in contact with you ASAP to review your job and give you some pricing! You can also email us at [email protected]
What we can't remove and haul off?
There are some things we simply can't remove. For these items, we suggest contacting a certified professional or your township for these type of items. Here is a sample list of just some of the common items that we are unable to move. If you have any questions about whether or not we can remove an item for you, please feel free to contact us. If we can't remove it, we can assist you in finding the right person for the job.
Propane/Gas – really anything flammable!
Contents under pressure – spray paints or other aerosols
Oil Based Paints
Latex Paint must be dried out with sand or kitty litter.
Tires – we can dispose of tires but there is an additional charge of $35 per tire.
Batteries
Fire Arms & Ammunition
Asbestos
Oil Based Paint, Stain or Thinner
55 Gallon Drums
Biological or Medical Waste
Human or animal waste
Anything Containing Oil or Fuel
Chemicals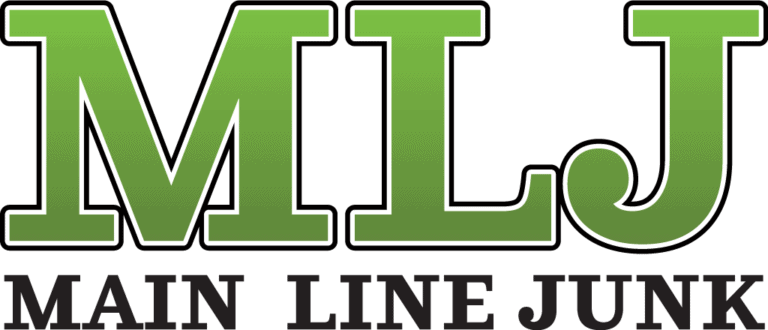 Our uniformed Junk Removal Crew will arrive and provide an estimate on site and can begin removing your junk right away! We charge junk hauling by volume, so you only pay for what we take!
Our dump trucks are state of the art to help us keep the price of your junk removal competitive in your area.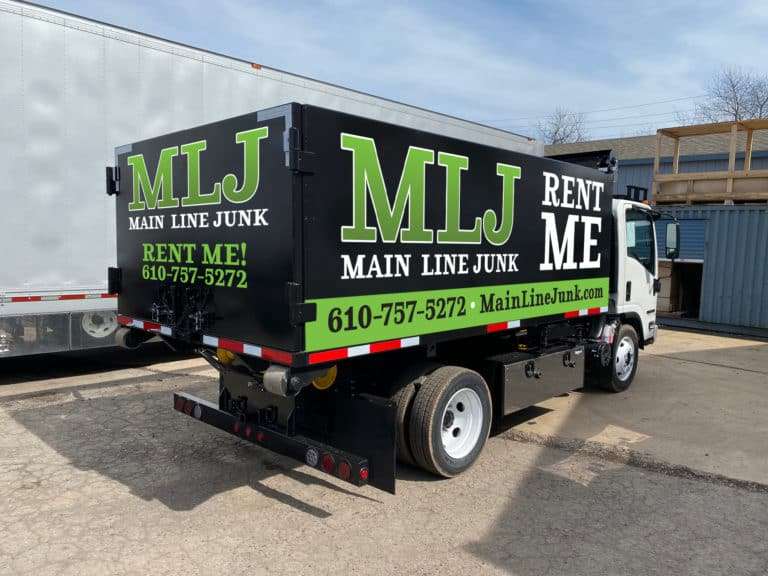 At Suburban Solutions Junk Removal, you only pay for what you want removed! Our pricing is the cheapest Junk Removal up and down the Mid Atlantic!
For more information on our services, please see the links below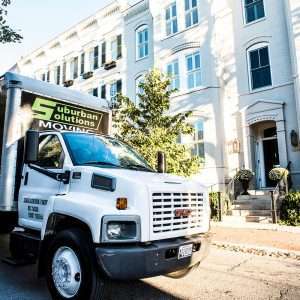 Whether you're moving down the street or across town, we can get you and your belongings the quality local service you deserve.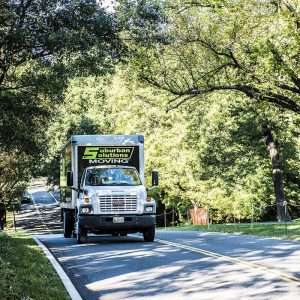 North, South, East & West, our long distance service covers the lower 48 states. Let our personalized customer service and exceptional network of professionals take you there.
We recognize there's a big difference between moving a five-bedroom house and a 12'×12′ studio apartment. That's why, for you urban dwellers, we developed our swiftest and most efficient city-to-city moving option: The Sub-Solv Express.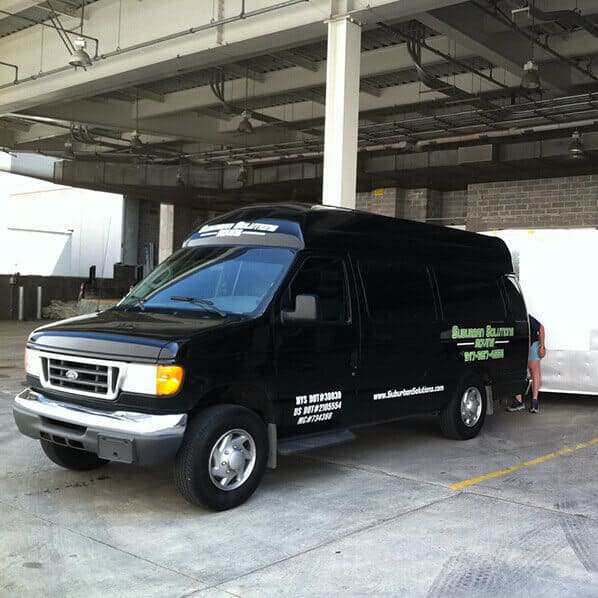 Office moves can't be done during normal business hours or your bottom line suffers. Proper care of equipment and items isn't just for cosmetic purposes. You need it done the right way and with special care.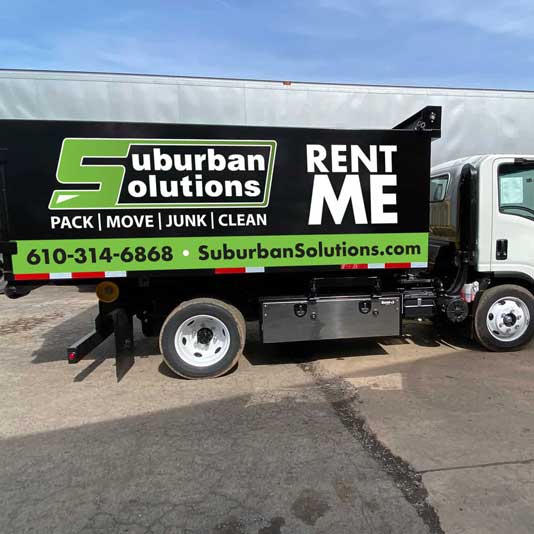 We know that not everyone needs a mover to get their belongings from one home to another.  Sometimes our customers just need to downsize, get rid of clutter in the basement, stage their home for sale or just toss out that old couch or mattress!