A common question we hear is, "How do I move long distances?" While moving across town can be stressful, we understand that moving across the country can feel overwhelming, to say the least.
At Suburban Solutions, whether you're relocating a couple of states away from Washington D.C. or to the West Coast, we are here to help make your transition seamless. Our talented team of moving experts service Washington D.C., the entire Baltimore-Washington Metropolitan area, and the National Capital Region, and we can't wait to be able to help you, too!
What Is A DC Long Distance Move?
A long distance relocation is 100 miles or more from your current home, while an interstate relocation is when you cross over state lines. When it comes to a cross-country move, it's still a long distance move, but you're going from one side of the country to the other. It is important to note that some people use the phrase cross country moving when crossing multiple states.
If someone is moving across the country, there's often a reason. Some of the most common reasons include a change in marital status, a new job or transferring for your company, looking to own a home rather than renting, attending or leaving college, being closer to family and friends, health reasons, or looking for a change of climate.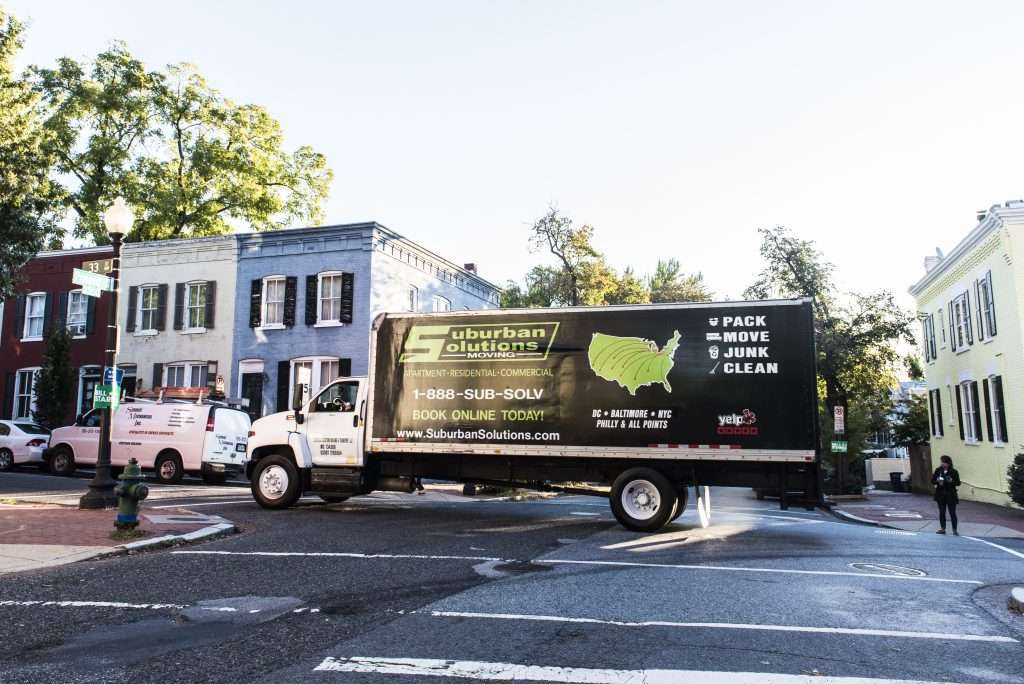 Moving Cross Country With Suburban Solutions
The #1 voted way to move across the country is by working with the top Washington D.C. long distance moving company. There are plenty of reasons to hire a team of professional and trustworthy crew members, but here are some of the top reasons to hire Suburban Solutions to handle your full-service interstate relocation:
Dedicated Move Coordinator that will handle your entire relocation process
Packing and unpacking services
Professional-grade packing materials
Disassemble and reassemble your furniture
Take all of your boxes and furniture and load them into the moving truck
Transport your belongings to your new home
Unload the truck and carry everything inside your home and place boxes into the designated rooms
Arrange your items where they need to be
Place your furniture where you'd like them to be located
Moving your appliances (disconnecting and reconnecting are not included)
When you work with Suburban Solutions, the BEST interstate moving company in Washington D.C., here are some of the benefits you'll receive:
Helps to reduce your stress and gives you peace of mind
Saves you time and energy
Fully-licensed and insured Washington D.C. moving company
Award-winning services
<1% moving claim rate
98% referral rate
12+ years in business
80+ trusted and highly trained crew members and drivers
Junk removal available through our sister company, Main Line Junk
Affordable long distance moving services
As an award-winning long distance moving company, our team will always be there for you throughout the process. We're just one phone call away to answer any questions you might have during this transition.
DC Long Distance Moving Quotes | How Much Do DC Interstate Movers Cost?
The final cost of a Washington D.C. interstate move is unique and different for every customer. But don't worry or stress over the price because here at Suburban Solutions, our long distance moving services are affordable and fit into any budget.
Now, you might be wondering about some factors that can influence the cost of your relocation. The two most prevalent variables include: the total distance between your current origin and your new destination and the weight of the entire shipment. While these are two of the most "weighted" variables, here are some additional factors that can dictate the cost:
For our team to create a free quote, we will need as much information as possible. In addition to the factors above, it's helpful to know the total square footage of your home and the number of bedrooms you have in your house.
It's essential to remember that each Washington D.C. interstate move is different for everyone, which means the price will be unique for each move. We also provide a virtual survey, so if you need to get in sooner than an in-person appointment is available, this is a great option.
To learn more about our price breakdown, contact our customer service team for an accurate in-home or virtual estimate.
Choosing The Best DC State To State Movers
Are you looking through an endless list of out of state moving companies? While it can feel overwhelming trying to find the #1 interstate moving company in D.C., it doesn't have to be impossible. To help you make your final decision, we recommend getting the answers to the following questions:
What are your Google Reviews?
Is your claim rate <1%?
What is your customer referral rate?
Do you conduct a background check on your employees?
On average, how many customers do you serve each year? And from those, how many are long distance relocations?
How long have you been in business?
Do you offer packing?
Do you have storage available (long-term and short-term)?
What experience do you have relocating speciality items (i.e: pianos, safes, gun safes)?
What type of training(s) do your crew members go through?
Are you fully licensed and insured?
Do you offer junk removal?
What is your safety rating based on your US DOT number?
Suburban Solutions is the top Washington D.C. interstate moving company and is here to help you make this transition as stress-free as possible, giving you peace of mind throughout the process. We have a team of highly-trained and experienced crew members with the talent and training you need. When you choose Suburban Solutions, here are some of the aspects that make our company stand out:
Tape
Extra boxes (small, medium, large, wardrobe)
Shrink wrap
Bubble wrap
Professional-grade packing materials
2x dollies for both boxes and furniture
Straps
Toolbox
Furniture blankets
Furniture padding
Highly-trained professionals
Follows the rules and the procedure to ensure your items arrive in the same condition as they left
Trustworthy
Hardworking
Reliable
Diligent
Clean, newer, properly maintained
53' professional moving trucks
Tractor trailers
Truck tracking: GPS
Special software
Suburban Solutions is the best long distance mover in the industry. Our team of professional and reliable cross country movers are here to help make the transition seamless – at an affordable price. Our crew members are highly trained and are ready to help make your cross country relocation as stress-free as possible. We service Washington D.C., the entire Baltimore-Washington Metropolitan area, and the National Capital Region, and we are here for YOU! Call us at (301) 928-8669 for a free estimate!