Moving to Philadelphia? You have dozens of amazing neighborhoods to choose from, including plenty of communities in Center City that offer an exciting urban lifestyle and amenities at your fingertips. Make sure you don't overlook Old City, Philadelphia, the birthplace of America and one the best places to live in Philadelphia. Packed with history, culture, nightlife, and green space, you may never want to leave! Here's what you can look forward to after moving to Old City, Philadelphia.
Old City Philadelphia History
Philadelphia's Old City is perhaps America's most historic district and it's where America began.
Penn's Landing, a short walk from the heart of Old City, is where William Penn first landed in the region after sailing up the Delaware River in 1682 on the ship Welcome. King Charles II could not afford to pay back money to William Penn's father and offered the land that would become Philadelphia. Sir Penn the Senior gave the land to his 37-year-old son.
Arriving in Philadelphia for the first time, he settled with other Quaker settlers and went on to meticulously design the city of Philadelphia. It became a two-square-mile rectangle along the river – Center City, including modern-day Old City. The landing soon became the site of Philly's first wharf, Carpenter's Wharf, now expanded and modernized.
The city he designed became a model for America. The streets were broader than anywhere else, including anywhere in London, and the city was designed to be a "greene country towne" with public spaces.
The neighborhood became home to Philadelphia's first City Hall built while Penn was alive on 2nd Street near the river.
Everywhere you turn is history in Old City. The Arch Street Theater at Arch St & 6th St was opened in 1828 by actress Drew Berrymore's great-great-grandmother. Before the Civil War, John Wilkes Booth performed here regularly.
In the 1830s while slavery was a contentious issue in the U.S., the Pennsylvania Abolitionist Society built a meeting house at Race St & 6th Ave which, three days after opening, was burned to the ground while firefighters and police sat by.
In 1775, Old City's Pennsylvania State House, now the Independence Hall, became the meeting house for the Second Continental Congress. In 1776, men gathered at the Pennsylvania State House and drafted the Declaration of Independence. George Washington was nominated the commander-in-chief of the Continental Army here and Benjamin Franklin would be appointed the first Postmaster General. In current-day Independence Square, the Declaration of Independence was read to the public. In 1787, the United States Constitution was drafted in the building.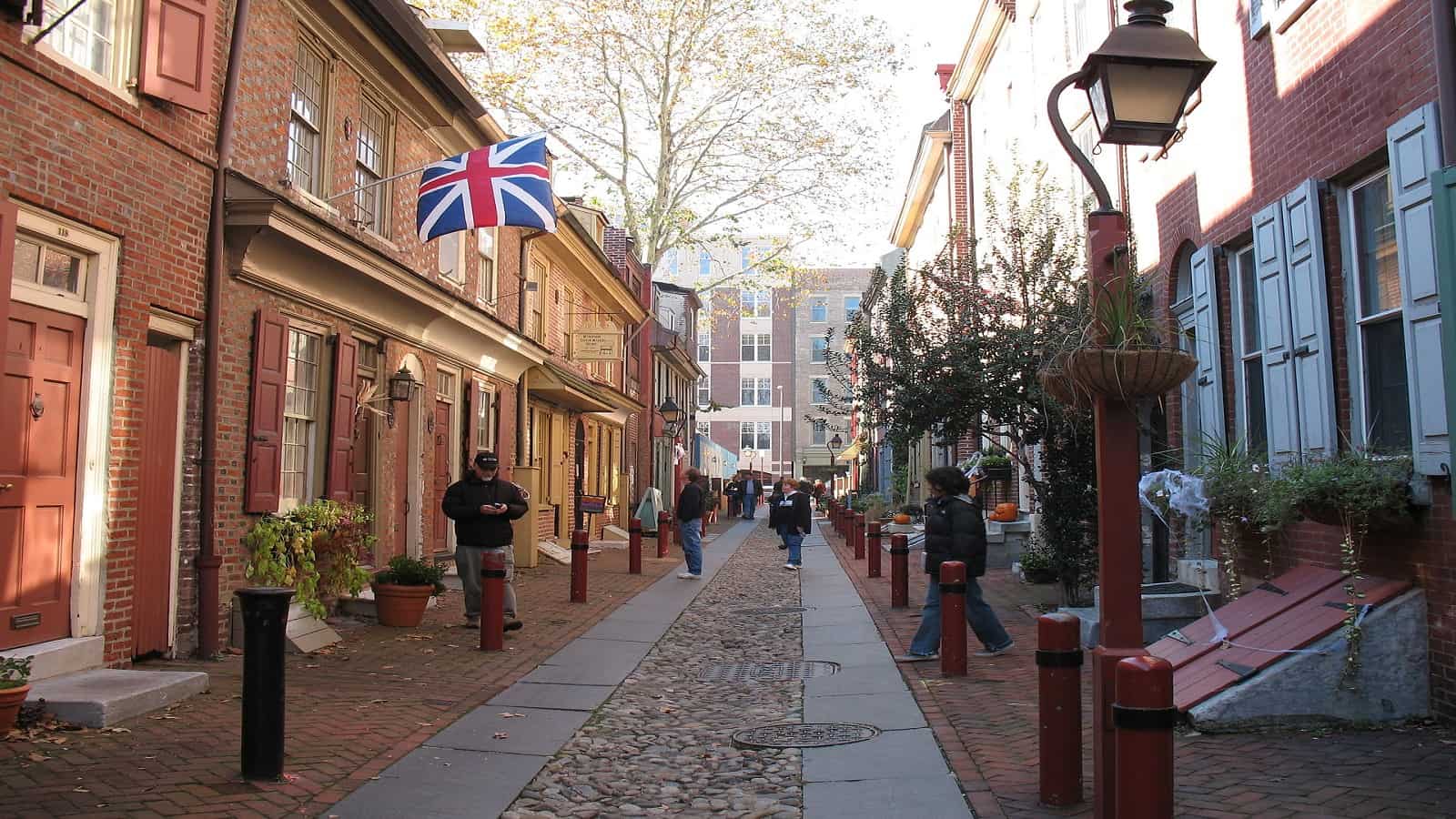 Between 1790 and 1800, Philadelphia, and more specifically Old City, was America's capital.
Still known for its rich history, Old City, Center City today is known for its family-friendly events, exciting nightlife, amazing restaurants, and bustling life.
View this post on Instagram
Old City Philadelphia Location & Transportation
Old City is a historic district in Center City, Philadelphia. It's located along the Delaware River where William Penn first landed. Old City covers the blocks between Front and Sixth Streets and is bound by Walnut Street to the south and Vine Street to the north.
While the exact boundaries depend on the source, this definition of Old City covers about 0.6 square miles or 75 acres. It's located in the 215 area code and zip code 19106.
I-95 and I-676 both run through Old City and intersect in the center of the neighborhood. Old City, Philadelphia public transportation options are also excellent. The Spring Garden Station, 2nd St Station, and 5th St Independence Hall Station SEPTA subway stops are all easily accessible. Several SEPTA bus lines serve Old City including 10 bus stops within a five-minute walk.
Map of Old City, Philadelphia
Old City Philadelphia Culture, Lifestyle & Demographics
What is it like living in Old City, Philadelphia? The Old City is where the old and new collide! Old City is home to Philadelphia's top tourist attractions and some of America's most historic cultural icons like Independence Hall. The district receives more than 3.6 million visitors every year!
Set among these historic destinations and museums are modern cultural attractions, chic housing, and excitement. After moving to Old City, Philadelphia, you'll enjoy being within walking distance of the very best that Philly has to offer. The neighborhood is popular with millennials and young professionals with most residents in white collar jobs. Most Old City residents are single, but there are some families and retirees here too! The population of Old City, Philadelphia is about 6,500. The average household income is $141,700 which makes it one of the most affluent neighborhoods in Philadelphia.
This fun neighborhood has one of Philadelphia's hippest nightlife scenes with upscale restaurants, pubs, dive bars, lounges, and tons of live music venues. You'll find the nightlife condensed along Third and Market Streets to Chestnut and Front Streets.
View this post on Instagram
Cultural attractions are also within walking distance with the 3rd Street Corridor between Vine and Market Streets home to theaters, galleries, boutiques, and small, local shops. The street is home to the First Friday event every month with evening open houses.
Enjoy the outdoors? You'll find some of the Philadelphia's most gorgeous parks including a beautiful stretch of waterfront with parks, restaurants, live music, and museums. You'll enjoy music festivals in the park in the summer, ice skating in winter, and tons of neighborhood events and festivals in-between, all within your neighborhood and a short block away!
Fun Things to Do in Old City – Old City Shopping, Dining & Attractions
America's most historic square mile is packed with things to see, do, and eat! Whether you're interested in exploring America's history, enjoy live music, or share a fine meal with friends, you'll always find something exciting in Old City, Philadelphia.
View this post on Instagram
Old City's historic attractions are popular with residents and visitors alike. Old City is home to Independence Hall where the Declaration of Independence and U.S. Constitution were debated and signed. It's at the center of the Independence National Historic Park in the center of the neighborhood. The park is also home to the Betsy Ross House, Carpenter's Hill, and Elfreth's Alley, a historic street with 36 homes built in 1703 to 1836. It's America's oldest continually inhabited street! Be sure to visit the Liberty Bell, the symbol of American independence.
There are plenty of other fun places to explore in Old City like Girard Fountain Park, a small pocket park popular with residents that's maintained by the Fire Department. The Museum of the American Revolution, opened in 2017, is also a top stop.
While living in Old City, Philadelphia, you'll also love spending time at Penn's Landing, a stretch of eateries and parks on the Delaware River. RiverRink offers ice skating every winter while Festival Pier and the Great Plaza offer summer concerts. SugarHouse Casino has a popular nightlife scene on the river.
View this post on Instagram
In the mood for entertainment? The Painted Bride Art Center offers live music, jazz, dance, and theater while The Ave Live offers concerts from touring acts. The 2,500-capacity Franklin Music Hall is also nearby. You'll find more entertainment at the Landmark's Ritz East, a neighborhood movie theater that shows new, independent, and foreign films.
When you're ready to grab a bite to eat, you'll find no shortage of great options. One of the most celebrated restaurants in Old City, Philadelphia is Cuba Libre Restaurant & Rum Bar. Enjoy late-night salsa dancing, bright Caribbean design, and amazing Cuban food paired with a massive rum bar. The Plough & the Stars is a popular Irish pub with traditional pub fare like fish and chips plus beer enjoyed in an airy environment. In the mood for tapas with friends? Try Amada, a modern and upscale tapas restaurant.
Find these top Old City, Philadelphia attractions here:
Old City, Philadelphia Real Estate – Home Prices & Average Rent in Old City
Are you planning on buying a home or renting after moving to Old City in Center City, PA? Despite being one of the most desirable places to live in Philadelphia, you'll find home prices in Old City, Philadelphia are surprisingly affordable compared to most major cities!
The average home price in Old City, Philadelphia is $288,000, down 25% from 2020 to 2021, with an average sales price of $349 per square foot. Homes in this dense urban community aren't listed often! You can check Old City, Philadelphia homes for sale to see what's available now. Prices range from the $200s to $400s for condos and up to $1.8 million for large, historic homes.
View this post on Instagram
Renting while living in Old City, Philly? Luxury condo living is ideal for enjoying everything Old City has to offer! While the average Philadelphia rent is $1,662, you'll find Old City is more expensive. The average Old City, Philadelphia rent is $2,194. That may seem like a lot, but it doesn't even break the top 20 most expensive neighborhoods in Philadelphia like Belmont and University City where rent is $2,500 or more.
Ready to experience living in Old City, Philadelphia for yourself? Once you've settled on this historic, exciting neighborhood and chosen where you'll live, give the friendly movers at Suburban Solutions a call at 610-314-6868 for a free estimate. We look forward to making moving to Old City, Philly a fun and stress-free adventure!