The small, comfortable unincorporated community of Wayne, PA is located about 18 miles northwest of downtown Philadelphia. The central portion of Wayne is known as the Downtown Wayne Historic District being and is considered part of Radnor Township. Wayne is also bordered by Berwyn, King of Prussia, Bryn Mawr, Strafford, and Valley Forge.
In the early 1800s, Wayne was originally called Cleaver's Landing and stood as the Main Line railway stop. The town was later bought in 1880 by banker A.J. Drexel and a newspaper editor named G.W. Childs who renamed the area after General Anthony Wayne, a soldier and leader in the Revolutionary War.
Wayne, PA is known for having six local landmarks on the National Register of Historic Places including Wayne Hotel, North Wayne Historic District, South Wayne Historic District, Downtown Wayne Historic District, Pennsylvania Railroad Station at Wayne, and The Chanticleer Garden.
Wayne is on the Main Line – a series of highly desirable and affluent Philly suburbs.
Newcomers are moving to Wayne, PA because it's a great place to live with a history of being home to notable people such as Back to the Future actor Thomas F. Wilson, author Jerry Spinelli, and actress Abbi Jacobson.
1. People of Wayne, PA – Population & Demographics
Residents living in Wayne, PA enjoy an affluent lifestyle with quiet, calm surroundings outside of Philadelphia. The population in Wayne, PA is 32,225 residents with a median age of 41 years old. The median household income in Wayne is $109,633 a year.
Wayne demographics show the community is made up of 86% Caucasian, 8% Asian, 5% Black or African American, and 4% Hispanic or Latino.
2. Things to Do in Wayne, PA
Among the top activities in Wayne is Radnor Trail, a 2.4-mile trail that offers seven entrances spread around the area. Lined with trees, many local residents use the trail for everything from hiking and biking to jogging, rollerblading, and walking. You can even bring your dog for a walk along Radnor Trail as long as you keep them on a leash.
View this post on Instagram
Radnor Trail, 520 Conestoga Rd, Wayne, PA 19087  (610) 688-5600
Bo Connor Park offers more fun things to do in Wayne including baseball fields, a basketball court, and a children's playground for the kids. Enjoy a day outside playing sports, let the kids get out some energy, or enjoy a picnic next to the park's pond.
Bo Connor Park, 590 S Devon Ave, Wayne, PA 19087  (610) 688-5600
Additional Wayne Attractions
3. Wayne Restaurants
With its unique menu of Sichuan and Taiwanese dishes, DanDan is often considered one of the best restaurants in Wayne. Their options range from duck entrees and chicken plates to fish, shrimp, and more. Whether you're simply looking for some noodles and rice or something new, you'll find great choices at this local Wayne eatery.
View this post on Instagram
DanDan Wayne, 214 Sugartown Rd, Wayne, PA 19087  (484) 580-8558
The White Dog Cafe has a mouthwatering menu that makes it obvious why they're among the best places to eat in Wayne. Find a great spread to choose from including salads, short ribs, rainbow trout, scallops, salmon, steak, and much more. The walls of the cafe are lined with various decor and trappings that stand as proof of how much the owners love dogs.
View this post on Instagram
White Dog Cafe Wayne, 200 W Lancaster Ave, Wayne, PA 19087  (610) 225-3700
4. Cost of Living in Wayne, PA
Wayne is a fairly expensive place to live due to its affluent neighborhoods and local amenities. The cost of living in Wayne is 47% higher than the Pennsylvania average and 54% higher than the national average. Plan to pay more for groceries, transportation, healthcare, home utilities, and the housing market.
Wayne, PA homes for sale are somewhat competitive with places staying on the market for an average of 32 days. The average price of a home in Wayne is $750,000, which equals out to a median sale price of $261 per square foot.
The cost of renting in Wayne has increased by 1% in the past year but leasing options are still reasonable. The average price of rent in Wayne $1,545 per month. Final costs will be based on your location, home size, and nearby conveniences.
5. Wayne Neighborhoods
Is Wayne, PA a safe place to live? With a crime rate of 11 per 1,000 residents, falls in line with averages across the United States. Residents living in Wayne have a 1 in 92 chance of becoming a victim of crime. The safest neighborhoods in Wayne are West Wayne and the South Wayne Historic District.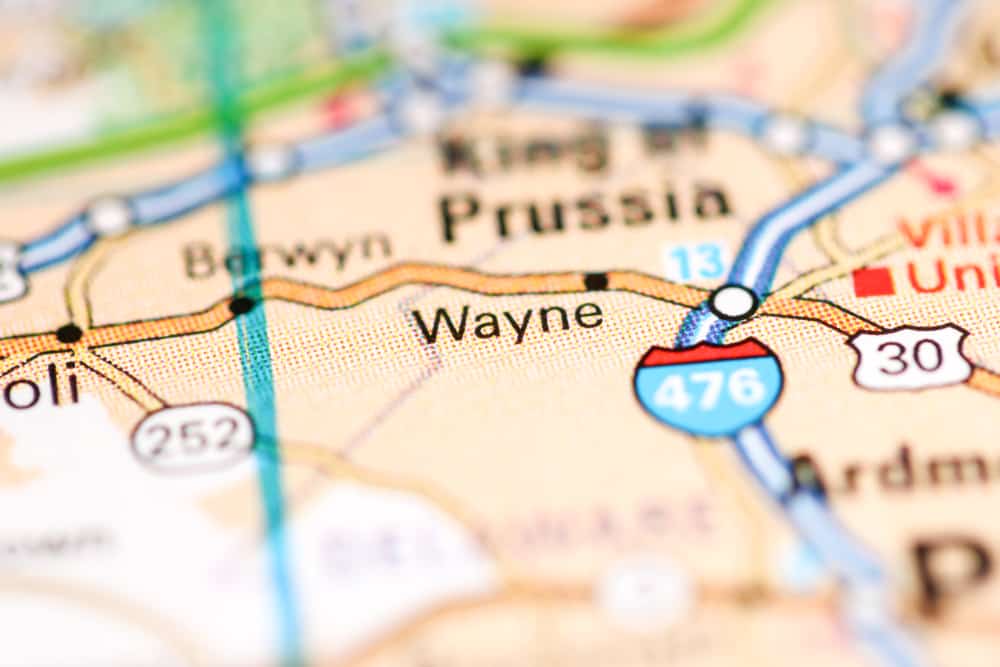 Wayne is located at the northernmost tip of Delaware County in Pennsylvania. The only zip code in Wayne, PA is 19087. Phone numbers in Wayne have a 610 area code.
People moving to Wayne will be happy to discover the area has convenient shopping at places like Target, the Eagle Village Shops, Whole Foods, the Devon Square Shopping Center, and Trader Joes.
6. Wayne Schools
Local schools in Wayne are part of the Radnor Township School District, offering reputable education programs for children of all ages. Parents also have the option to send their kids to the Education Plus Academy campus found in town.
The main Wayne schools are:
Radnor El School

Education Plus Academy Cyber C

Valley Forge Middle School
When it comes to local secondary schools, Cabrini University and Villanova University are both less than 2 miles away from Wayne.
7. Jobs in Wayne
Located at the intersection of Wayne Avenue and Lancaster Avenue, newcomers relocating to Wayne will find the community's business district. Around this area as well as nearby in other cities, many residents enjoy good jobs in Wayne. The average salary in Wayne is $69,000 per year.
Top employers offering Wayne jobs for local workers include:
J.P. Morgan

Deloitte

Comcast

SAP
The average one-way commute in Wayne is 25 minutes. Some people travel for work from Wayne to Philadelphia, which is about 18 miles away and takes 20 minutes or so.
8. Wayne, PA Weather
The humid continental climate in Wayne keeps weather warm and humid during summer, while winters bring wet, cold temperatures. On average, Wayne gets about 205 sunny days per year with the remaining bringing cloudy and partly cloudy days.
The weather in Wayne during summer sees average temperatures between the mid-60s and mid-90s. Winters cool down drastically as temps lower to between the low 20s and mid-30s. Wayne gets an average of 48 inches of rain and 21 inches of snow per year.
Living in Wayne Pros & Cons
Pro:

An affluent neighborhood with great things to do all over the area.

Pro:

Wayne has an incredible amount of unique and interesting history.

Con:

The high cost of living in Wayne may prevent many people from being able to afford to reside in the community.
Moving to Wayne, PA
As a wealthy part of town, people relocating to Wayne will find the area is flowing with benefits both inside and outside of its borders. Get assistance with your upcoming transition by trusting our top-rated Wayne movers to handle the job. Contact Suburban Solutions today at (610) 314-6868 or complete the Request a Quote form on this page for a free moving estimate!