Is Fairmount, PA a good place to live? The community of Fairmount is a large neighborhood in Lower North Philadelphia with a wide variety of amenities and perks for the people living there.
Fairmount is known for being home to the Philadelphia Museum of Art, which features the iconic steps from the 1976 movie "Rocky". The name "Fairmount" is also derived from the hill on which the museum stands.
Commonly called by the nickname of "Art Museum Area", Fairmount has a strong art scene that attracts many people to the community.
The popular Philadelphia neighborhood is becoming more gentrified and affluent with each passing year as more wealthy people are moving to Fairmount.
History of Fairmount, Philadelphia, PA
Originally settled in the 17th century, Fairmount started as a farming community. It began as a small part of Penn Township for the first century and a half or so. Fairmount wasn't within Philadelphia city limits until 1854 when it was officially incorporated.
Playing a pivotal role in the American Revolution, defensive structures were built by the British as part of their fortifications all the way from the Fairmount hill down to way is now Fairmount Ave by the Delaware River.
Most of Fairmount's urban growth started in the earlier portion of the 19th with the establishment of Fairmount Dam and Water Works as well as Eastern State Penitentiary built in 1829 and Girard College in 1831.
The popular community of Fairmount has since blossomed into one of the most desirable neighborhoods in Philadelphia for people in the working class.
Fairmount Location & Transportation
Modern-day Fairmount is located about 2.9 miles northwest of downtown Philadelphia. Fairmount is surrounded by communities like Brewerytown, East Park, Francisville, Sharswood, Spring Garden, Logan Square, East Parkside, and Yorktown.
Fairmount only covers about 1 square mile in the middle portion of the Philadelphia metro area. Zip codes in Fairmount include 19103 and 19130. A new phone number in the community will have a Fairmount area code of 267. It is located in Philadelphia County.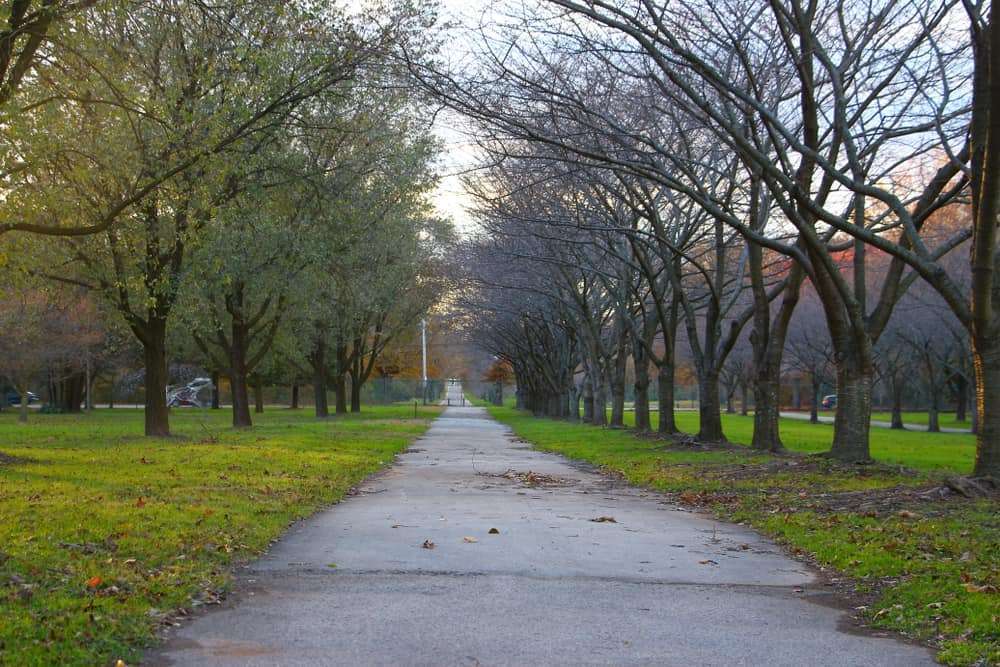 The boundaries of Fairmount extend from Fairmount Avenue on the south up to Girard Avenue along the northern border. It then spans from the Schuylkill River on the west over to Corinthian Avenue on the east.
Depending on who you ask, neighboring Philadelphia communities like Spring Garden, Franklintown, and Francisville are often considered part of Fairmount.
Fairmount is a fairly walkable community, though some people living there also have their own vehicles for travel throughout the city. Served by the Southeastern Pennsylvania Transportation Authority (SEPTA), many people use the Penn's Landing transit line to travel from Fairmount to Center City Philadelphia for work.
People & Culture of Fairmount
How many people are living in Fairmount? The population in Fairmount is 9,246 residents with a median age of 34 years old.
Local Fairmount demographics include about 68% Caucasian, 19% Black or African American, 8% Asian, and 3% Hispanic or Latino. As a melting pot of culture, the most common ancestry backgrounds of people living in Fairmount are 16% Irish, 15% German, 11% Italian, 7% Polish, 6% English, 3% Russian, 2% French, and more.
The median household income in Fairmount is $80,200 per year, which sets it higher than the national average.
About 35% of households in Fairmount are married couples, some of which have children. There are about 1,375 kids between the ages of 0 and 18 years old living in Fairmount, making up less than 15% of the local population. More than 44% of people living in Fairmount are single and live alone.
With a mixed bag of people, you'll find generations of residents in Fairmount ranging from baby boomers to millennials. You'll often see a lot of Fairmount residents out walking their dogs.
Places to Eat, Things to Do, & Shopping in Fairmount
Even though it is a small area, there are still plenty of fun activities, great restaurants, and local shopping destinations to enjoy in and around Fairmount.
Great Fairmount Restaurants
Among the top-rated places to eat in Fairmount, Sabrina's Cafe offers some of the most delicious meals in town. The popular spot has a scrumptious menu of breakfast foods including french toast, pancakes, eggs, toast, and granola. Their lunch and dinner options range from sandwiches and burgers to meatloaf, pan-seared salmon, and roasted chicken.
View this post on Instagram
Also rated among the best restaurants in Fairmount, Jack's Firehouse is one of the top places in town to get BBQ. Take your pick from their savory menu choices including pulled pork, soups, salads, barbecue sandwiches, ribs, and much more.
Other great places to eat in Fairmount include SOUTH and Cantina "Calaca" Feliz.
Fun Local Activities
An obvious addition to any list of top-rated attractions in Fairmount is the Philadelphia Museum of Art, a truly spectacular place to enjoy art and various exhibits. The majestic museum features rotating art pieces and has themed sections such as their variety of Renaissance classics.
View this post on Instagram
Held within the abandoned Eastern State Penitentiary, one of the best Fairmount places to visit during Halloween is Terror Behind the Walls. This seasonal haunted house is hosted every October and offers a good scare to fit the Halloween theme.
Other top-rated things to do in Fairmount include The Franklin Institute, Fairmount Water Works, and Boathouse Row.
Convenient Shopping Destinations
The closest mall you'll find to Fairmount is The Shops at Liberty Place, a large shopping center closer to downtown. Other great places to shop in Fairmount are Walgreens, Rite Aid, Target, Dollar Tree, and Whole Foods.
View this post on Instagram
List of Amenities
Map of Fairmount
Fairmount Real Estate
A little more than half of the residents living in Fairmount own their homes with a community rate of about 53%. The local housing market isn't very competitive as Fairmount, PA homes for sale stay on the market for an average of 28 days or more. The average price of a home in Fairmount is $445,000.
With almost half of the people residing in Fairmount renting their living space, there are plenty of opportunities to lease. The average price of rent in Fairmount is between $995 per month and $2,450 per month.
How much does it cost to live in Fairmount, Philadelphia, PA? The cost of living in Fairmount is about 11% lower than the US average and about 4% lower than the Pennsylvania state average.
If you have children, one thing to consider before choosing where to live in Fairmount is where you want them to go to school. Local schools in Fairmount are part of the School District of Philadelphia including:
Bache-Martin School

Laura Wheeler Waring Public School

Science Leadership Academy Middle School
Moving to Fairmount in Philadelphia?
The beautiful Philadelphia neighborhood of Fairmount has a lot going for it that makes it a pleasant place to live. If you've made the decision to relocate to this popular Philly community, trust the top-rated Fairmount movers here at Suburban Solutions! Call our team today at (610) 314-6868 or fill out the Request a Quote form at the top of this page for a free moving quote!