Are you visiting the Washington, DC area or moving to Arlington? One of your many concerns may be crime. Is Arlington safe?
This historic urban area was recently named the best city to live in the U.S. with two neighborhoods ranked among the country's top three best, thanks to its great schools, affordable cost of living, walkability, amenities, and very low crime.
This guide will cover everything you want to know about the Arlington crime rate, including property and violent crime, safe places to live, and the common types of crime in the area.
As you explore crime in the DC area, remember that Arlington isn't actually a city: it refers to Arlington County, VA, which is coterminous with the census-designated place of Arlington. While it's the second-largest "city" of the Washington metro area, it isn't an incorporated town or independent city. However, because Arlington is officially a census-designated place (CDP), officials can compare it to a city, not a county, because data for cities and CDPs is published at the same level in federal surveys.
Understanding the Arlington Crime Rate
When you're preparing to move to a new city, or just visiting, looking at crime rates in comparison to the national average and your current city is a good place to start to understand the risk of crime. It's important to understand how these crime rates are calculated and what they do and do not tell you.
How are crime rates calculated? There are two FBI crime reporting systems.
The Uniform Crime Reporting (UCR) program was officially retired in early 2021, but most city crime rates you see still use this data because there is a lag to develop final crime reports. The UCR collects data on just eight index crimes or "Part I" including four property crimes and four violent crimes.
The National Incident-Based Reporting System (NIBRS) collects data on 24 crime categories comprised of 52 specific crimes known as Group A offenses. It also collects data on 10 Group B offense categories for which arrest data is collected. The NIBRS tracks a broad range of crimes divided into the three broad categories.
Crime rates are reported as the number of certain crimes per 100,000 people (per capita). U.S. jurisdictions must switch to the NIBRS system starting in 2021, but Arlington made this switch early.
The NIBRS collects data on three broad categories of crime:
Crimes Against Persons include kidnapping, aggravated assault, simple assault, intimidation, human trafficking, murder/non-negligent manslaughter, negligent manslaughter, forcible sexual offenses, non-forcible sexual offenses
Crimes Against Property include arson, bribery, burglary, forgery, vandalism, embezzlement, extortion, fraud, larceny/theft, motor vehicle theft, robbery, and stolen property
Crimes Against Society are generally victimless crimes when property is not the object of the offense. Examples include prostitution, gambling, and drug offenses.
City and national crime rates are calculated based on just eight index crimes under the UCR program. Group A offenses under the NIBRS program, however, include far more. To compare apples to apples, we will establish Arlington crime rates based on the same index crimes used for city crime rates. Above, the eight index crimes are bolded.
What Is the Crime Rate in Arlington, VA?
In 2019, Arlington County had 7,985 Group A offenses and 1,324 Group B arrests. The Group A offenses fall into three categories: crimes against persons, society, and property.
The crime rate in Arlington is:
1,430 total crimes per 100,000 people
104 violent crimes per 100,000 people
1,326 property crimes per 100,000 people
The national average crime rate is 2,580 crimes per 100,000 people with 2,362 property crimes and 382 violent crimes per capita.
Arlington County was ranked the safest city in the U.S. in a recent study, beating out 303 municipalities and localities. The county has the lowest cost of crime to society at $132 per person. Essentially, residents and the city have lower direct and indirect costs of crime than any other jurisdiction in the U.S. with at least 100,000 people.
Property Crime in Arlington, VA
In 2019, Arlington had 5,503 reported Crimes Against Property. The following are Arlington property crime offenses in 2019 with index crimes bolded:
Larceny/theft: 2,750
Fraud: 1,347
Destruction/vandalism of property: 667
Motor vehicle theft: 227
Burglary: 158
Forgery: 129
*Robbery: 92
Embezzlement: 43
Stolen property: 42
Extortion: 35
Arson: 6
Bribery: 0
* Note that robbery is reported as a property crime under NIBRS but a violent crime under UCR. We used it to determine the Arlington violent crime rate, not the property crime rate.
There was a significant increase in property crime in Arlington reported between 2018 and 2019. This is attributed to greater adoption of the police department's Online Reporting System that allows residents to report certain property offenses online.
The property crime rate in Arlington is 1,326 property crimes per capita or per 100,000 people.
Violent Crime in Arlington, VA
In 2019, Arlington had 1,234 reported Crimes Against Persons:
Simple assault: 822
Aggravated assault: 150
Forcible sex offenses: 127
Intimidation: 105
Kidnapping: 25
Non-forcible sex offenses: 3
Murder/non-negligent manslaughter: 2
Negligent manslaughter: 0
The Arlington violent crime rate is 104 violent crimes per capita and a murder rate of just 0.03 per capita. This violent crime rate includes the three bolded index crimes above plus robbery, listed as a Crime Against Property under NIBRS. That compares to the national violent crime rate of 382.
Dangerous Areas of Arlington
Arlington is an exceptionally safe place to live. Of course, all cities have crime, and it's no exception. Crime is usually concentrated in small areas. The following are the high-crime areas of Arlington, although they are still safe by the standards of most cities!
Columbia Heights West (pop. 7,500)
Columbia Forest (pop. 6,300)
Columbia Heights (pop. 6,800)
Penrose (pop. 4,700)
Douglas Park (pop. 10,000)
Glencarlyn (pop. 2,200)
Buckingham (pop. 5,500)
Foxcroft Heights (1,500)
Nauck (pop. 6,000)
All these neighborhoods have a violent crime rate close to Arlington's average. Just remember the violent crime rate in Arlington is less than a third the national average!
A good way to understand your risk of crime is by using an Arlington crime map that shows you where property and violent crimes are reported. You can use this Arlington map of crime to see reported crime, filter by types of offenses, and see a density map of crime (pictured below).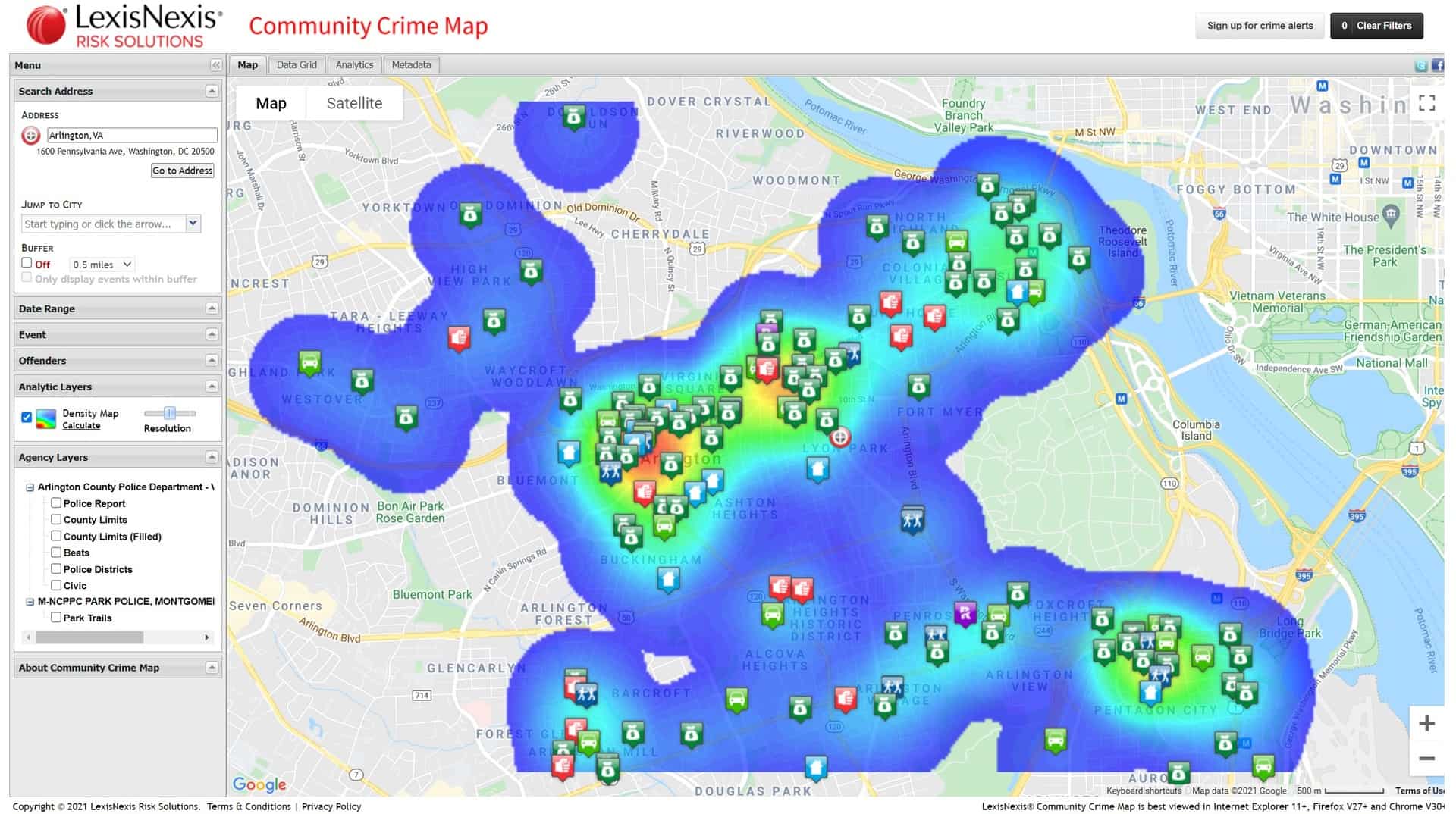 When you check this map of crime in Arlington from CrimeGrade, be aware of the limitations and how misleading the grading system can be. There are several areas in red, for instance, but these are not actually dangerous neighborhoods.
The crime rate is based on the population. With airports, national parks, and cemeteries, the actual population is low or even 0. Even a single crime will make the area seem very unsafe. This is why the National Cemetery, Pentagon, and Ronald Reagan Washington National Airport seem to have high crime.
Areas around retail may have a low population combined with high rates of minor crime like theft. Commercial theft offenses like shoplifting are not a good indication of your risk of being the victim of crime. The Pentagon Mall area has a higher crime rate than surrounding areas.
Safest Neighborhoods in Arlington
Looking for the safest places to live in Arlington? The good news is virtually every area of Arlington, Virginia has far less crime than the national average – even the "bad areas." Here's a look at safe Arlington neighborhoods to explore, all with less than 600 total crimes per capita – or about 25% of the national average.
View this post on Instagram
Arlington Safety Tips – How to Avoid Crime in Arlington
Park in well-lit, busy areas and invest in an anti-theft device like a steering wheel lock. Theft from vehicles and car theft are two of the most common crimes in Arlington, particularly around the National Mall. There was recently a string of armed robberies that occurred in the parking garage for the Fashion Centre Mall in Pentagon City.
Be aware of your surroundings when walking around the city, especially at night. Avoid walking while using your phone.
Burglary is uncommon in Arlington, but you can take steps to reduce your risk. Leave lights on to make your home seem occupied when you are not home. Always lock exterior doors and invest in a sliding glass door security bar and window locks.
Arlington County Police Department
Chief of Police: Charles Penn
Officers: 343 sworn officers, 99 civilian staff
Non-emergency number: (703) 558-2222
The Arlington County Police Department (ACPD) serves over 207,000 residents over 26 square miles of Arlington County. In 2019, the Arlington County Police Department responded to 87,605 calls for service and issued 30,573 traffic citations. Residents can make online police reports with the ACPD.
The department operates or participates in many safety programs in the community including a Community Police Academy (CPA), PathForward to assist homeless residents, and SoberRide Vehicle.
The ACPD is not the only law enforcement agency in Arlington County: there are a number of military and federal jurisdictions in the county which is part of the nation's capital metro area including the Pentagon and Joint Base Myer-Henderson Hall.
View this post on Instagram
Arlington Crime Rate FAQ
Is Arlington, VA a safe place to live?
Arlington is one of the safest cities in America with crime more than 60% below the national average and less than one-third the national average violent crime.
What is the crime rate in Arlington, Virginia?
The Arlington, VA crime rate is 1,430 crimes per 100,000 people with 1,326 property crimes and 104 violent crimes per capita.
What are the bad areas of Arlington?
There are no bad areas of Arlington, but neighborhoods with higher levels of crime include Columbia Forest, Columbia Heights West, Columbia Heights, and Penrose.
Are you exploring safe places to live in DC? Arlington offers all the amenities and quality of life of the big city with a very low crime rate. In fact, you won't find a dangerous neighborhood in the county. Once you've chosen the right neighborhood to make your home, call Suburban Solutions for affordable and stress-free moving services.