There are many reasons people choose to make the move from Philadelphia to Chicago. Perhaps a new job opportunity is taking you to the Windy City. Maybe you're starting a family and want to be closer to your relatives. No matter what exciting changes are going on, a relocation like Philadelphia to Chicago is bound to come with some stress. Between finding a new home, packing everything up, and wrapping up your old life, you're bound to have a lot going on. With a long-distance move to Chicago from Philadelphia, it's important to get a good relocation company to help.
What Moving to Chicago is Like
Chicago is the third-largest city in the United States, which might be a big change from the smaller city of Philadelphia. Here is a snapshot of what you can expect when moving to Chicago: 
Population: 2,714,017
Demographic breakdown: 32.3% white, 28.7% Hispanic, 30.9% Black or African American, 6.1% Asian, and 1.9% Mixed/Other races
Cost of living: 6.9% higher than the national average
Median home price: $295,000
Average rent: $1,826 a month
Average salary: $71,000
Average hourly pay rate: $19.62
Most common occupations: office & administrative support, management, sales
Most common industries: healthcare & social assistance, professional/scientific/technical, education
Average commute time: 33.5 minutes
Average in-state public college institution: $7,957
Average private university tuition: $27,345
Benefits of Moving from Philadelphia to Chicago
Though Philadelphia is a fantastic place to live, there are tons of benefits to moving to Chicago from The City of Brotherly Love. Here are just a few things that will surely work in your favor in your new home:
Employment Opportunities
Business is booming in Chicago. In fact, it has the third-largest gross metropolitan product in the entire country, with the third-largest labor pool. It's a major international financial center, second only in the US to New York. Chicago is home to three Dow 30 companies (Boeing, Walgreens, and McDonald's), 12 Fortune 500 companies, and major financial exchanges.
Higher Educational Opportunities
Though Philadelphia has some wonderful educational institutions, it pales in comparison to Chicago's list of amazing colleges and universities. Whether you're looking to practice law, earn your MBA, answer a religious calling, or practice general or specialized medicine, Chicago has a wonderful option for you.
Earning Power
Residents of Chicago stand to earn 3% more income per capita than the national average. That is much better than Philadelphia, where income per capita is 21% lower than the national average.
Public Transit
Philadelphia's SEPTA system is extremely small compared to Chicago's public transit system. CTA offers extensive bus and rapid transit elevated and subway (called the L by locals) lines that serve the entire city and nearby suburbs. Chicagoans also have access to Metra, a major regional commuter rail network, Pace paratransit services, and an extensive bike-sharing program.
Sports
If you're a sports lover, you'll have even more opportunities in Chicago than in Philadelphia. You'll be able to root for not just one but two MLB teams (the Cubs and the White Sox), and take in games at the famed Wrigley Field. You also have a shot at the Chicago Marathon, and the unique opportunity to participate in Chicago's eSports league.
Philadelphia to Chicago Movers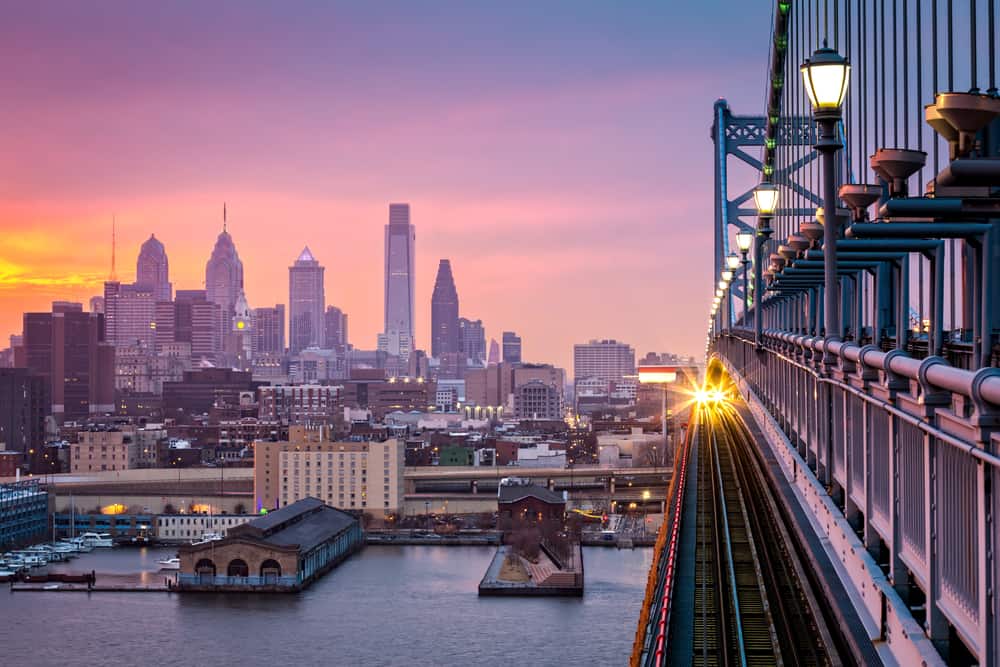 There's a lot to take into account when moving to a new city, and many people think that they will save money by packing and hauling everything on their own. However, making this long-distance transition from Philadelphia to Chicago without professional movers can mean huge headaches, broken valuables, and even injury trying to move large appliances or pieces of furniture. In the end, working with an experienced team of professionals will make the process so much easier. That's why at Suburban Solutions, we make sure to have a long list of services – we want to make sure we have what you need! Here are some of the ways we'll bring you peace of mind during your long distance move from Philadelphia to Chicago:
Safety: our long distance movers are highly trained in operating large vehicles
Speed: we will get you moved as efficiently as possible; depending on the distance, we can even get you to your new location in the same day!
Care: we'll pack your belongings in high quality materials, and treat them with the utmost of care
Organization: we'll keep your belongings organized from beginning to end
Costs: moving expenses add up quickly; our pricing covers everything from fuel to tolls to the equipment we use, so you don't have to worry about any surprises
Why Suburban Solutions is the Best Choice For Your Philadelphia to Chicago Move
With so much on your plate during this relocation, you definitely want to make sure you've chosen the best professional movers to help get you from Philadelphia to Chicago. So how do you ensure you're in good hands? Here are a few suggestions while vetting professional long distance movers:
Find out how long the company has been in business
Confirm the company is licensed and insured
Call customer service to discuss your move
Avoid companies asking for big upfront deposits
Suburban Solutions is fully licensed and insured, and has over 10 years of experience in the moving industry. We use the best quality packing materials, and ensure your large items and boxes are padded and properly strapped into our trucks to avoid damage during your long distance move. We have all the proper equipment and tools to carefully disassemble and reassemble furniture when necessary. We even offer storage and cleaning services to make sure you're covered from start to finish, and we guarantee zero hidden fees. Keeping our customers happy is our top priority, and we're proud of our 4.9 star rating!
Philadelphia to Chicago Moving Costs
Every move is unique, and everyone's budget is different. At Suburban Solutions, we offer free upfront quotes. Here are some of the factors we take into account when pricing our your Philadelphia to Chicago long distance move:
Amount of belongings we are moving
Moving dates (weekdays, weekends, peak season, etc)
Amount of movers your relocation from Philadelphia to Chicago require
Toll costs during the drive from Philadelphia to Chicago
Additional services you may opt into, such as packing or storage
With so much experience under our belts, Suburban Solutions knows how to get you moved from Philadelphia to Chicago at a price that works for you. Call us today for a free quote!
Philadelphia to Chicago Distances & Travel Information
Your home is packed, loaded, and on the road with our professional long distance movers. Now, how are you going to get from Philadelphia to Chicago? Most people making the move to Chicago from Philadelphia decide to drive or fly to their new locations. So what should you expect when making the trip?
Driving to Chicago from Philadelphia
Chicago is almost 800 miles from Philadelphia, so if you choose to drive to Chicago from Philadelphia, you should expect to be in the car for 11 or 12 hours. Whether you have EZPass or pay cash, tolls will run about $69. Here are a few great places to stop along the way:
Flying to Chicago from Philadelphia
A direct flight from Philadelphia International Airport to Chicago's O'Hare International Airport is about 2.5 hours. It's a very popular route, so you will have your choice among most major airlines including United, American, and Southwest. Flights typically range between $130 and $325 depending on how you prefer to fly, but can be as low as $84 for an economy ticket if you find a deal!
There's lots to consider when making a long distance move from Pennsylvania to the Windy City. But ultimately, moving to Chicago from Philadelphia is an exciting adventure! Don't let the stress of a long distance migration distract you – let our professional long distance movers do the heavy lifting! That way you can focus on other things. Call Suburban Solutions today to get started on your free quote!