Known as the "City of Brotherly Love", Philadelphia isn't generally recognized as a tourist hot spot for its climate. But while it may have cold winters and sweltering summers, there is still a lot to love about this city. Today, more than 1.58 million people call Philly home.
Philadelphia is situated between the Atlantic coastal plain and the piedmont. Local waterways include the Schuylkill and Delaware rivers as well as a number of lakes. The biggest body of water in the area is the manmade East Park Reservoir.
With its location in the northern part of the humid subtropical climate zone, the Philadelphia, PA climate is considered a temperate maritime climate. This basically means hot, muggy summers and moderately cold winters. Weather vs Climate: while weather refers to short-term changes in our day-to-day environment, a climate is the long-term description of the weather in a specific location.
Philadelphia Seasons
When you watch Hollywood movies, Philadelphia's seasons are generally what you see. You'll notice all of the seasons are distinct in Philadelphia with a mild spring, hot summer, cold winter, and mild fall.
Spring Weather in Philadelphia
While Philadelphia saw a record high of 97° in May one time, the Philadelphia spring temperature is normally quite mild. The average high ranges from 52.7° in March to 73.8 in May to an average low of 34.4° in March to 54° in May. The wettest month is March with 3.79 inches of rainfall.
Philadelphia has a relatively even amount of rain throughout the year. In springtime, you can expect rain for about 10 to 11 days per month. On one of Philadelphia's sunny days, don't forget to check out the flowers at the Morris Arboretum at the University of Pennsylvania.
Summer Weather in Philadelphia
During summer, the Philadelphia, PA climate really begins to heat up. The humidity level rises from 67.8% in June to a muggy 70.4% in August. While Philadelphia's record high was 106° in August, the average high ranges from 82.7° in June to 81.1° in July.
Fall or Autumn Weather in Philadelphia
When does fall start in Philadelphia? In general, it lasts from September to October. You can check out the changing autumn leaves from beautiful Fairmount Park.
During this time of year, you can expect around 3 to 4 inches of rainfall a month with just 8.7 to 9.3 days of rain each month. While the average low and high are 78° and 60.3° in September, the Philadelphia fall temperature drops to 66.6° and 48.4 in October. By November, you can expect average highs and lows of 56° and 39.2°.
Winter Weather in Philadelphia
When does winter start in Philadelphia? In general, winter lasts from December to February. January is the snowiest month of the year with an average of 4.4 days of snowfall.
If you plan on visiting Philadelphia in the winter, you'll need to bring a warm winter coat. The Philadelphia, PA climate has a fairly cold winter. January is the coldest month of the year with an average low of 25.6°, so don't forget to pack some tire chains as well if you're in the area to check out the 2022 Philly Chocolate, Wine & Whiskey Festival!
Philadelphia Monthly Weather
Weather in January
You're only halfway through wintertime in January, so it isn't surprising to see the most snowy days in this month. During January, you can expect 4.4 days of snow on average.
Weather in February
In the past, Philadelphia hit a record low of -11 in February. The average low is generally around 27.7°, so zip up your winter coat and grab a pair of mittens to block out the chilly air.
Weather in March
Spring is in the air, and the temperature is finally warming up. While you can't get rid of your jacket just yet, you can enjoy average high and low temperatures of 52.7° and 34.4°.
Weather in April
While July is the rainiest month, April has the most days of rain with 11.3 days of rain on average. Philadelphia tends to have pouring rain instead of the West Coast drizzle, so open up your umbrella before you brave any storms.
Weather in May
April flowers bring May flowers and warmer weather. While you won't want shorts at the start of the month, you'll definitely be considering them by the end of May. This month is also the second rainiest month of the year with 11.1 days of rain.
Weather in June
By June, you'll need to switch to shorts and T-shirts to escape the heat. The average high temperature is already at 73.8°, and the average humidity of 67.8% can make this month feel a bit muggy.
Weather in July
It might be hot, but don't forget to bring along your umbrella and raincoat! July is the rainiest month of the year with 4.35 inches of rainfall.
Weather in August
August is the month with the hottest day on record–a whopping 106°. You should bring along your sunblock and crank up your air conditioner because this month has an average high of 94.7°.
Weather in September
September is when the leaves start to change color and school bells ring in the air. After a long, hot summer, the weather starts cooling off with an average high of just 78°.
Weather in October
You can definitely tell summer is over as Halloween decorations come out. In October, you'll probably need a warm sweater to keep away the chilly air. Thanks to the shorter days, October has an average of just 204.5 hours of sunshine.
Weather in November
November is tied for the fourth darkest month of the year with just 154.7 hours of sunshine on average. The weather really starts to get chilly this month with an average low of 39.2° and an average high of 56°.
Weather in December
If you are prone to seasonal depression, December can be a rough month. In addition to an average low of 30.1°, it also has the fewest hours of sunshine of any month. During December, you can expect just 137.hours of sunshine.
Annual Climate in Philadelphia
Number of sunny days in Philadelphia:

On average, Philadelphia gets 246.8 days of sunshine per year.

Annual rainfall in Philadelphia:

Philadelphia gets an average of 41.53 inches of rainfall a year, which is slightly higher than the United States average of 38 inches.

Annual snowfall in Philadelphia:

This city has an average snowfall of 22.4 inches.
Extreme Weather in Philadelphia
While the Philadelphia, PA climate isn't prone to typhoons, other hazards like blizzards and heavy snowstorms are fairly common. In 1996, Philadelphia had its heaviest single-storm snowfall with a whopping 30.7 inches from one storm. Tornados can also happen in Pennsylvania, but they generally aren't as strong as tornados in the South.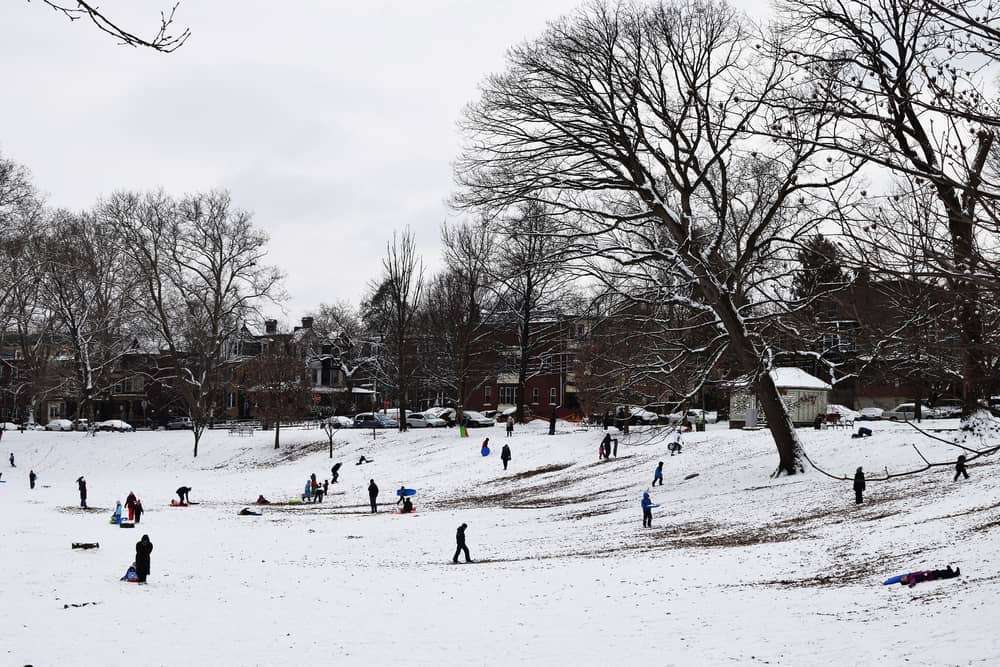 Coldest month:

The coldest month in Philadelphia is January with an average low of 25.6

°.

Hottest month:

Philadelphia's hottest month is July, which has an average high temperature of 87.1°.

Wettest month:

July is the wettest month with 4.35 inches of rainfall.

Snowiest month

: February is the snowiest month in Philadelphia with an average of 8.8 inches of snowfall.

Most humid month:

The most humid month in Philadelphia is September, which has an average humidity of 71.6%.

Sunniest month:

July is the sunniest month in Philadelphia with a mean of 275.6 hours of sunshine.

City record high temperature:

A record high of 106° was hit on August 7, 1918.

City record low temperature:

The record low of -11° was reached on February 9, 1934.
Best Time to Visit Philadelphia
If you love hiking and being outdoors, the fall and spring are the best times to visit Philadelphia. The mild weather means you can hike outdoors without getting too hot or cold. Wintertime snow and summertime heat can make hiking and outdoor adventures less enjoyable.
For fall foliage, Philadelphia is an excellent place to go. Some visitors choose to come to the city between March and May because hotels are cheaper during this time period. While you can catch the Thanksgiving Parade in November, you don't want to miss out on the Mummers Parade on New Year's Day.
Researching the Philadelphia Climate Before Moving Here?
No matter when you plan your trip, there are aspects of the Philadelphia, PA climate you can enjoy throughout the year. If you are researching the area before you relocate, the team of professional Philadelphia movers at Suburban Solutions is here to help! Call us today at (610) 314-6868 or complete the Request a Quote form on this page for a free moving estimate!