The relatively small census-designated place of Olney, MD can be found near other communities like Sandy Spring, Leisure World, and Brookeville. Olney is about 31 miles southwest of Baltimore and about 19 miles north of Washington DC.
Once known as Mechanicsville, the small village area officially became Olney in 1800. While Olney was once a quiet, rural neighborhood, it has since blossomed into a thriving and affluent community that is home to more than 250 local businesses. Residents living in Olney enjoy safe neighborhoods and plenty of local amenities.
Olney has been home to a variety of notable people such as artist and film director Frank Miller as well as Joe Aitcheson, Jr. who was a jockey in the Racing Hall of Fame.
Although it remains an unincorporated area, Olney has previously been awarded a spot on the "100 best places to live in the U.S." by Money magazine.
Even though that award was a few years ago, newcomers moving to Olney, MD will find it is still a great place to live.
1. People of Olney, MD – Population & Demographics
The number of residents living in Olney adds up to a population of about 35,280 with a median age of 42 years old. Growth has been slow over the past decade as less than 2,000 people have moved to Olney in that time frame.
Olney demographics have the city population made up of about 63% Caucasian, 13% Asian, 11% Black or African American, and 9% Hispanic or Latino. Out of all the individuals residing in Olney, about 52% are female and 48% are male. The median household income in Olney is $139,524, which is nearly twice the national average.
2. Things to Do in Olney
Finding fun activities in Olney is easy for the people living there. One of the top attractions is the Oakley Cabin African American Museum & Park, a beautiful historic site worth visiting. Residents can wander along the hiking trails and enjoy the gorgeous outdoor scenery offered at this nice location
Oakley Cabin African American Museum & Park
View this post on Instagram
Oakley Cabin African American Museum & Park, 3610 Brookeville Rd, Olney, MD 20832  (301) 650-4373
Looking through other fun things to do in Olney, newcomers will also come to love the Cherrywood Local Park. It provides access to multiple sports activities including basketball courts and a soccer field. The children's playground was recently renovated and offers kids the chance to swing, climb, and slide to their heart's content.
View this post on Instagram
Cherrywood Local Park, 4100 Cherry Valley Dr, Olney, MD 20832  (301) 495-2595
Additional Olney Attractions
3. Olney Restaurants
There are plenty of great places to eat in Olney. One of the top locations around town is Cava Mezze Olney, a Greek-style restaurant with a wide variety of delicious items on the menu. A few of the mouthwatering options include roasted salmon, mini gyros, braised beef, steak souvlaki, and grilled lamb chops.
View this post on Instagram
Cava Mezze Olney, 3122 Olney Sandy Spring Rd, Olney, MD 20832
Another one of the best restaurants in Olney is Brew Belly, a locally-owned bar and grill. Enjoy tasty dishes such as salads, hot pretzels, sausages, cheesesteak sandwiches, and more. Along with its great food menu, you can take your pick from a great selection of draft beers and other refreshing drinks.
View this post on Instagram
Brew Belly, 18065 Georgia Ave, Olney, MD 20832  (240) 389-1927
4. Cost of Living in Olney, MD
The cost of living in Olney is about 30% higher than the state average in Maryland and is also about 43% higher than the U.S. average. In general, residents living in Olney tend to pay more than the state average for standard expenses like groceries, healthcare, utilities, transportation, and the housing market.
Nearly everyone relocating to Olney becomes a homeowner, with a 91% homeownership rate across the area. The average price of a home in Olney is $557,750, which equates to a $223 median sale price per square foot. As you look through Olney, MD homes for sale, you'll typically require an average down payment of 9.1%.
With only about 9% of residents living in Olney choosing to lease, there are a few less options around the community. The average price of rent in Olney is $1,795 per month. On average, a one-bedroom apartment will cost about $1,625 per month while a three-bedroom location will hover around $2,050 per month.
5. Olney Neighborhoods
The borders of Olney encompass an area that covers about 13 square miles. People moving to Olney will appreciate a safe community offering a calm and comfortable lifestyle. Local crime rates in Olney are 48% lower than the national average, giving newcomers added peace of mind – Olney is a safe place to live.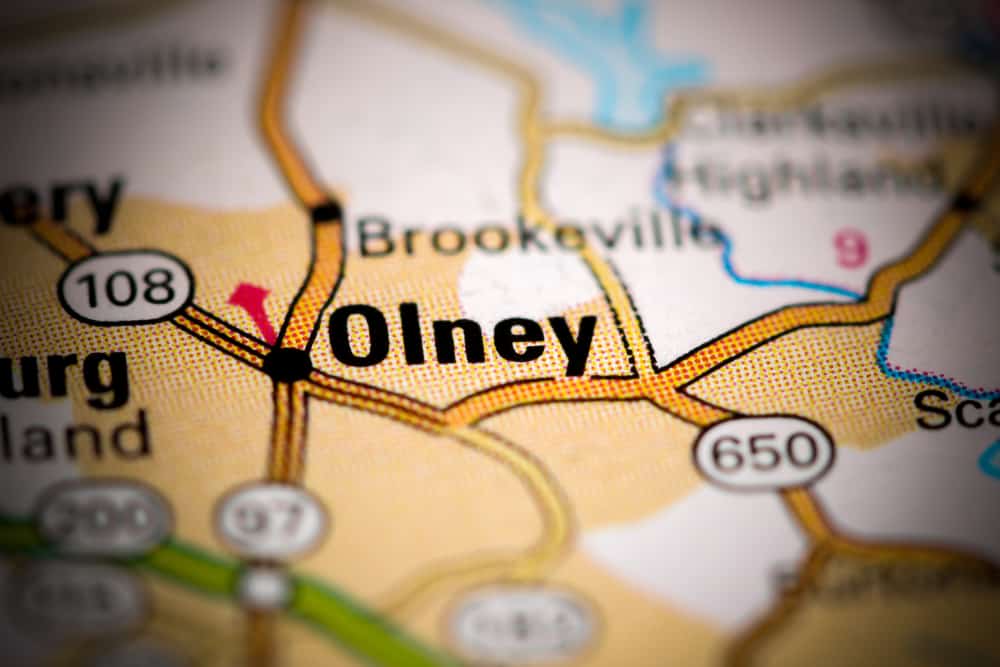 A few of the top neighborhoods in Olney are:
Avenel

Williamsburg Village

Briars Acres
Olney can be found toward the northeastern side of Montgomery County, spanning multiple zip codes including 20832, 20833, 20853, 20855, 20860, and 20906. After relocating to Olney, your new local phone number will have either a 240 or 301 area code.
Although it covers a fairly small area, convenient shopping is readily available all over Olney including places like CVS, the Olney Village Center, 7-Eleven, Safeway, and the Shoppes of Olney.
6. Olney Schools
The city of Olney is home to the Montgomery County Public School District, where local students get a top-notch education. There are about 5,669 children between the ages of 5 and 17 living in Olney, which is around 16% of the population. 
Top schools in Olney include:
Belmont Elementary School

Olney Elementary School

William H. Farquhar Middle School

Rosa M. Parks Middle School

Our Lady Of Good Counsel High School
7. Jobs in Olney
While it is sometimes considered a bedroom community for commuters, there are numerous occupational opportunities in Olney as well. The most common careers include business management, office administration, financial advisors, teachers, doctors, and lawyers. Popular industries in Olney are technical services, public administration, education, retail, healthcare, construction, finance, and insurance.
The average salary in Olney is $71,000 per year.
The largest employers offering Olney jobs include:
Capital One 

Rethinking IT Outsourcing

MedStar Montgomery Medical Center
Those who don't work in town frequently commute from Olney to Washington DC about 19 miles to the south. While it is a fairly short distance, the trip still tends to take between 45 minutes to 1 hour because of traffic congestion.
8. Olney, MD Weather
Considered a humid subtropical climate, the weather in Olney gives people living there a glimpse of all four seasons during the year. Anyone relocating to Olney will be able to enjoy the outdoors during both warm and cold months with varying activities at places like the Triadelphia Reservoir and Lake Hallowell. Keep in mind, you may want to keep an umbrella with you around town since Olney gets about 43 inches of rain per year.
During summertime, Olney weather stays around temperatures between lows in the mid-60s and highs in the upper 80s. Winter sees these temperatures cut in half with averages between the mid-20s and the low 40s. Throughout the colder months, Olney gets an average of 16 inches of snow.
Living in Olney Pros & Cons
Pro:

Conveniently located area for people who work in Washington DC but don't want to live in the country capital.

Pro:

A comfortable city that offers its residents one of the safest communities in the area.

Con:

The cost of residing in Olney is higher than both the state and national averages.
Moving to Olney, MD
There are so many things to love about this area, which is why we're never surprised to hear when someone is relocating to Olney, MD. As soon as you decide that this community is where you want to plant your roots, our team of efficient Olney movers will gladly assist you with handling the transition and everything that comes with it.
Get in touch with the amazing team here at Suburban Solutions by calling (301) 928-8669 or take a moment to fill out the Request a Quote form at the top of this page to get a free Olney moving estimate!