Located about 12 miles northwest of Philadelphia near Wynnewood, Haverford, and Bryn Mawr, many residents living in Ardmore feel it's a great place to live.
Known for being the location of a bustling business district, Ardmore is a suburb on the west side of Philadelphia and has been nicknamed "The Main Street of the Main Line" for many years.
These job opportunities as well as the comfortable neighborhoods are only a couple of the reasons why moving to Ardmore is a great choice.
1. People of Ardmore, PA – Population & Demographics
The population of this central hub for business has varied only slightly over the past decade as people who are relocating to Ardmore tend to stick around for many years. As of now, the Ardmore population is 13,193 with a median age of 38 years old. The area has also been home to a handful of notable people such as actress Kate Flannery who played Meredith on The Office as well as NBA All-star basketball player, Kobe Bryant who went to high school here.
Ardmore demographics show the area has maintained a similar level of diversity over the years, made up of about 75% Caucasian, 11% Black or African American, 5% Hispanic or Latino, and 4% Asian. The gender split between men and women in the area equals out to around 54.20% female and 45.80% male. As an affluent community outside of Philadelphia, Ardmore is considered a safe place to live.
2. Fun Things to Do in Ardmore, PA
People living in Ardmore are happy to have a wide variety of local activities they can experience in town. Among the top landmarks in Ardmore is the Ardmore Music Hall, where visitors can enjoy concerts and shows from talent all over the world. A few names that have played here who you may recognize include the Red Hot Chili Peppers, Hootie & the Blowfish, the Dave Matthews Band, The Ramones, and many more.
View this post on Instagram
Ardmore Music Hall, 23 E Lancaster Ave, Ardmore, PA 19003  (610) 649-8389
Another one of the best things to do in Ardmore is head over to the local Vernon V. Young Memorial Park for a chance to get out and enjoy some fresh air. The park is filled with sports facilities that include basketball courts, softball and baseball fields, tennis courts, volleyball courts, and a children's playground. With plenty of Ardmore activities, you can wander the 5.2 acres of space, have a picnic at designated tables, or even go swimming at the Ardmore Pool.
View this post on Instagram
Vernon V. Young Memorial Park, 124 Ardmore Ave, Ardmore, PA 19003  (610) 649-4000
3. Best Ardmore, PA Restaurants
Who wouldn't want to know about the best places to eat in Ardmore after relocating here? If you're a fan of Mexican food, one of your first stops should be to the popular location known as El Limon. This great Ardmore spot offers a fantastic menu of tacos, loaded nachos, tostadas, burritos, enchiladas, fajitas, and much more.
View this post on Instagram
El Limon, 61 W Lancaster Ave, Ardmore, PA 19003  (484) 416-3211
Another great option in town is the top-rated place called Not Your Average Joe's. As one of the top restaurants in Ardmore, a meal at this eclectic diner starts with appetizers such as cheesesteak egg rolls or ahi tuna wontons followed by delicious entrees like jambalaya, chicken parmesan, grilled salmon, sandwiches, salads, and so much more.
View this post on Instagram
Not Your Average Joe's, 49 St James Pl, Ardmore, PA 19003  (484) 7081500
4. Ardmore, PA Cost of Living
What should you expect to pay after relocating to Ardmore? Currently, the cost of living in Ardmore is 17% more than the national average and about 25% more than the Pennsylvania average. The biggest factor is the Ardmore housing market, which is almost twice as expensive as the rest of the state overall.
While the city covers a small area, you'll still find plenty of Ardmore, PA homes for sale ranging from $150,000 for a one-bedroom apartment to large locations with 5 to 6 bedrooms costing upwards of $1.4 million. Finding a middle ground, the average price of a home in Ardmore is about $402,000, which has seen significant growth in the last year as its risen by 30%. And with a 60% homeownership rate, most people residing in Ardmore own their living spaces.
Do you plan to lease your home in Ardmore? The average price of rent in Ardmore is $2,056 per month with the final cost depending on the location and size of the rental property.
5. Nice Ardmore Neighborhoods
Although it spans an area of less than 2 square miles, neighborhoods in Ardmore are conveniently surrounded by plenty of convenient places to shop. A few of the best places in Ardmore include Carlino's Market, Suburban Square, Gap, Trader Joe's, Di Bruno Bros, Ardmore Shopping Center, Urban Outfitters, and Ardmore Produce.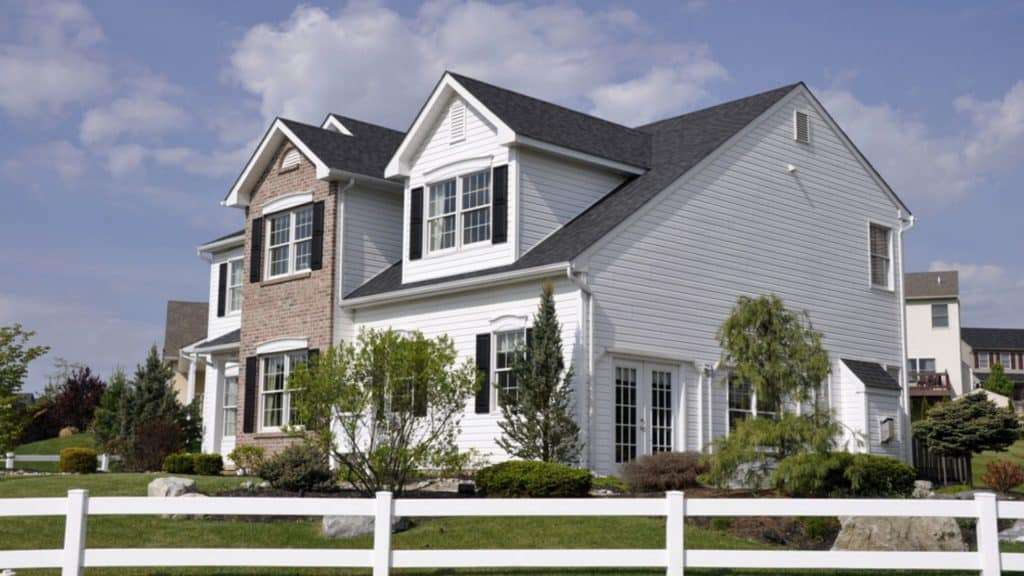 Before moving to the area, make sure you check out top Ardmore neighborhoods such as:
Ardmore Crossing

Suburban Square Community
6. Local Schools in Ardmore
The city of Ardmore is home to Lower Merion High School, where Kobe Bryant first earned countrywide recognition as a top-rated basketball prospect. Including this campus, the area hosts two school districts: the Haverford Township School District and the Lower Merion School District.
These schools host the 1,858 students between the ages of 5 and 17 years old who are living in Ardmore and makeup about 14.1% of the local population.
Some of the best Ardmore schools in town are:
Chestnutwold Elementary School

Penn Wynne Elementary School

The Haverford School

Lane Montessori School

Lower Merion High School

(Ranked 14th top high school within Pennsylvania)
While it isn't specifically within the borders of Ardmore, Haverford College is located directly along the northwestern side of town. A few of the most popular degrees available at this secondary school are physical sciences, psychology, mathematics, social sciences, and others.
7. Nearby Jobs in Ardmore
Ardmore has a strong business district that supports a wide range of industries such as education, healthcare, scientific research, retail, financial services, and insurance. Within these and other careers, the local median household income in Ardmore is $87,807 per year.
A few of the top Ardmore jobs can be found with large employers like:
UnitedHealth Group

UPS

Deloitte

Power Home Remodeling
Anyone relocating to the area can also easily commute from Ardmore to Philadelphia for work. This trip only takes about 25-30 minutes in either direction, covering about 12 miles.
8. Ardmore Weather
Outdoor activities in Ardmore provide a great spread of fun things you can do to enjoy local weather including South Ardmore Park, the Ardmore Avenue Community Center, and Linwood Park. Even though the area sees a decent amount of precipitation that includes 17 inches of snow and 49 inches of rain each year, you'll still have plenty of opportunities to enjoy being outside.
The weather in Ardmore is warm during the summer with temperatures between the low 70s and upper 80s. While things cool down quite a bit during the winter as temps drop below freezing to lows in the mid-20s and highs in the low 40s.
Tips for Moving to Ardmore, PA
It is a great city of people in a close-knit community.

Check out as many local things to do and great restaurants as you can.

Confirm that your wallet can afford the slightly higher living cost.

Top schools can be found in comfortable and clean neighborhoods.

Be prepared for wet weather but enjoy plenty of dry days as well.
Is living in Ardmore the next step for you? We have a professional team of dependable Ardmore movers who would love to make your transition as simple as possible. Contact Suburban Solutions today at (610) 314-6868 or complete the Request a Quote form on this page for a free moving estimate!