Pittsburgh and Philadelphia are Pennsylvania's two biggest cities and face a lot of comparisons. Philadelphia to the east is the City of Brotherly Love with arts and culture while Pittsburgh to the west is the Steel City and home to over 446 bridges! Not sure which of these Midwest titans you should call home? Here's the ultimate comparison of Pittsburgh versus Philadelphia with advantages and drawbacks of each.
Pros & Cons of Living in Pittsburgh vs Philadelphia
Which city comes out ahead when you compare and contrast Pittsburgh vs. Philadelphia, PA? With so much to offer, it may be helpful to look at the biggest Pittsburgh and Philadelphia positives and disadvantages.
Living in Pittsburgh Pros
Pittsburgh Has a Great Economy
It's a common misconception that Philadelphia's economy outpaces Pittsburgh, a city that is part of the Rust Belt and built on the steel industry. The truth is Pittsburgh residents tend to make more money and enjoy a lower cost of living. The average household income in Pittsburgh is $63,800 compared to $54,600 in Philadelphia. Pittsburgh also has a lower unemployment rate and a more diverse economy.
However, there are benefits of living in Philadelphia if you're in the research and health education sectors which Philadelphia dominates globally. Philly is also home to 12 Fortune 500 companies even if it's job growth and pay lags behind Pittsburgh.
Amazing Architecture in Pittsburgh
If you have an appreciation for architecture, you'll fall in love with Pittsburgh which is home to a stunning 446 bridges. Many of Pittsburgh's famous bridges are open to pedestrians and some, like the Roberto Clemente Bridge, shut down for vehicles during Steelers and Pirates games. You'll love driving or jogging past Smithfield Street Bridge and Fort Pitt Bridge which stretch over 1,000 feet. The Three Sisters Bridges — Roberto Clemente, Rachel Carson, and Andy Warhol — are named after influential Pittsburgh residents and they're the only trio of identical bridges in America.
View this post on Instagram
Living in Pittsburgh Downsides
Pittsburgh Gets Cold and Snow
Philly weather isn't quite as bad as Pittsburgh thanks to the Steel City's location surrounded by mountain ranges. The mountains around Pittsburgh can cause weather systems to stall over the region and cause "Pittsburgh skies" in the summer with white haze and long, cold winters. Pittsburgh tends to get not only colder than Philadelphia but you'll notice more snow and rain in Pittsburgh versus Philadelphia.
Living in Philadelphia Perks
Endless Cultural Attractions in Philadelphia
One of the biggest pluses of living in Philadelphia? This beautiful city has a rich history and amazing cultural destinations. Philadelphia is where the Declaration of Independence was signed so be sure to visit Independence Hall and the National Constitution Center. Kids always love a trip to the US Mint and the Liberty Bell in front of Independence Hall. The historic district also features several museums like the Franklin Institute, a kid-friendly science museum, the Philadelphia Art Museum which is one of the best in the world, and the Museum of the American Revolution.
Philadelphia's history may try to steal the show but the City of Brotherly Love has other great cultural attractions too. Known as Mural City USA, you'll love walking around downtown exploring new murals every weekend and visiting popular destinations like the Philadelphia Zoo, Philadelphia's Magic Gardens, Love Park, and Adventure Aquarium.
View this post on Instagram
Philadelphia has been ranked as one of the country's most vibrant arts communities with the largest urban park in the United States, historical landmarks, and the Strip District on the river. It's hard to compare!
Philadelphia's Unbelievable Food Scene
Want to try a new type of cuisine every week? It's definitely possible if you're in Philly! A huge advantage of living in Philadelphia is its amazing food scene that was once dominated by the Italian Market and Italian immigrants but has since been shaped by immigrants from around the world. You'll find everything from Vietnamese pho to Syrian cuisine as well as beer gardens and the famous Philadelphia cheesesteaks.
When you compare Pittsburgh versus Philadelphia, you'll find Pittsburgh's food scene isn't quite as diverse with food that is more hearty and blue collar such as cabbage rolls, kielbasa, and pierogies.
Living in Philadelphia Cons
Unbelievable Traffic in Philadelphia
A big challenge of living in Philadelphia? It's one of the worst cities to drive in according to a recent study. Among the top 100 cities, Philadelphia ranked 98, coming in ahead of just Detroit and Oakland for driver friendliness, safety, traffic, and infrastructure. Philadelphia also has one of the country's highest accident rates!
Cost of Living in Pittsburgh vs Philadelphia
One of the best ways to compare Pittsburgh versus Philadelphia, PA is by comparing and contrasting the cost of living in these two cities. How much does it cost to live in Pittsburgh compared to Philadelphia? As a general rule, Pittsburgh is far more affordable than Philadelphia!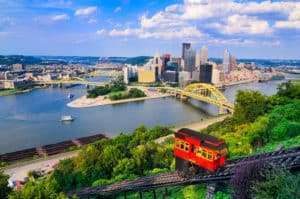 According to Numbeo, you would need $5,200 in Philadelphia for the same quality of life that you get with $4,735 in Pittsburgh. Here's how it breaks down:
Consumer prices are 9% lower in Pittsburgh versus Philadelphia
Rent is 25% lower in Pittsburgh in contrast to Philadelphia
Restaurants are 6% more affordable in Pittsburgh than Philadelphia
As a renter, living in Philadelphia will cost an average of $1,707 per month in rent. In Pittsburgh, average rent is just $1,398 by comparison.
Additional Things to Consider in Pittsburgh vs. Philadephia Comparison
Population
While Philadelphia is about twice as big as Pittsburgh, its population is five times larger at 1.6 million people with a population density of 11,797 people/square mile. The population of the larger Delaware Valley is 7.2 million and it's one of America's oldest municipalities. That also means more congestion than Pittsburgh which has just 300,000 residents and a population density of 5,460 people/square mile.
Crime Rate in Pittsburgh Versus Philadelphia
Neither Pittsburgh nor Philadelphia are known for their high safety rating but one of the benefits of living in Pittsburgh is it's a bit safer than Philadelphia. The violent crime rate is lower in Pittsburgh but the property crime rate in Philadelphia versus Pittsburgh is about the same.
Sports in Pittsburgh vs Philadelphia
Philadelphia and Pittsburgh are both huge sports towns and major rivals. If you see yourself hitting the arena to support your hometown teams on a regular basis, which city has the most to offer? When it comes to the NHL, the Penguins and Flyers rivalry is famous in Pennsylvania. Pittsburgh does hold more Stanley Cups but the Flyers usually win when they go head-to-head.
Philly and Pittsburgh also have a major football rivalry between the Philadelphia Eagles and the Pittsburgh Steelers. For one season, they even merged into one team called the Steagles! The Steelers have won 6 Super Bowls while the Eagles have only won once.
When it comes to Philadelphia vs. Pittsburgh, be prepared to take a bit of heat living in Philly because Pittsburgh usually does reign supreme!
Traffic is Worse in Philadelphia
Philadelphia is a far bigger city than Pittsburgh but with less space to spread out. Traffic congestion is a common issue in Philly and one of the drawbacks of living in Philadelphia. Philly drivers spend 9 hours more in traffic than Pittsburgh drivers every year and you'll get used to the congestion and aggressive drivers on the Schuylkill Expressway and US 1, a 12-lane highway with three express lanes in either direction.
Pittsburgh to Philadelphia Distance
Want to enjoy the amenities of one city while living in the other? While these cities are on opposite ends of Pennsylvania, they're a day trip away from each other. How far is it from Pittsburgh to Philadelphia? About 304 miles or 4.5 hours via I-76. Here's how to get from Pittsburgh to Philadelphia.
Pittsburgh Versus Philadelphia: Which Will Be Home?
Now that you have some idea of the differences between Pittsburgh and Philadelphia and the unique flavor of each city, which one sounds most like your new home? If you have settled on the beautiful and historic Philadelphia, the award-winning Philadelphia movers at Suburban Solutions are here to make your relocation a stress-free and easy experience. Give us a call today to request your free moving estimate and get the help you need on moving day!