Are you thinking about settling down in Philadelphia? One of the most important considerations when deciding where to live is the city's cost of living. Is Philadelphia affordable? You'll find the Philly area is a bit more expensive than the national average but many common spending categories like utilities are lower than average. Your cost of living in Philadelphia will also depend on where you decide to live, whether it's downtown, in an affordable neighborhood, or in one of Philadelphia's popular Main Line suburbs.
Here's a complete guide to the Philadelphia cost of living with info on groceries, salary, rent, taxes, and more to help you decide if it's the right place to call home.
Philadelphia Cost of Living Index
How much do I need to earn to live in Philadelphia? Perhaps the best place to start to understand how much it costs to live in Philadelphia is to look at the Philadelphia cost of living index. The cost of living index is a simple system that creates an index of the cost of shelter, food, transportation, clothing, healthcare, energy, and childcare to track how much these costs rise over time. The Philadelphia cost of living index is 110.5%. That means Philadelphia is 10.5% more expensive than the national average.
Housing and groceries are more expensive than the U.S. average but utilities and healthcare are very close to average. The average cost of groceries in Philadelphia is 18% higher than the national average and housing is 15% more expensive.
According to the BLS Consumer Expenditures for Philadelphia, people in the city spend their household income about the same as the rest of the country except when it comes to entertainment which accounts for 4.5% of the average household budget in Philly. Philadelphia residents spend 32.8% of their budget on housing, 15.6% on transportation, and 12.6% on food.
Cost of Groceries, Food, Gas & Household Items in Philadelphia
How much does it cost to live in Philadelphia? One of the best ways to answer this question is by looking at how much you'll pay for food, groceries, gasoline, utilities, and other necessities. Philadelphia is a fairly affordable place to live close to the national average cost of living. Here's what people pay for some common items so you can compare it to what you pay now.
Ribeye steak, 1 lb: $12.88
Whole milk, 1/2 gal: $2.10
1 dozen, grade A eggs: $2.16
5 lb bag potatoes: $3.60
Wheat bread, 1 loaf: $4.56
Heineken's beer 6 pack: $8.85
1st run movie ticket: $11.93
McDonald's 1/4 Pounder burger: $4.00
Average cell phone bill: $186.73
Average cost of gasoline in Philadelphia: $2.82
Average cost of utilities in Philadelphia: $180.46
According to the BLS, the cost of electricity in Philadelphia is $0.15 per kilowatt hour (kWh) which is 12.7% higher than the national average. The average household uses 914 kWh per month or $137.55 per month.
You might also be interested in the cost of other expenses that are uniquely Philly. Want to catch a Philadelphia Eagles game? While average tickets at all NFL stadiums are over $100, the Eagles are among the top 5 most NFL expensive teams to see with an average ticket price of $162 or over $480 on the secondary market! To visit the iconic Philadelphia Museum of Art, expect general admission of $25 for adults with free admission for people 18 and under.
You can grab an authentic Philly cheesesteak at the famous Dalessandro's Steaks starting at $9.25.
Philadelphia Real Estate Market
Philly is nearly equally divided between renters and homeowners with a homeownership rate of 52.7%, below the national average of 64%. The Philadelphia housing market is only somewhat competitive with homes going pending in an average of 43 days. The average home price in Philadelphia is $248,000, close to the U.S. median list price of $227,000. The average price per square foot is $169.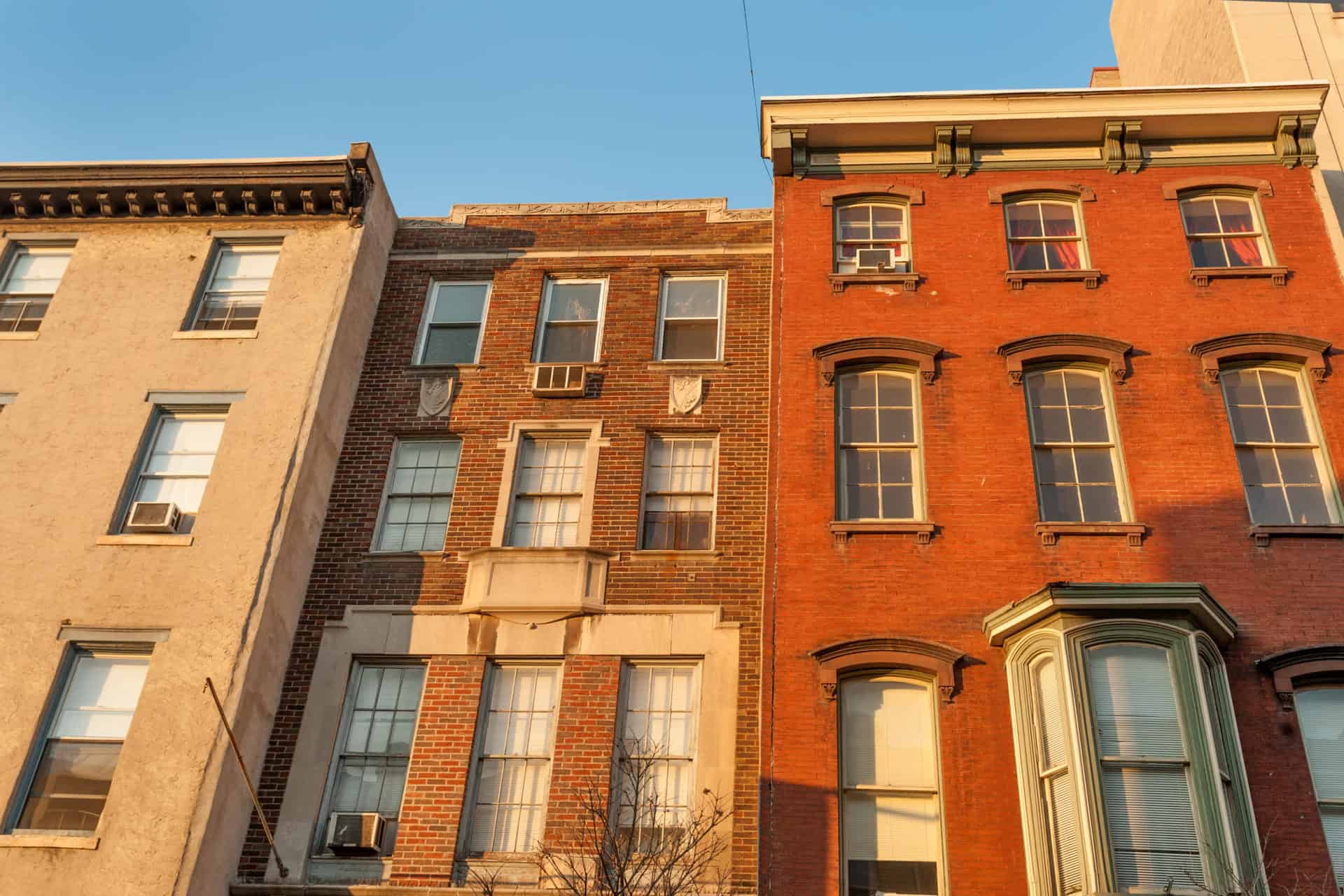 City Center East, City Center West, and Chestnut Hill are among the most expensive neighborhoods in Philadelphia. In Chestnut Hill, you can expect to pay an average of $557,000 for a home. The average home price in Philadelphia's East Mt. Airy neighborhood, one of the city's most affordable hot neighborhoods, is just $219,000 and $139 per square foot.
The Philadelphia housing market has recently reached new highs with home prices reaching a 10-year high thanks to low inventory. Since 2015, the median home price in Philadelphia has skyrocketed an amazing 41%! Between 2019 and 2020, Philadelphia real estate appreciated at a rate of 3.3%, booming despite lagging real estate prices in many other major cities. The median number of days on the market in one recent month was just 16, a 10-year low for Philly.
Average Rent in Philadelphia
Housing is the biggest expense you face so understanding average rent is important for comparing the Philadelphia cost of living to where you live now. The average apartment rent in Philadelphia is $1,898. That's up 9.5% from last year. A one-bedroom apartment in Philadelphia has an average rent of $1,706, up 11%. Of course, rent prices in Philadelphia depend a great deal on the neighborhood you choose.
The most expensive neighborhoods in Philly for renters are the city center, Fairmount-Spring Garden, and Wharton-Hawthorne-Bella Vista where rent prices are about $2,500 per month on average. In areas like Frankford, Tioga-Nicetown, and Summerdale, average rent is $800 to $900. By comparison, the U.S. average rent price of about $1,500.
Average Salary & Household Income in Philadelphia
How much do you need to earn to live in Philadelphia? It helps to start with the average salary in Philadelphia which is $69,000. The average hourly income is $18.73. Wages have trended upward 0.7%.
Here's how much you can expect to make in common jobs:
Project manager: $75,000
Software engineer: $80,000
Financial analyst: $60,000
Certified Nurse Assistant (CNA): $15/hour
Registered nurse: $34/hour
The median household income in Philadelphia is $46,116. That means half of households make more than that amount and half make less.
Income, Sales & Property Taxes in Philadelphia
Before settling on a place to live, don't forget that taxes play a big role in living costs and your take-home pay. When considering the cost of living in Philadelphia, here are the taxes you can expect to pay.
Pennsylvania Income Tax Rate
The state income tax rate affects your take-home pay and it's a big factor influencing the cost of living in Philadelphia. Pennsylvania is one of just a handful of states with a flat tax. Among states with flat income tax rates, Pennsylvania is the lowest! The income tax rate in Pennsylvania is 3.07% regardless of income level.
Note that Philadelphia also charges a municipal income tax called the Local Earned Income Tax. The municipal tax rate is 3.8809% for residents and 3.4567% for non-residents working in the city. This tax rate goes down a bit every year: in 2015, it was 3.924%.
Philadelphia Sales Tax
The sales tax in Philadelphia is a combination of state, county, and city sales tax. The combined Philadelphia sales tax rate is 8% which includes the 6% state tax and the 2% Delaware County sales tax.
Philadelphia Property Tax Rate
The Philadelphia property tax rate is 1.39998% of the property's assessed market value. There is also a homestead exemption of $45,000 which is subtracted from the home's market value before calculating the tax. A home with a market value of $350,000 with a homestead exemption ($305,000 assessed tax value) would have an annual tax bill of $4,269.39.
Philadelphia vs New York Cost of Living
Deciding between New York and Philadelphia? Your money will definitely go farther in Philadelphia compared to New York, one of the most expensive cities in the US. When you compare the cost of living in Philadelphia versus New York, you'll find you need $8,345 in New York for the same quality of life you get with $5,200 in Philly. Here's how it breaks down:
Housing costs are 123% higher in New York vs Philadelphia
Consumer prices are 61% higher in New York than Philadelphia
Restaurant prices are 49% higher in New York vs Philadelphia
Grocery prices are 26% higher in New York compared to Philadelphia
Philadelphia has so much to offer with a great jobs market, rich history, and a fairly affordable cost of living. Have you settled on living in Philly? Call the trusted Philadelphia movers at Suburban Solutions today for a free moving estimate to get started!