The community of Drexel Hill, PA is sometimes considered a neighborhood but is officially a census-designated place located about 7.5 miles west of downtown Philadelphia. It is bordered by Clifton Heights, Lansdowne, Springfield, Aldan, Collingdale, Darby, East Lansdowne, Millbourne, Morton, Sharon Hill, Yeadon, Broomall, and Penn Wynne.
Back in 1882, Colonel Anthony J. Drexel bought a local building and converted it into a school, which is now called Monsignor Bonner & Archbishop Prendergast Catholic High School. Though most people simply call the school "Prendie" for short. The surrounding area was later called Drexel Hill after the colonel.
Drexel Hill is best known for being a pleasant community that offers family-friendly places to live and comfortable homes.
There have been a few notable people who have lived in Drexel Hill such as former television star Dick Clark and Nobel Prize winner Alan Graham MacDiarmid.
1. People Living in Drexel Hill, PA – Population & Demographics
How many people live in Drexel Hill? There has been limited change in the past decade with only a handful of people relocating to Drexel Hill each year. The current Drexel Hill population is 27,939 with a median age of 38 years old.
The most recent Drexel Hill demographics are 72% Caucasian, 16% Black or African American, 5% Asian, and 4% Asian. There is a decent split in the local gender ratio with about 54% female and 46% male. The median household income in Drexel Hill is $71,326 per year, slightly higher than the US average.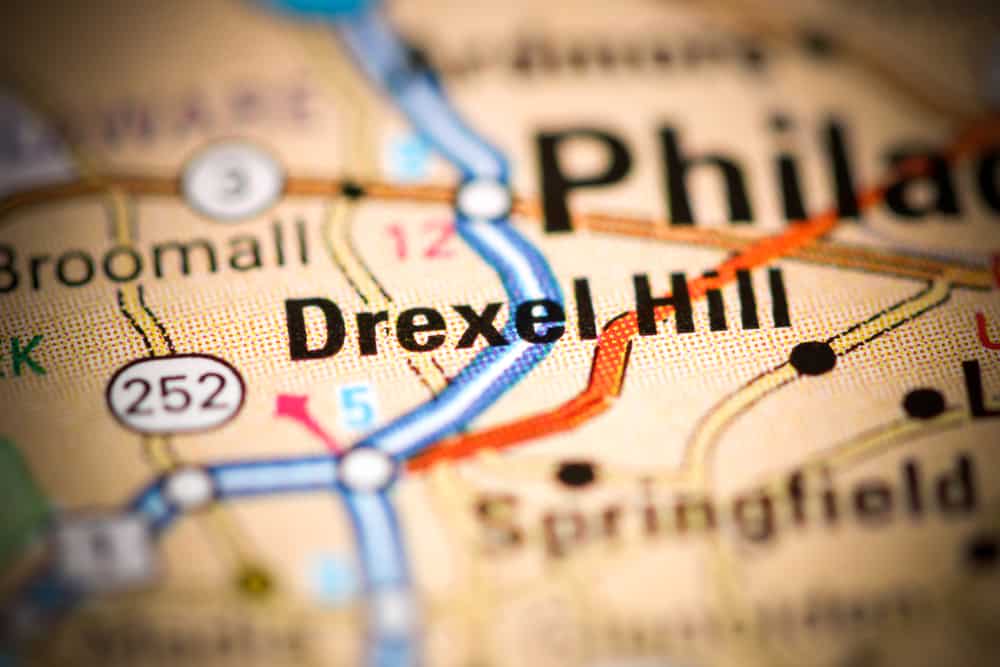 Is Drexel Hill a safe place to live? The crime rate in Drexel Hill is 3% lower than the Pennsylvania state average and about 16% lower than the national average. These and other statistics are proof that Drexel Hill is a safe place to live for people of all ages.
People residing in Drexel Hill are located within the jurisdiction of the Ubber Darby Township Police Department, which has 126 local police officers serving and protecting the area.
2. Cost of Living in Drexel Hill, PA
How much does it cost to live in Drexel Hill, PA? The average cost of living in Drexel Hill is 3% higher than the national average and about 10% higher than the Pennsylvania state average. Although it is a fairly affordable place to live, you will find most local expenses are a bit higher including utilities, groceries, healthcare, transportation, and the Drexel Hill real estate market.
The homeownership rate in Drexel Hill is 63.3% as the area is starting to see more people in the area buy rather than rent. In a very competitive housing market, you'll find Drexel Hill, PA homes for sale tend to go fast. The average price of a home in Drexel Hill is $265,000 with a median sale price of $150 per square foot.
There is a Drexel Hill property tax rate of 2.120%, which means an average-price home will have about $5,618 per year due in property taxes.
Nearly 37% of people living in Drexel Hill rent their homes or apartments. The average price of rent in Drexel Hill is $1,258 per month, which varies based on the location and what the property offers.
3. Drexel Hill Neighborhoods | Where to Live in Drexel Hill
Where should you live in Drexel Hill? A few of the top neighborhoods in Drexel Hill worth a look include:
Aronimink

Addingham

Alexander Arms
Drexel Hill is home to three local parks along with other outdoor amenities, all of which are managed by the Upper Darby Township Parks and Facilities Department.
Residents moving to the area will have plenty of convenient shopping in Drexel Hill at destinations like CVS, Ross, Dollar Tree, Walmart, and the Drexeline Shopping Center.
Drexel Hill is 7.5 miles from Philadelphia, making it a quick trip to the big city. It takes about 27 minutes to travel from Drexel Hill to Philadelphia.
4. Drexel Hill, PA Weather & Climate
The humid continental climate in Drexel Hill brings warm, muggy summers and freezing, wet winters. You'll want to have warm clothes and rain gear close by since the city gets an average of 46 inches of rain and 16 inches of snow each year.
The average temperature in Drexel Hill is cold during the winter, reaching as low as the mid-20s at night with highs in the upper 30s. As summer comes back around, the weather warms up in the upper 80s during the day and gets down to the mid-60s at night.
5. Things to Do in Drexel Hill
Even with easy access to fun activities in Philadelphia, there are more than enough enjoyable things to do in Drexel Hill as well.
View this post on Instagram
One of the best Drexel Hill attractions is the Lower Swedish Cabin, which is among the oldest log cabins in the entire country. It is a historic Swedish-style home that was built back in the 1640s by immigrants who joined the New Sweden colony.
Lower Swedish Cabin, 13 Creek Rd, Drexel Hill, PA 19026  (484) 540-5070
A can't miss thing to do in Drexel Hill is the local Kent Park, which provides fun outdoor activities for both adults and kids alike. The popular park has a children's playground, open space, picnic areas, and a dog park for your furry friends.
Kent Park, 3900 Bridge St, Drexel Hill, PA 19026  (610) 891-4663
Additional Drexel Hill Attractions
6. Drexel Hill Restaurants
A great selection of places to eat can be found all over town, giving people residing in Drexel Hill a nice variety of options when they don't want to cook at home.
View this post on Instagram
Among the most highly-ranked restaurants in Drexel Hill, Tank and Libby's has a historic New Jersey feel as the walls are decorated with photos of local landmarks and other places from the owner's hometown. They have a fantastic menu filled with great breakfast dishes like Belgian waffles, eggs, and avocado toast as well as lunch plates such as soups and sandwiches.
Tank and Libby's, 1011 Pontiac Rd, Drexel Hill, PA 19026  (484) 455-7527
One of Drexel Hill's top-rated places to eat is the local bar and grill destination known simply as Station Tap. Their mouthwatering spread includes wings, salads, and sandwiches along with yummy starters like fried calamari, pierogies, and cheesesteak rolls.
Station Tap, 4201 Ferne Blvd, Drexel Hill, PA 19026  (484) 469-3222
7. Jobs in Drexel Hill
Anyone who is thinking about relocating to the community may be on the lookout for nearby Drexel Hill jobs. As you go through your search, consider a few of the best places to work in Drexel Hill such as:
Ziff Davis

(formerly j2 Global)

LifePath

Farm Stores
The average salary in Drexel Hill is $65,000 per year. The state income tax rate is 3.1%. There is a 7.1% Drexel Hill unemployment rate, which is nearly twice the national average.
8. Drexel Hill Schools
More than 6,984 kids between the ages of 0 and 18 years old are living in Drexel Hill, adding up to around 25% of the population. Drexel Hill is an excellent place for families to live as the area is hosted by the reputable Upper Darby School District.
The top schools in Drexel Hill that local children attend are:
Charles Kelly Elementary School

Aronimink Elementary School

Drexel Hill Middle School
The nearest colleges and universities to Drexel Hill include Swarthmore College and Haverford College.
The Upper Darby Sellers Memorial Free Library is a public library where local residents and students may go to check out books or movies they'd like to rent.
9. Drexel Hill Statistics & Information
Drexel Hill has a geographical area of 3.2 square miles near the eastern border of Delaware County in Pennsylvania. There is one zip code of 19026. The most common area codes are 610 or 267.
The time zone in Drexel Hill is Eastern Standard Time (EST), which changes over to Eastern Daylight Time (EDT) during the typical daylight savings time.
The elevation in Drexel Hill is 246 feet above sea level.
Map of Drexel Hill, PA
Find more activities, local places to visit, and other amenities by taking some time to review this Drexel Hill map.
Tips for Living in Drexel Hill
The cost of living in Drexel Hill is slightly higher than both the state and national averages.

With more than one-fourth of the population made up of kids, Drexel Hill is a good option for families.

Make sure you have an umbrella, scarves, coats, boots, and other warm gear ready for the wet, winter months.
Moving to Drexel Hill, PA
Discover all the great advantages of living in this city and enjoy the lifestyle that comes with relocating to Drexel Hill. For anyone who is seeking assistance with a pending transition to the area, Suburban Solutions has dependable Drexel Hill movers who are trained to handle the job. Contact us today at (610) 314-6868 or fill out the Request a Quote form on this page for a free moving estimate!