Pennsylvania is the 5th most populated state in the United States and is home to some of the largest cities in the nation. The state has many great places to live with nice neighborhoods, convenient amenities, and other benefits.
As you learn more about the largest cities in Pennsylvania, you'll be able to determine which of these largest cities best fits your lifestyle needs.
Details from the US Census ensure this information is accurate so you can know all about the biggest Pennsylvania cities by population.
Pennsylvania Demographics
As you get a better idea of the overall state details, you'll be able to understand Pennsylvania's largest cities and how their individual demographics compare to each other.
Population:

12,801,989 residents

Median Age:

40.8 years old

Median Household Income:

$63,463

Median Home Listing Price:

$192,600

Area of State:

44,741.7 square miles

Density:

286.1 people per square mile
Largest Cities in Pennsylvania
It's a good idea to learn about the major cities in Pennsylvania before deciding where you want to live in the state. Helpful information to look up includes each city's population, local things to do, job opportunities, and the cost of living.
1. Philadelphia
Founded in October 1682, Philadelphia is the largest city in Pennsylvania and is located along the southeastern border of the state adjacent to New Jersey. While the area has long been called by a nickname "The City of Brotherly Love", Philadelphia is more commonly known by locals as "Philly".
As a city filled with American history and dozens of landmarks like the Independence National Historical Park and the Liberty Bell, Philadelphia is one of the founding cities of the nation. It is where many ideals of America's freedom and culture were born. Many founding fathers gathered in this historic city over the years.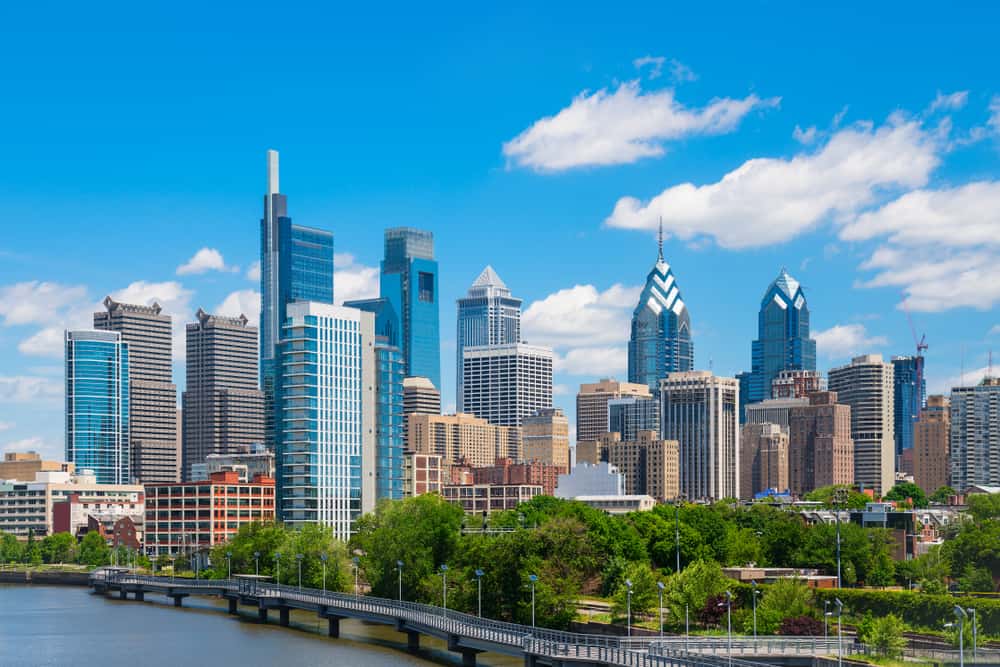 One of the best things to do in Philly is to visit the amazing Philadelphia Museum of Art, which features thousands of exhibits, artworks, sculptures, and more.
Among the most important cities in Pennsylvania for the state's economy, some of the city's largest employers are Pepper Hamilton, Duane Morris, and FMC.
The culture of Philadelphia is a melting pot of ancestries ranging from Chinese and Vietnamese to Korean, African, Middle Eastern, Mexican, Indian, and more.
Many of the state's popular professional sports teams call this area home including the Philadelphia Eagles (NFL), Philadelphia Phillies (MLB), and the Philadelphia 76ers (NBA).
The weather in Philadelphia varies from winter temps between the mid-20s and mid-40s to summer temperatures between the low 70s and upper 80s.
Philadelphia Population:

1,584,064

Philadelphia Area:

134.3 square miles

Philadelphia Median Age:

34.7 years old

Philadelphia Median Household Income:

$47,474 

Philadelphia Median House Price:

$183,200 

Philadelphia Density:

11,796.8 people per square mile
2. Pittsburgh
Coming in second on the list of Pennsylvania's largest cities is Pittsburgh, which was established in November 1758. The city is located near the western border of the state and is separated by the Ohio River.
The area of Pittsburgh is most recognized by its nickname of "City of Bridges" due to the 446 bridges found in the community. Because of its history as an industrial hub and steel producer, many also call it "Steel City".
Considering its big-city lifestyle, Pittsburgh has a fairly affordable cost of living compared to some other parts of the state. The city also has some of the most reputable healthcare centers including UPMC Presbyterian Shadyside.
A couple of the most popular attractions in Pittsburgh are the Pittsburgh Zoo & PPG Aquarium as well as the local Point State Park.
Pittsburgh is also known for its professional sports teams: Pittsburgh Pirates (MLB), Pittsburgh Steelers (NFL), and the Pittsburgh Penguins (NHL).
Pittsburgh Population:

300,281

Pittsburgh Area:

55.4 square miles

Pittsburgh Median Age:

33.3 years old

Pittsburgh Median Household Income:

$53,799

Pittsburgh Median House Price:

$149,200

Pittsburgh Density:

5,422.6 people per square mile
3. Allentown
Known for its Pennsylvania Dutch history and great parks, the next biggest city in PA is Allentown. It is located near the eastern border of the state only a few miles from New Jersey.
Called "the Queen City" by its local residents, Allentown was founded in the year 1762. It has a diverse culture and a population mix of Italians, Asians, Germans, Hispanics or Latinos, and African Americans.
Two of the best places to visit in Allentown are Dorney Park & Wildwater Kingdom as well as the nearby Cedar Beach Park.
Allentown Population:

121,441

Allentown Area:

17.5 square miles

Allentown Median Age:

31.2 years old

Allentown Median Household Income:

$40,835

Allentown Median House Price:

$144,000

Allentown Density:

6920.4 people per square mile
4. Erie
Taking fourth among the largest cities in Pennsylvania, the city of Erie is best known for its close proximity to Lake Erie. With many outdoor activities including its beaches and trails, the community has plenty of amenities for locals to enjoy.
Erie was founded in March 1800 and has been dubbed with the nickname "Flagship City". 
One of the key factors to consider about living in Erie is the local weather. Due to its contact with Lake Erie, this area gets more than 101 inches of snowfall per year
The best things to do in Erie include Presque Isle State Park and the Erie Zoo.
Erie Population:

95,537

Erie Area:

19.1 square miles

Erie Median Age:

37.1

Erie Median Household Income:

$35,798

Erie Median House Price:

$91,200 

Erie Density:

4,990.5 people per square mile
5. Reading
Among the biggest cities in Pennsylvania by population, Reading was first established in 1748. It is known as the "Pretzel City" because of the many pretzel bakeries and distributors in the area.
As the area expanded, Reading became one of the first cities in the country where outlet shopping became its own successful industry.
The Reading Pagoda is one of the best places to visit in Reading along with FirstEnergy Stadium, home of the Fightin' Phils Minor League Baseball team.
Reading is home to large employers like Penske Truck Leasing, EnerSys, and Sweet Street Desserts.
Reading Population:

88,373

Reading Area:

9.8 square miles

Reading Median Age:

30.4 years old

Reading Median Household Income:

$39,670

Reading Median House Price:

$77,700

Reading Density:

8978.3 people per square mile
6. Scranton
Nationally recognized for being the story-based location of the popular television show The Office, the city of Scranton is one of the most populated cities in Pennsylvania. Scranton is the northeasternmost city on this list. It is seen as a close-knit community of people with a lower crime rate than the state average.
Scranton is called by the nickname "The Electric City" because it was one of the first cities in the nation to use electricity in 1880. The area had been founded about 24 years earlier in February 1856.
The Nay Aug Park and the Steamtown National Historic Site are two of the popular attractions in Scranton. Some of the city's largest employers include Penseco Finacial services, Penn Furniture, and Commonwealth Health Moses Taylor Hospital.
Scranton Population:

76,651

Scranton Area:

25.3 square miles

Scranton Median Age:

38.2 years old

Scranton Median Household Income:

$41,169

Scranton Median House Price:

$103,600

Scranton Density:

3028.8 people per square mile
7. Bethlehem
The city of Bethlehem is located immediately east of Allentown. Named after the biblical city in Israel, Bethlehem is the seventh-largest city in PA. The city was founded in 1741 and became home to the local Moravian College only one year later.
Bethlehem is best known for its unique architecture and culture of music at the local Zoellner Arts Center. Other fun things to do in Bethlehem include the SteelStacks and the Wind Creek Bethlehem. 
Fitting to its title, Bethlehem is sometimes referred to by the nickname "Christmas City".
Bethlehem Population:

76,044

Bethlehem Area:

19.1 square miles

Bethlehem Median Age:

35.3 years old

Bethlehem Median Household Income:

$60,268

Bethlehem Median House Price:

$175,300

Bethlehem Density:

3978.2 ​​
8. Lancaster
As a popular community for nightlife, cultural arts, and fun lifestyles, the city of Lancaster takes eighth among Pennsylvania's largest cities by population. The city was established in May 1729 is named after Lancaster, England. This connection has given the area the nickname of "Red Rose City".
Lancaster is where James Buchanan, the 15th US president, lived for most of his life.
The best things to do in Lancaster can be found at Dutch Wonderland and the Lancaster Central Market.
While it offers chic living for residents in town, Lancaster is also surrounded by the majority of Pennsylvania's Amish Country.
Lancaster Population:

59,433

Lancaster Area:

7.2 square miles

Lancaster Median Age:

32 years old

Lancaster Median Household Income:

$45,514

Lancaster Median House Price:

$114,600

Lancaster Density:

8223.4 people per square mile
9. Harrisburg
While it just barely makes the list of the largest cities in Pennsylvania, the city of Harrisburg is the state capital. Established in the year 1791, Harrisburg has played a significant role in American history including the Civil War and the Industrial Revolution.
The area of Harrisburg has a strong arts culture as well as great outdoor activities like Fort Hunter Mansion and Park and Wildwood Park.
A few of the largest employers in Harrisburg are AmeriHealth Caritas Pennsylvania, Penn National Insurance, and United Concordia.
Harrisburg Population:

49,209

Harrisburg Area:

8.1 square miles

Harrisburg Median Age:

31 years old

Harrisburg Median Household Income:

$39,685

Harrisburg Median House Price:

$80,800

Harrisburg Density:

6061.1 people per square mile
10. York
The city of York, PA has an expansive history as the birthplace of the Articles of Confederation. Laid out in the year 1741, York once served as the capital of the United States. It is a strong hub of agriculture and industrial manufacturing.
York is where the first coal-burning locomotive was built in the year 1832. Continuing its history of invention, it is also where the first animal cracker was created in 1871.
Rounding out the biggest cities in Pennsylvania, York is also the home of the annual York State Fair. Other fun places to visit in the area include Rocky Ridge Park and Cousler Park.
York Population:

44,022

York Area:

31.6 square miles

York Median Age:

31.6 years old

York Median Household Income:

$33,906

York Median House Price:

$75,900

York Density:

8316.9 people per square mile
Map of Largest Cities in Pennsylvania
FAQs
How many cities are there in Pennsylvania?
There are 57 cities in the state of Pennsylvania as well as many smaller towns, boroughs, and townships.
What is the most populous city in Pennsylvania?
Philadelphia is the largest city in Pennsylvania with a population of 1,584,064 people.
How many people live in Pennsylvania?
The population in Pennsylvania is 12,801,989 residents.
Which of Pennsylvania's Largest Cities is Right for You?
Once you've looked through the largest cities in Pennsylvania, it's time to decide which one is best for you and your lifestyle. Here at Suburban Solutions, we have trusted movers standing by to help with your upcoming relocation! Give us a call today at (610) 314-6868 or complete the Request a Quote form for a free moving quote!