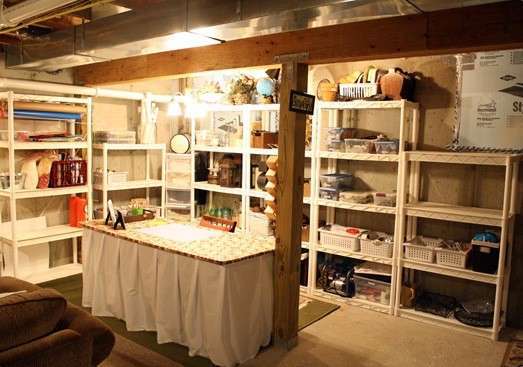 Anyone who has an unfinished basement in their home knows this is often the area of the home that random stuff goes to collect dust. Most of us have boxes upon boxes in our basement that maintain items that we do not even know we have.
For those of us that are a bit more organized, we purge these boxes every few years only to replace them with new, unknown things that will eventually meet the same fate.
However, your basement does not have to be the storage black hole where you stuff goes to die. You basement can actually be a well-organized storage facility that can be a useful addition to your home, allowing you to store items that are not used daily, but are still useful throughout the year.
Labeling is Key
As with moving and packing, labeling anything that is boxed and placed away is key to organizing. Make sure you clearly label storage boxes in your basement. If you have shelves in which you are storing boxes, labeling shelves can be a useful tool. This will allow you to direct anyone who is in your basement to where they can find the items that are needed.
Do Not Be Afraid to Purge
Something you owned ten years ago does not necessarily deserve storage space in your home for the rest of eternity. In order to properly organize your basement, go through the items that you are storing at least once a year. Get rid of items that are no longer needed or wanted. You child's roller blades from five years ago can be purged to make room for new sporting equipment. As with clothing, if you haven't utilized something in a year, you likely do not need to keep it, unless it is a special keepsake or family photos.
Arrange Items in Order of Usefulness
Not all items have the same priority level while in storage. Items that may be used regularly, like sporting equipment or seasonal clothing, deserve to be in easy to reach locations. This allows you to grab them as needed without digging through everything else. Meanwhile, seasonal decorations or old photos, do not have to be readily available. These items can be on higher shelves or behind other, more often used items.
Keep Valuables in a Safe Location
Many basements that are unfinished may also be areas for laundry machines. Other times, basements may be the first area of your home to flood. Either way, water damage to items in the basement can occur more often than any other place in your home. While it is OK to store your valuables in your basement, place them in safe locations that will keep them safe in case of flooding. Furthermore, attempt to protect the items with special waterproof packaging to make sure they are safe if the water gets higher than expected.
In the end, a basement can be an amazing addition to any home, as long as it is well organized and maintained. If you are looking for help packing items and purging, contact the experts at Suburban Solutions at 1-888-Sub-Solv.