Montgomery County is the third-largest county in Pennsylvania by population and ranks as the 73rd largest county in the United States. The county was established on September 10, 1784, and was named after Irish General Richard Montgomery. It's easy to find beautiful and comfortable cities in Montgomery County that offer wonderful places to live.
Residents living in Montgomery County cities enjoy access to amazing golf courses, lots of hiking paths, local bike paths, fishing areas, and boating.
By using statistics and other data from the US Census, newcomers relocating to cities in Montgomery County can learn more about the communities and what it's like living there.
Montgomery County Demographics
These overall demographics for Montgomery County will make it easier to understand the difference between the cities found on this list.
Population:

830,915 residents

Median Age:

41 years old

Median Household Income:

$92,302

Median Home Price:

$330,600

Area of County:

483 square miles

Density:

1,720.4 people per square mile

Educational Attainment:

94.9% high school graduate or higher
Cities in Montgomery County
Learn everything you need to know about living in Montgomery County cities and determine which of these great areas is right for your needs.
1. Norristown
The municipality of Norristown is the county seat and the largest city in Montgomery County by population. The area of Norristown is located in the southern portion of the county about 20 miles northwest of downtown Philadelphia.
Norristown was established in 1784 and is best known for being a hub of industry and retail shops after its big commercial boom that took place during the late 1800s and early 1900s. It has a strong economy and many great jobs with companies like Topcon America, Norristown State Hospital, PJM Interconnection, Houghton International, and many more.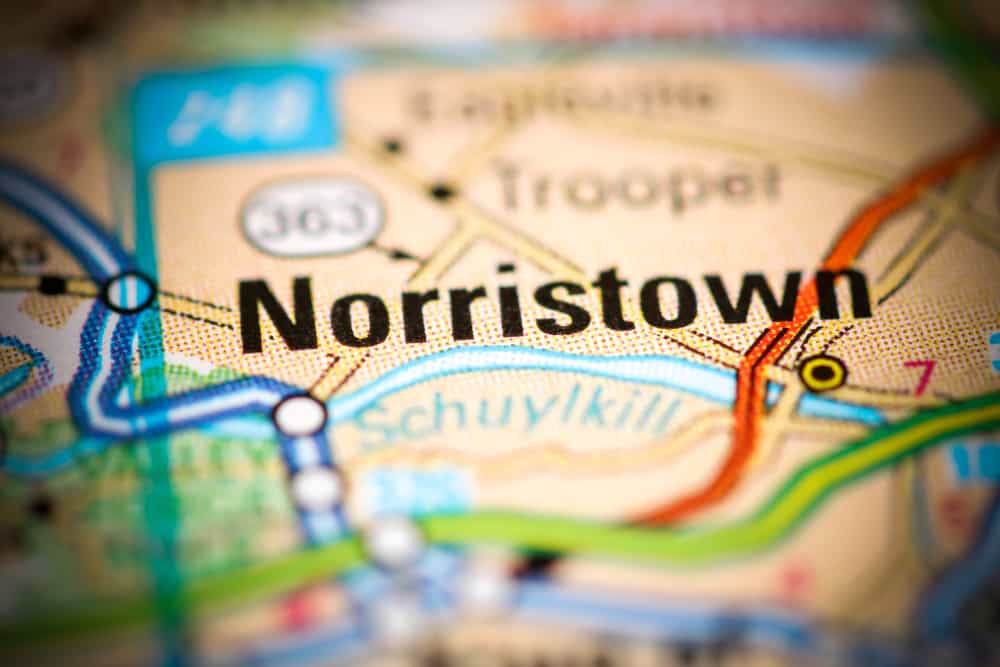 Local schools in Norristown offer young students great education programs at campuses like Eagleville Elementary School and Methacton High School.
A couple of the best things to do in Norristown include visiting the Elmwood Park Zoo as well as the nearby Norristown Farm Park.
Norristown Population:

34,443

Norristown Area:

3.5 square miles

Norristown Median Age:

32.8 years old

Norristown Median Household Income:

$48,414

Norristown Median Home Price:

$152,900

Norristown Density:

9,798.2 people per square mile
2. Pottstown
The growing borough of Pottstown, PA was founded in 1752 and is ranked among the most affordable cities in Montgomery County. It can be found approximately 41 miles northwest of Center City Philadelphia.
Pottstown was named after John Potts, an ironmaster and English Quaker who played a role in the community's history.
There are plenty of enjoyable activities for people living in Pottstown to enjoy including fun things to do at Memorial Park and Pottstown Riverfront Park.
Students who are looking for secondary education will find local programs at either Montgomery County Community College: West Campus or Antonelli Medical And Professional Institute.
Pottstown Population:

22,670

Pottstown Area:

4.9 square miles

Pottstown Median Age:

35.6 years old

Pottstown Median Household Income:

$50,331

Pottstown Median Home Price:

$124,400

Pottstown Density:

4,672.8 people per square mile
3. King of Prussia
King of Prussia is a census-designated place (CDP) that is located directly across the Schuylkill River from Norristown. The area was established in 1719 and is often referred to by the nickname "KOP".
The community was named after King Frederick the Great, a man who ruled the German country of Prussia for over 46 years.
King of Prussia is home to the widely recognized Valley Forge National Historical Park, which has more than 3,500 acres of monuments and historical sites.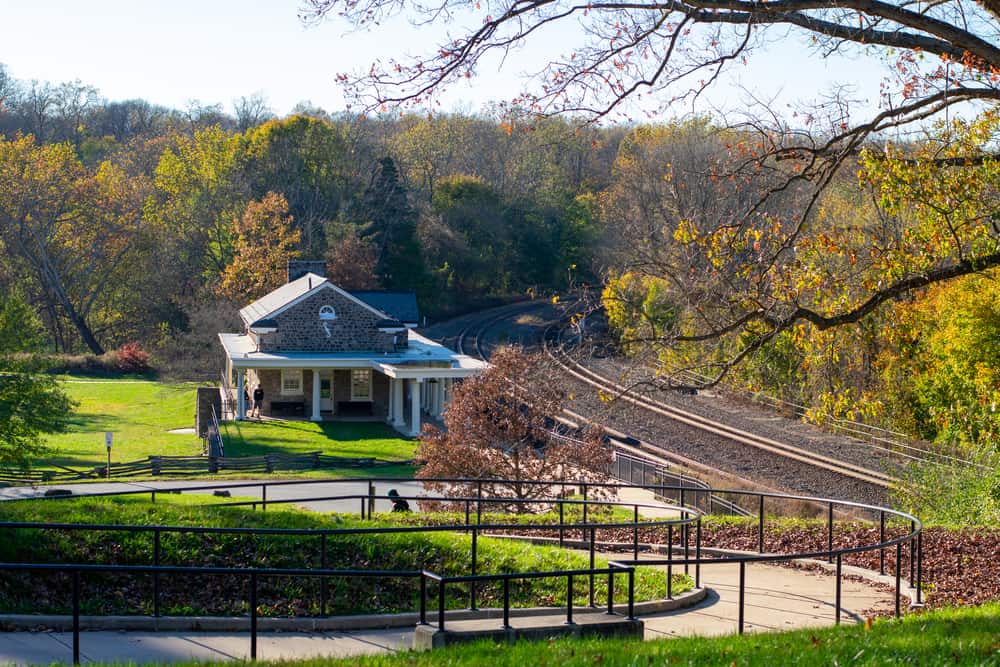 Residents living in King of Prussia love the many nearby amenities and advantages the area has to offer. Known for its massive shopping center, the King of Prussia Shopping Mall is the largest mall in the US. It hosts more than 400 unique stores and over 40 places to eat.
For parents relocating to King of Prussia with their kids, the two main schools in the community are Caley Elementary School and the highly-rated Upper Merion High School. If anyone in the area is interested in attending a specialty certification school, Cortiva Institute has a great massage therapist training program available.
Anyone who is searching for jobs in King of Prussia will find a few of the top places to work include Hibu, Vertex Inc, Imalogix, and CRM Science.
King of Prussia Population:

21,313

King of Prussia Area:

8.5 square miles

King of Prussia Median Age:

38 years old

King of Prussia Median Household Income:

$90,136

King of Prussia Median Home Price:

$320,800

King of Prussia Density:

2,511.5 people per square mile
4. Lansdale
The cozy borough of Lansdale, PA is considered one of the safest cities in Montgomery County. Located about 28 miles north of Philadelphia, the area of Lansdale was founded in 1872.
Lansdale is known for its agricultural history as well as other industrial backgrounds with the manufacturing of stoves, shirts, cigars, glue, and rope. It is also the headquarters of the Pennsylvania Northeastern Railroad.
Two of the best places to visit in Lansdale are Merrymead Farm and Freddy Hill Farms, which offer fun things to do close by.
Young students living in Lansdale attend programs at Gwynedd Square Elementary School and North Penn Senior High School.
Secondary school options in Lansdale are available at Calvary Baptist Theological Seminary as well as the Lansdale School Of Cosmetology.
Lansdale has plenty of jobs in the healthcare industry at the local Harborview Rehabilitation And Care Center.
Lansdale Population:

16,675

Lansdale Area:

3.0 square miles

Lansdale Median Age:

38 years old

Lansdale Median Household Income:

$66,794

Lansdale Median Home Price:

$232,800

Lansdale Density:

5,572.2 people per square mile
5. Willow Grove
The community of Willow Grove is a census-designated place that was settled in 1792. It is located about 15 miles north of downtown Philadelphia.
Known for its large number of retail stores and business offices, Willow Grove also has its own Willow Grove Park Mall. Fun outdoor activities can be found at the local Masons Mill Park.
View this post on Instagram
Upper Moreland High School is the top high school in Willow Grove and is ranked among the best in the state as well.
Some of the best places to work in Willow Grove include local jobs at Contact America, UtiliCon Solutions, Sentech, and Bux-Mont Transportation.
Willow Grove Population:

14,992

Willow Grove Area:

3.7 square miles

Willow Grove Median Age:

39.2 years old

Willow Grove Median Household Income:

$79,162

Willow Grove Median Home Price:

$262,800

Willow Grove Density:

4,096.7 people per square mile
6. Horsham
As a home rule municipality, Horsham is approximately 24 miles from downtown Philly. The area was established in 1717 and has become one of the top cities in Montgomery County to live in.
Horsham is commonly known for being the location of the former Naval Air Station Joint Reserve Base, which is now called Horsham Air Guard Station.
There are great jobs in Horsham at companies like Penn Mutual Life Insurance, Capmark Finance, Toll Brothers, and Bimbo Bakeries USA.
If you're looking for exciting things to do in Horsham, make sure you check out Bury the Hatchet Horsham – Axe Throwing as well as Speed Raceway.
Horsham Population:

14,611

Horsham Area:

5.5 square miles

Horsham Median Age:

38.6 years old

Horsham Median Household Income:

$82,098

Horsham Median Home Price:

$288,100

Horsham Density:

2,671.1 people per square mile
7. Montgomeryville
Established on May 17, 1714, the census-designated place of Montgomeryville is a wealthy community with safe neighborhoods and beautiful homes. The area is found about 32 miles northwest of Philadelphia.
Ranked atop the list of the most affluent cities in Montgomery County, residents living in Montgomeryville make a median household income of $114,970 per year.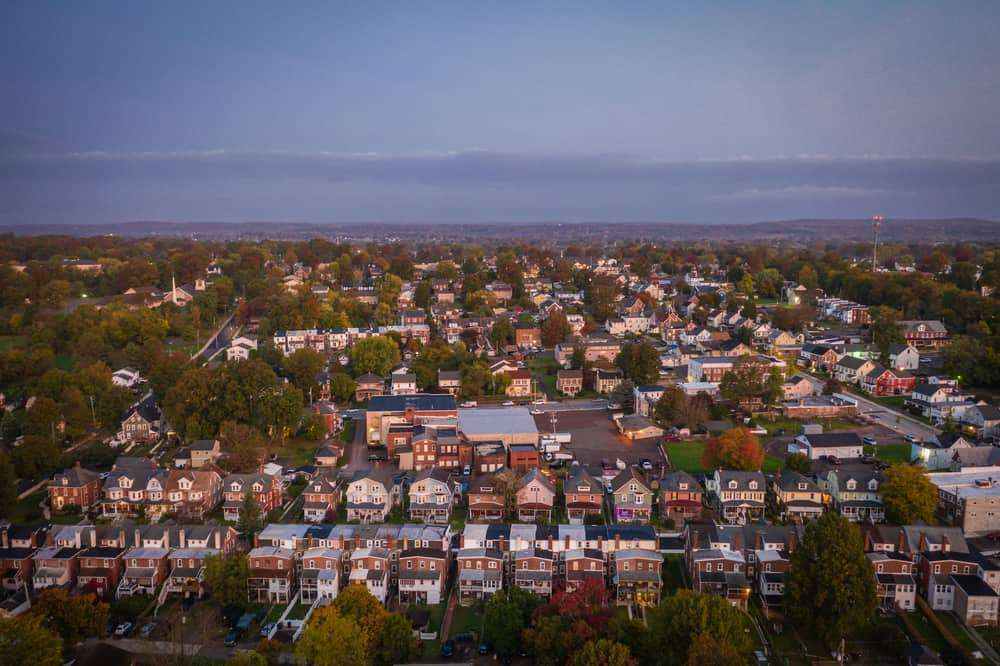 Montgomeryville is known for its amazing shopping destinations at Montgomery Mall as well as Water Tower Square shopping center, which features Planet Fitness, World Market, OfficeMax, Water Tower Cinema, and The Home Depot.
With a culture for wealthy professionals, Montgomeryville jobs can be found at top-rated companies like The Fence Guys, Photo Medex, and McCallion Staffing.
Montgomeryville Population:

13,082

Montgomeryville Area:

4.8 square miles

Montgomeryville Median Age:

43.5 years old

Montgomeryville Median Household Income:

$114,970

Montgomeryville Median Home Price:

$350,200

Montgomeryville Density:

2,751.1 people per square mile
8. Ardmore
About 10 miles west of Center City Philly, Ardmore is a popular unincorporated community that was founded in 1686.
While it has one of the highest costs of living in Montgomery County, people living in Ardmore enjoy many great amenities and nice homes to live in.
Commonly known by a nickname of "The Main Street of the Main Line", Ardmore has the largest business district within the area of Lower Merion Township. The community features many fun attractions and things to do at destinations like Suburban Square and the Ardmore Music Hall.
Frequently considered among the best cities in Montgomery County for families, local children attend schools like Lower Merion High School, which is ranked among the top 10 high schools in Pennsylvania.
Ardmore is also home to Haverford College, which offers numerous degree programs to its students.
Ardmore Population:

12,808

Ardmore Area:

0.8 square miles

Ardmore Median Age:

40.4 years old

Ardmore Median Household Income:

$96,780

Ardmore Median Home Price:

$355,400

Ardmore Density:

6,500.8 people per square mile
9. Harleysville
The small census-designated place of Harleysville is the northernmost area on this list. It can be found about 32 miles north of Philadelphia.
Harleysville is home to the yearly Jaycee's Country Fair Days, an event that takes place at the Harleysville Community Center. As the location of the Mennonite Heritage Center, the city also plays host to an annual Apple Butter Frolic.
Known for its quiet culture and very safe neighborhoods, the crime rate in Harleysville is 72% lower than the national average.
Local schools in Harleysville include Salford Hills Elementary School, General Nash Elementary School, and Indian Valley Middle School.
Some of the best places to eat in Harleysville are available at The Butcher and Barkeep and the Harleysville Hotel.
Harleysville Population:

9,568

Harleysville Area:

4.2 square miles

Harleysville Median Age:

45.5 years old

Harleysville Median Household Income:

$87,500

Harleysville Median Home Price:

$321,500

Harleysville Density:

2,292 people per square mile
10. Audubon
Audubon is a community located about 24 miles northwest of Philadelphia's Center City area that was founded in 1899.
The area was named after John James Audubon, an ornithologist and naturalist who played a major part in what the city is today. Audubon's culture is known for being an environmentally-friendly community focused on natural preservation and wildlife conservation.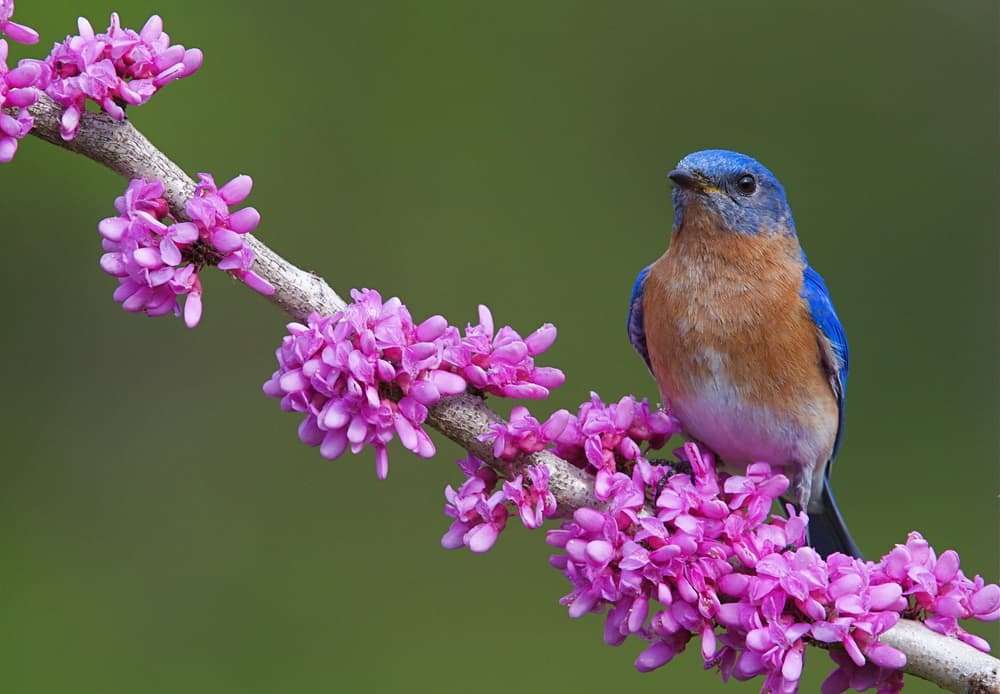 A couple of the most popular things to do in Audubon include destinations like John James Audubon Center and the Club At Shannondell.
Top-rated schools in Audubon are available at campuses like Star Career Academy as well as Woodland Elementary School and Arrowhead Elementary School.
Audubon Population:

9,163

Audubon Area:

4.6 square miles

Audubon Median Age:

38.2 years old

Audubon Median Household Income:

$89,504

Audubon Median Home Price:

$338,300

Audubon Density:

1,995.5 people per square mile
Map of Cities in Montgomery County
FAQs
How many cities are there in Montgomery County?
There are 75 towns and cities in Montgomery County.
What is the most populous city in Montgomery County?
Norristown is the largest city in Montgomery County with a population of 34,443 residents.
How many people live in Montgomery County?
The population in Montgomery County is 830,915 residents.
Which of Montgomery County's Cities is Right for You?
It'll be easier to make the decision about which of these cities in Montgomery County is the best fit for your needs now that you've learned all about them. The professional team of movers at Suburban Solutions is ready to help you get to wherever you're heading in the Philadelphia metropolitan area! Call us today at (610) 314-6868 or complete the Request a Quote form for a free moving estimate!