How can you break your lease without penalty in Pennsylvania? Like most parts of the country, there are rules about breaking a lease in Pennsylvania. If you don't follow the rules exactly, you could end up paying thousands of dollars.
A lease is supposed to be a binding contract, so both parties are expected to carry out the terms originally agreed upon. If you can't move in or have to move out suddenly, you may end up breaking your lease. When this happens, you could be legally liable for the entire lease term.
What Are You Expected to Pay When You Break a Lease?
Ideally, you should avoid breaking an apartment lease in Pennsylvania whenever possible. You are expected to pay for the entire term of rent, so the costs of breaking a lease can quickly add up. However, your landlord is bound by the same rules based on their responsibilities to you as a tenant.
Your landlord isn't allowed to simply kick you out of your apartment if you break a major term in the lease or don't pay rent. Even when one of these situations happens, your landlord still has to follow certain eviction procedures. For example, they must give you 10 days' notice to move out or pay rent before they can file an eviction lawsuit in court.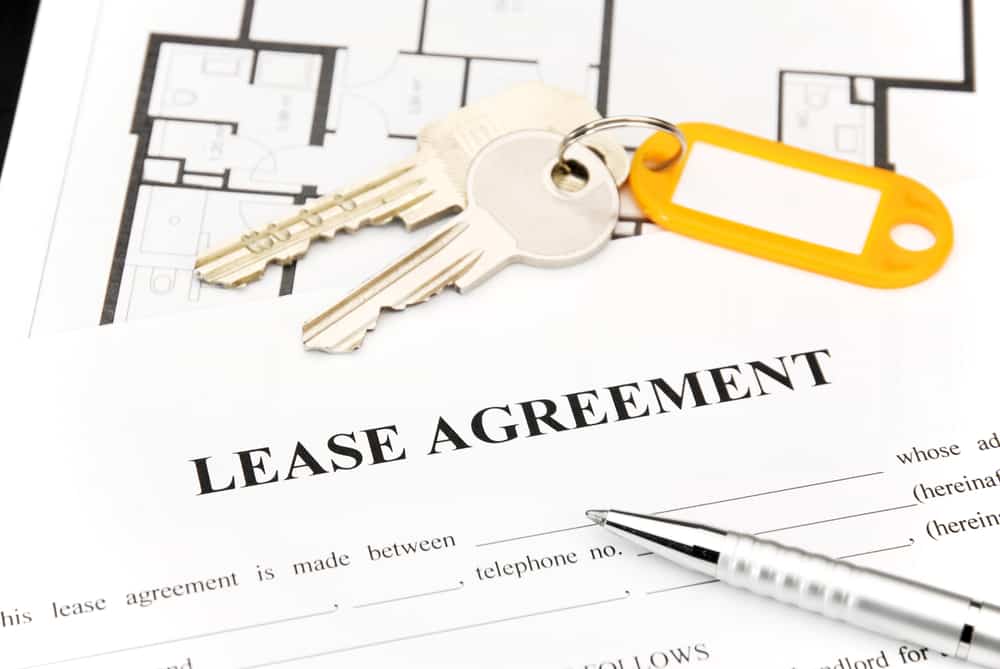 Fortunately, there are a few exceptions to the rules. While you are legally bound to pay rent for the entire term, you don't have to pay it in cases of harassment. Other situations like joining the military can also legally justify breaking an apartment lease in Pennsylvania.
How to Legally Break a Lease Without Paying in Pennsylvania
How do you get out of a lease early? If your situation fits one of the following Legal reasons to break a lease in Pennsylvania, then you're in luck. You may have a legal justification for breaking a rental lease in PA.
The Rental Unit Isn't Safe
When you sign a lease, it is with the expectation of receiving habitable housing throughout the duration of the agreement. If your unit doesn't meet state and local housing codes, you may be eligible to break your lease. Legally, the court will consider if you have been constructively evicted or not (68 Pa. Cons. Stat. Ann. § 250.206).
Constructively evicted means your landlord failed to give you livable housing, which essentially evicted you from the apartment. For example, your unit could have a major repair problem like a lack of heat or broken pipes, which make it unlivable. There are set procedures you must follow to claim this kind of eviction, so it's worth talking to a lawyer or a tenant resources organization.
You Are Joining the Military
According to federal law, you are allowed to terminate your tenancy for military-related reasons. This is covered under the War and National Servicemembers Civil Relief Act. To use this reason for breaking a lease in Pennsylvania, you must be a part of the uniformed services. Then, you must provide your landlord with a notice of your plan to terminate your lease for military reasons.
After your written notice is sent, your lease will officially terminate 30 days after your next rent payment is due. This date can be months earlier than your original lease expiration with no fees required.
You Were Harassed
If you are trying to figure out how to break a lease legally in Pennsylvania, harassment could be another potential justification. When you rent a unit, you have a right to enjoy the unit in private. If your landlord violates your right to privacy, the courts consider you constructively evicted.
For instance, your landlord may do things like switching off your utilities, changing the locks, or removing the windows. Any harassment by your landlord can also be considered constructive eviction as well.
Can You Break a Lease Due to a Fear of Safety?
Sometimes, people want to figure out how to break an apartment lease in Pennsylvania because they fear for their safety. In Pennsylvania, you can terminate your lease without penalty if you are the victim of domestic violence or sexual assault, and your lease must end in order for you to be safe. If you are uncertain if you qualify for this provision, you can call the Philly Tenant Hotline at 267-443-2500.
Can You Break a Lease Before You Move in?
What happens if you break a lease in Pennsylvania before you move in? Unfortunately, you can expect the same repercussions if you are breaking a lease in Pennsylvania before you move in. Unless you have a legal reason to break your lease, you're on the hook for the entire cost of your lease term.
Sometimes people want to break a lease before moving from their existing residence or to break a lease to buy a house, but once again, in order to not have financial and legal repercussions, you have to have an allowed reason to break the lease.
What are the Pennsylvania Lease Termination Laws?
In Pennsylvania, the Fair Housing Commission (FHC) requires landlords to show good cause before they terminate a lease. These causes could be things like habitual non-payment of rent or nuisance activity.
PA Landlord-Tenant Law
Under the Pennsylvania Landlord-Tenant Act (68 P.S. §§ 250.101-250.602), laws and regulations have been set forth to specifically designate the duties and rights of tenants as well as landlords.
Within section 250.502-A, landlords in Pennsylvania are required to maintain "stairways, passages, roadways and other common facilities on the premises" to ensure they are always safe.
Under section 250.503-A, a tenant is responsible for not destroying, defacing, damaging, impairing, or removing any part of the dwelling or its facilities. They also agree to not disturb other tenants and neighbors who may also live on the premises.
You'll want to consider the standards set in place by the PA Landlord-Tenant Act before breaking a lease in Pennsylvania. It also discusses details about security deposits, payments, grace periods, pet laws, and rental license requirements.
How Do You Go About Successfully Breaking an Apartment Lease in Pennsylvania?
Can you break a lease in Pennsylvania? More importantly, how can you legally break a lease?
In general, you will have to show one of the three main reasons for breaking a lease in order to end your lease early. Beyond a military-related reason, you can use safety concerns or landlord harassment to justify breaking the least. Likewise, you can legally break your lease in Pennsylvania if you can show the unit isn't in habitable condition.
How to Reduce Your Costs When Breaking a Lease
Learning how to break a lease in Pennsylvania is easy. The hard part is figuring out how to reduce your financial liability for breaking the lease.
If you plan on breaking a commercial lease in Pennsylvania or a residential one, you should first check to see if you have a legal justification for doing so. Without a legal reason, your next option is to tell your landlord early. If your landlord knows you are leaving right away, they will have more time to find a new tenant.
In some states, the landlord is obligated to search for a replacement tenant. Unfortunately, this isn't the case in Pennsylvania. Once you move out, the landlord doesn't have to expend any effort finding new tenants, leaving you with the full responsibility to continue making payments for the rent.
You can make the situation better by writing a nice letter to your landlord explaining why you're breaking the lease in Pennsylvania. Then, you can start searching for a qualified replacement tenant who has great references and good credit. If you can offer your landlord a replacement tenant who is well-qualified, your landlord might be willing to let you out of the lease early.
Can You Break a Lease for Medical Reasons?
Unfortunately, breaking a lease in Pennsylvania for medical reasons isn't possible. Compared to many states, Pennsylvania has very limited instances where you are allowed to legally break your lease. Unless you fit one of these instances, you will have to pay for the remainder of the lease term.
But instead of learning how to break your lease in Pennsylvania, you could sublet your unit instead. Unless your lease explicitly forbids subletting, you can rent it out to someone else for the remainder of your lease term.
Read Your Contract Before Breaking a Lease in Pennsylvania
Prior to breaking a lease in Pennsylvania, you should carefully look through all of the provisions in your leasing agreement. Most likely, the leasing agreement includes specific requirements for breaking a lease and subletting your unit. There may also be arbitration clauses or other rules you should know before you decide to break your lease.
Because your landlord may try to argue your reason for breaking the lease, you should always document any issues you have with the apartment. For example, you should take pictures if it is inhabitable and save any emails sent between you and your landlord. Later on, this evidence could help you in court if your landlord tries to recuperate the remaining rent.
Searching about lease details before an upcoming relocation? The team at Suburban Solutions offers the best Pennsylvania movers to handle your transition! Give us a call today at (610) 314-6868 or complete the Request a Quote form to get a free moving estimate!